Bill Murray
By: Alix Lambert
September 21, 2010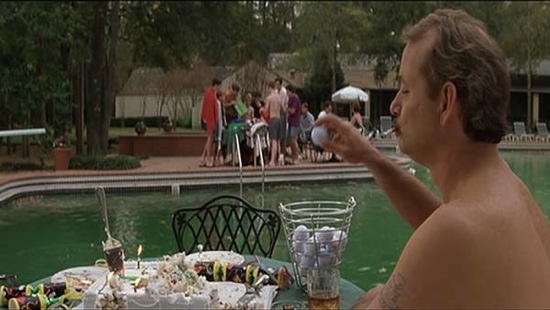 BILL MURRAY (born 1950) first entered my consciousness in a skit on Saturday Night Live in which he and Steve Martin played tourists who repeatedly asked the question "What the hell is that?" In each of his film roles — from shallow comedies like Stripes and Groundhog Day, which hinge almost entirely on his performances, to movies like Rushmore and Lost In Translation, in which he allows us to glimpse sorrow and world-weariness behind the humor — Murray asks this same philosophical question. (Though his one-liners from Caddyshack and Ghostbusters are famous, when my little enthusiasms get wilted by life, I quote Murray in Lost In Translation, where — after a call home isn't the connection his character was seeking — he deadpans, "Well, that was a mistake.") The son of a lumber salesman, when Murray reads Emily Dickinson's "I Dwell In Possibility" to construction workers in this clip, he's funny without being condescending, charming without being flip. He understands us.
***
On his or her birthday, HiLobrow irregularly pays tribute to one of our high-, low-, no-, or hilobrow heroes. Also born this date: Leonard Cohen.
READ MORE about members of the Blank Generation (1944-53).
READ MORE HiLo Hero shout-outs.