L IS FOR LJUTENICA
By: Tom Nealon
July 6, 2023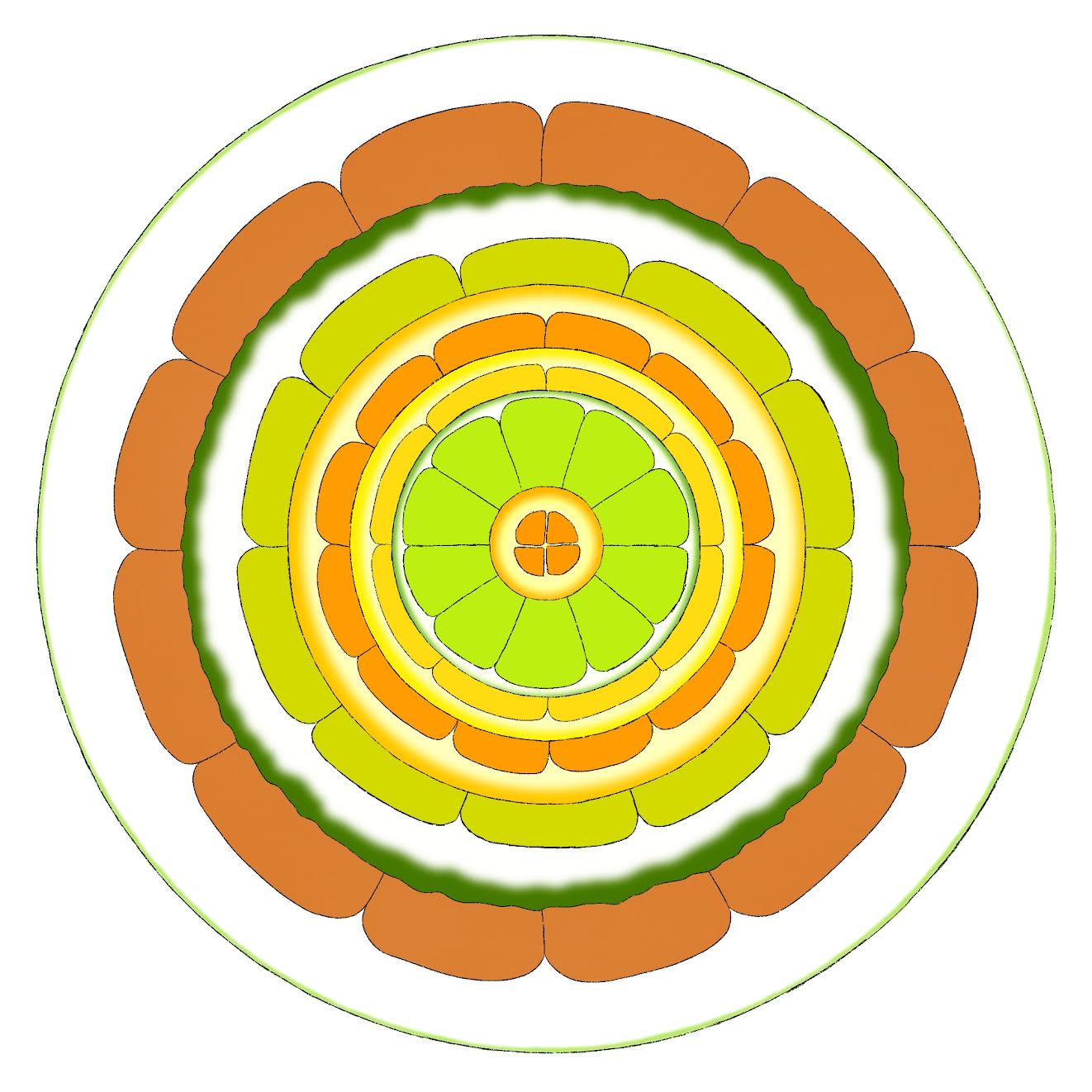 An installment in CONDIMENT ABECEDARIUM, an apophenic food-history series from HILOBROW friend Tom Nealon, author of the seminal book Food Fights and Culture Wars: A Secret History of Taste (2016 UK; 2017 US); and also — here at HILOBROW — the popular series STUFFED (2014–2020) and DE CONDIMENTIS (2010–2012).
CONDIMENT ABECEDARIUM: SERIES INTRODUCTION | AIOLI / ANCHOVIES | BANANA KETCHUP / BALSAMIC VINEGAR | CHIMICHURRI / CAMELINE SAUCE | DELAL / DIP | ENCURTIDO / EXTRACT OF MEAT | FURIKAKE / FINA'DENNE' | GREEN CHILE / GARUM | HOT HONEY / HORSERADISH | INAMONA / ICE | JALAPEÑO / JIMMIES | KECAP MANIS / KIMCHI | LJUTENICA / LEMON | MONKEY GLAND SAUCE / MURRI | NƯỚC CHẤM / NUTELLA | OLIVE OIL / OXYGALA & more to come.
---
L is for LJUTENICA
---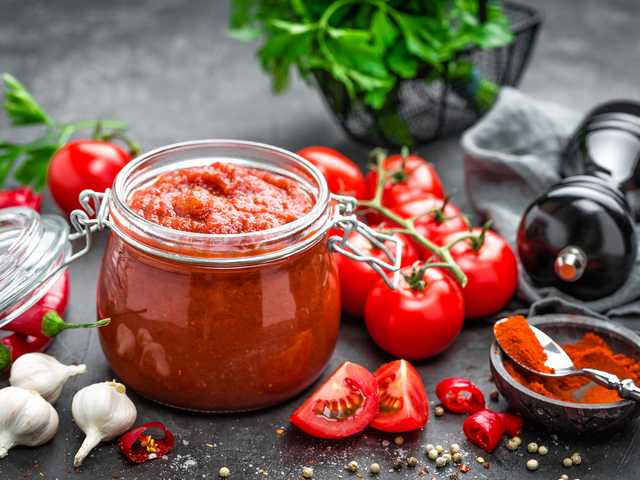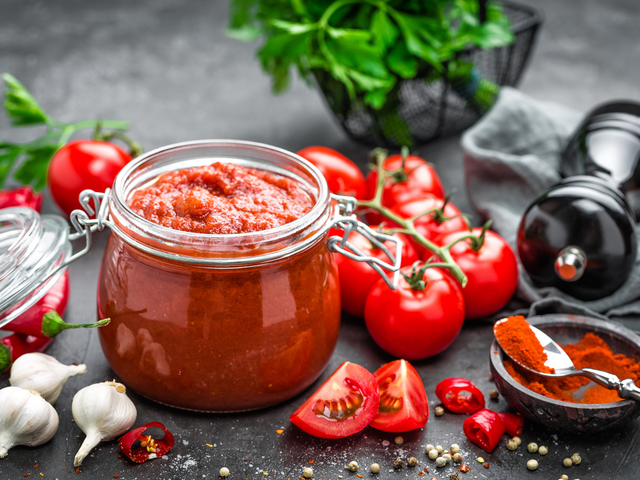 New world chile peppers changed cuisines the world over in appropriately bold and obvious ways. The more humble red pepper did the same, but in a much more understated fashion. While paprika is maybe more famous, it is the roasted red pepper that is most pervasive in Central and Eastern Europe. From the Mediterranean to the Black Sea it's just an unbroken landscape of red peppers turned into a variety of pastes and used as condiments. One of them is the Bulgarian condiment ljutenica, made with roasted red peppers and some combination of eggplant, carrots, onions, garlic, salt, olive oil, chile peppers and almost always tomatoes. A versatile condiment, it is of course great on bread, but also meats, in stews or soups and with cheese. There are versions of it in almost every country between Germany and Turkey.
In Bulgaria they have a kitchen appliance called a chushkopek which roasts peppers. It beat out electricity, television, and brutalist apartment buildings to win a recent poll to determine the invention that most shaped 20th-century Bulgaria. Think about that the next time you sit down to eat a red pepper that you haven't bothered roasting.
They all have the right idea, people in this vast swath of the world: bell peppers need to be transformed to be edible. You can dry it and crush it and call it paprika, or you can roast it and (ideally) turn it into a paste, but for god's sake, don't just eat it. I don't care if it's raw with some dip, in a salad, or lightly cooked with onions on a roll with sausage; I just think you've got to not do it.
---
L was for LEMON
---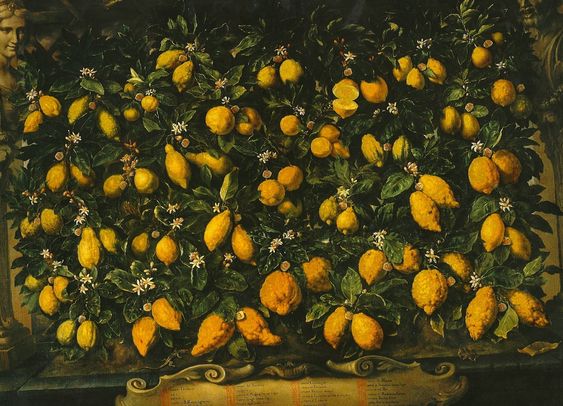 This world did not come equipped with lemons. In the West it might seem like it did because the first citrus in Europe (ca. third century BC) was the citron which looks like a lemon and was followed, a few hundred years later, by the lemon itself. However, this lemon was the result of thousands of years of breeding citrus trees in Asia — so many thousands that no one is quite sure when the ur-citrus fruits (the mandarin orange, citron, pomelo and the papeda plus the kumquat) emerged from what scientists presume was a single ur-ur-citrus fruit millions of years ago. These original citrus fruits are still eaten, but their offspring: lemons (citron-orange hybrid), limes (citron-orange or papeda), oranges (mandarin-pomelo), grapefruits (mandarin-pomelo-pomelo), tangerines (mandarin-mandarin-pomelo), are considerably more popular. You are more likely to find a limequat (half lime, half kumquat, all amazing) than a papeda at your average grocery store.
Lemon is one of the most versatile food items in the world — a food, an ingredient, a garnish, a condiment, a flavoring, a juice, it's also a deodorizer, a cleaning agent, a bug repellent, and some people believe that it prevented the plague from wiping out Paris in the mid-17th century. It is fiendishly difficult to tell when lemons arrived in Europe, or even the middle east and Africa. There are scattered reports of lemon-like fruits going back over two thousand years, but it is basically impossible to tell if it's lemons or citron because they look so similar on the outside. Inside, though, a citron is mildly sour and mostly rind, but a lemon is sour magic. It is said that Alexander the Great brought back citrus from India, but it seems to have just been the citron; a recipe for lemonade in Egypt from the 13th century is about the earliest record, though it appears around the same time as evidence of a full blown lemonade trade by Egyptian and Jewish traders selling a honey-lemon drink called qatarmizat. Likewise in Europe, there are a few mumbles starting in the 4th century and then in the Renaissance it's suddenly a whole industry of lemonadiers with tanks on their backs in Rome and Paris and fields of trees in Italy and Spain. A sneaky, vernacular, fruit.
Nowadays, lemon is ubiquitous, loved and overlooked simultaneously, but it's still perfection on a piece of fish or with a pinch of salt on chicken escalope.
***
TOM NEALON at HILOBROW: CONDIMENT ABECEDARIUM series | STUFFED series | DE CONDIMENTIS series | SALSA MAHONESA AND THE SEVEN YEARS WAR | & much more. You can find Tom's book Food Fights & Culture Wars here.