Taking Things Seriously (7)
By: Chika Azuma
December 18, 2019
One in a series of posts reprinting true stories about significant objects from the 2007 collection Taking Things Seriously (Princeton Architectural Press), edited by Joshua Glenn and designed by Carol Hayes. For contemporary reviews of the book, click here; for info on Josh Glenn and Rob Walker's ongoing Project:Object operation, click here.
*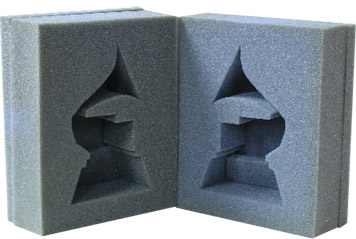 I received a Grammy award, several years ago, for a CD package I had designed. Receiving a Grammy for a package design is like winning a Nobel Peace Prize for giving up a seat on the subway to an old person.
The ceremony for the lesser awards took place before the live television broadcast. As each winner was announced, we went up onstage, accepted a statuette, and then went backstage where we handed it over to be used for another winner. Some months later, I received one with my name engraved on it. I was particularly impressed with the laser-cut foam in which it had been packaged for mailing — a perfect negative image of the object it was supposed to protect. The foam demonstrates a lot of care and is done with beautiful simplicity. I like to call it the grammyfoam.
The grammyfoam is displayed proudly on a shelf. The award itself is in a box of odds and ends.
TAKING THINGS SERIOUSLY: William Drenttel on ARTICHOKE | Dmitri Siegel on BIG BOTTOM EXCITER | Greg Klee on SANTA | Carol Hayes on "THINGS" SAMPLER | Tom Frank on WWI HELMET | Beth Daniels on PENCIL SHARPENER | Chika Azuma on GRAMMYFOAM | John Keen on COMPUTER CABINET | Josh Glenn on BAUDELAIRE DEATH MASK | Luc Sante on POSTER FRAGMENTS | Becky Neiman on CHEESE BOX | Rosamond Purcell on BREAD | Paul Maliszewski on RUBBER STAMP.
***
SIGNIFICANT OBJECTS at HILOBROW: PROJECT:OBJECT homepage | PROJECT:OBJECT newsletter | PROJECT:OBJECT objects (Threadless shop — all profits donated to the ACLU) | POLITICAL OBJECTS series (1Q2017) | TALISMANIC OBJECTS series (2Q2017) | ILLICIT OBJECTS series (3Q2017) | LOST OBJECTS vol. 1 series (4Q2017) | FLAIR series (2Q2018) | FOSSIL series (4Q2018) | FETISHES series (2Q2019) | LOST OBJECTS vol. 2 series (4Q2019) | MOVIE OBJECTS series (2Q2020). ALSO SEE: SIGNIFICANT OBJECTS website | SIGNIFICANT OBJECTS collection, ed. Rob Walker and Josh Glenn (Fantagraphics, 2012) | TAKING THINGS SERIOUSLY, ed. Josh Glenn (Princeton Architectural Press, 2007) | TAKING THINGS SERIOUSLY excerpts.