Taking Things Seriously (3)
By: Greg Klee
November 6, 2019
One in a series of posts reprinting true stories about significant objects from the 2007 collection Taking Things Seriously (Princeton Architectural Press), edited by Joshua Glenn and designed by Carol Hayes. For contemporary reviews of the book, click here; for info on Josh Glenn and Rob Walker's ongoing Project:Object operation, click here.
*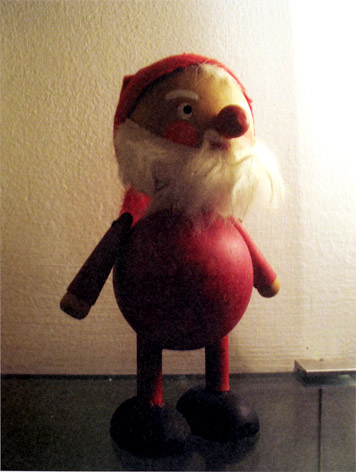 When I was seven I lived next door to an exotic old woman and she gave me this Santa. In hindsight, the woman was old and probably a cardiologist — only exotic in the sense that she was very educated and lived next door to us, the unruly Catholics with seven kids. One year she invited the bunch of us over for a little Christmas party, which seemed incredibly fancy to me. There was a long table with a white tablecloth, and cookies that were unlike any I'd ever had, flat with a sickening licorice taste.
After the party the woman gave me and my brother identical Santas, except that mine had a gimpy leg and it wobbled, which seemed right at the time because I saw myself as a victim.
TAKING THINGS SERIOUSLY: William Drenttel on ARTICHOKE | Dmitri Siegel on BIG BOTTOM EXCITER | Greg Klee on SANTA | Carol Hayes on "THINGS" SAMPLER | Tom Frank on WWI HELMET | Beth Daniels on PENCIL SHARPENER | Chika Azuma on GRAMMYFOAM | John Keen on COMPUTER CABINET | Josh Glenn on BAUDELAIRE DEATH MASK | Luc Sante on POSTER FRAGMENTS | Becky Neiman on CHEESE BOX | Rosamond Purcell on BREAD | Paul Maliszewski on RUBBER STAMP.
***
SIGNIFICANT OBJECTS at HILOBROW: PROJECT:OBJECT homepage | PROJECT:OBJECT newsletter | PROJECT:OBJECT objects (Threadless shop — all profits donated to the ACLU) | POLITICAL OBJECTS series (1Q2017) | TALISMANIC OBJECTS series (2Q2017) | ILLICIT OBJECTS series (3Q2017) | LOST OBJECTS vol. 1 series (4Q2017) | FLAIR series (2Q2018) | FOSSIL series (4Q2018) | FETISHES series (2Q2019) | LOST OBJECTS vol. 2 series (4Q2019) | MOVIE OBJECTS series (2Q2020). ALSO SEE: SIGNIFICANT OBJECTS website | SIGNIFICANT OBJECTS collection, ed. Rob Walker and Josh Glenn (Fantagraphics, 2012) | TAKING THINGS SERIOUSLY, ed. Josh Glenn (Princeton Architectural Press, 2007) | TAKING THINGS SERIOUSLY excerpts.