Taking Things Seriously (1)
By: William Drenttel
November 3, 2019
One in a series of posts reprinting true stories about significant objects from the 2007 collection Taking Things Seriously (Princeton Architectural Press), edited by Joshua Glenn and designed by Carol Hayes. For contemporary reviews of the book, click here; for info on Josh Glenn and Rob Walker's ongoing Project:Object operation, click here.
*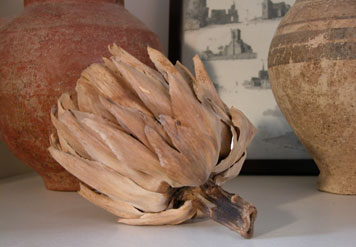 An artichoke sat on our kitchen windowsill for months, some years ago. At first, it was ugly and disgusting and kinda gooey — and guests would say "ick." Then it slowly dried out, changed color, became something else altogether. I've now had it for ten years.
I think it's rather beautiful. I keep trying to use it in a design project, say on the cover of a book. I have photographed it numerous times and created design prototypes featuring this artichoke. They never sell: others do not seem to appreciate the intrinsic beauty of this thing.
Over time it has become more fragile, and I worry that it will break. So it sits, carefully placed, in my bookcase next to some Roman pottery a couple of thousand years older. No one ever touches the older, more fragile pottery, of course. But many pick up my artichoke.
TAKING THINGS SERIOUSLY: William Drenttel on ARTICHOKE | Dmitri Siegel on BIG BOTTOM EXCITER | Greg Klee on SANTA | Carol Hayes on "THINGS" SAMPLER | Tom Frank on WWI HELMET | Beth Daniels on PENCIL SHARPENER | Chika Azuma on GRAMMYFOAM | John Keen on COMPUTER CABINET | Josh Glenn on BAUDELAIRE DEATH MASK | Luc Sante on POSTER FRAGMENTS | Becky Neiman on CHEESE BOX | Rosamond Purcell on BREAD | Paul Maliszewski on RUBBER STAMP.
***
SIGNIFICANT OBJECTS at HILOBROW: PROJECT:OBJECT homepage | PROJECT:OBJECT newsletter | PROJECT:OBJECT objects (Threadless shop — all profits donated to the ACLU) | POLITICAL OBJECTS series (1Q2017) | TALISMANIC OBJECTS series (2Q2017) | ILLICIT OBJECTS series (3Q2017) | LOST OBJECTS vol. 1 series (4Q2017) | FLAIR series (2Q2018) | FOSSIL series (4Q2018) | FETISHES series (2Q2019) | LOST OBJECTS vol. 2 series (4Q2019) | MOVIE OBJECTS series (2Q2020). ALSO SEE: SIGNIFICANT OBJECTS website | SIGNIFICANT OBJECTS collection, ed. Rob Walker and Josh Glenn (Fantagraphics, 2012) | TAKING THINGS SERIOUSLY, ed. Josh Glenn (Princeton Architectural Press, 2007) | TAKING THINGS SERIOUSLY excerpts.