INTO THE GROVE (1)
By: Brian Berger
February 28, 2017
One in a series of posts, by long-time HILOBROW friend and contributor Brian Berger, celebrating perhaps America's most exciting and controversial publisher: Barney Rosset's Grove Press.
*
William S. Burroughs, Naked Lunch (1962; 1982 Black Cat Book printing), cover design Mario Marone
William S. Burroughs, Nova Express (1964), cover design Roy Kuhlman
It was in a small bookstore near the Metropolitan Museum of Art that I got my first Grove Press: Naked Lunch, though I did not then concern myself with publishers. If I recall little else about that high school field trip in the winter of 1987 besides Italian food "down in the Village" afterwards, this is enough. With little but Rolling Stone, Spin, The Village Voice and a few secreted issues of Penthouse Letters to prepare me, Naked Lunch was pretty far beyond me then. I didn't even know I had a prostate gland, let alone one capable, as Burroughs informed me, of "premonitory quiverings."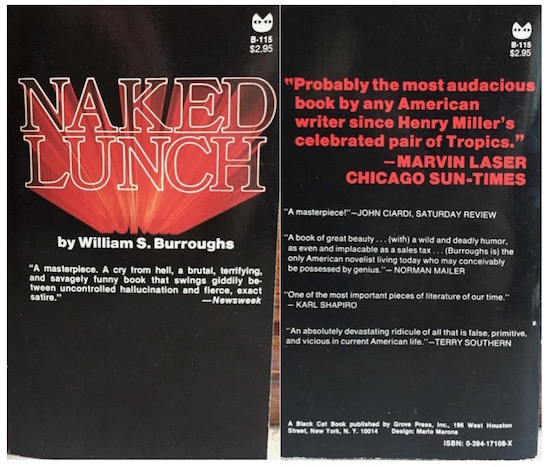 I would learn, however — as I would learn about the book's publisher, Barney Rosset— and even as Burroughs became a familiar, even avuncular, figure in my life, his work has only grown more astonishing over time. Endlessly quotable, hilarious, scarifying and pensive, the voices of Naked Lunch could resound about the Fidèle of Herman Melville's Confidence Man, and its vernacular, satirical brilliance and relative non-concern for narrative recalls nothing more exotic than Mark Twain's Life on the Mississippi. Might be something about them Missouri boys, watch out. Hear Burroughs' blues and jazz references — "East St. Louis Toodle-oo," Big Bill Bronzy, "St. James Infirmary," "metallic cocaine be-bop" — and his revulsion with Jim Crow America, land of the lynch mob. Looking forward, it's startling to re-re-re-read Naked Lunch and Burroughs' other 1960s novels and recognize just how deeply their themes and obsessions are woven into the DNA of Thomas Pynchon's Gravity's Rainbow. That's not prophecy, gentle reader; it's attunement.
What wasn't so impressive about Naked Lunch, then or now, was the physical book itself. The blurbs were compelling — who was Henry Miller and what were the Tropics? — but otherwise, it was a typical mass market paperback, functional at best. The cover design is credited to Mario Marone, about whom I've since discovered nothing, not even other design work. Talk about El Hombre Invisible.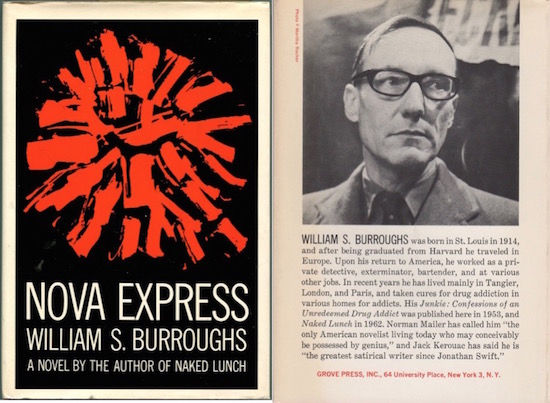 Burroughs' 1960s publication history is complicated. Suffice it to say that in the United States, Burroughs' next book was Nova Express, published in September 1964, an extraordinary and boggling work in every way. The cover, by Roy Kuhlman, is a stunner, and the text something else again. While thematically similar to Naked Lunch, it's less sexually explicit, and the writing is often more akin to avant-garde modernist poetry than prose. Nobody can beat it and who would want to?
Unknown street stirring sick dawn whispers of junk — Flutes of Ramadan in the distance — St. Louis lights wet cobblestones of future life — Fell through the urinal and the bicycle races — On the bar wall the clock hands — My death across his face faded through the soccer scores — smell of dust on the surplus army blankets — Stiff jeans against one wall — And KiKi went away like a cat — Some clean shirt and walked out — He is gone through unknown morning blew — "No good — No bueno — Hustling myself—" Such wisdom in gusts —
NB: Though the Kulhlman cover Nova is without question the one to look at, the book's most recent edition, the revelatory Nova Express: The Restored Text (Grove Press, 2014), edited and with an introduction and notes by the British scholar Oliver Harris, is one Burroughs readers old and new should acquire.
***
MORE WILLIAM S. BURROUGHS at HILOBROW: Burroughs as HILO HERO by Luc Sante | REVOLUTION IN THE HEAD series: NOVA EXPRESS | Josh Glenn's GOLDEN AGE SCI-FI series: THE SOFT MACHINE, NAKED LUNCH | Josh Glenn's APOPHENIC ADVENTURES lit list.
BOOK COVERS at HILOBROW: INTO THE GROVE series by Brian Berger | FILE X series by Josh Glenn | THE BOOK IS A WEAPON series | HIGH-LOW COVER GALLERY series | RADIUM AGE COVER ART | BEST RADIUM AGE SCI-FI | BEST GOLDEN AGE SCI-FI | BEST NEW WAVE SCI-FI | REVOLUTION IN THE HEAD.