Hypocrite Idler 4Q2015
By: Joshua Glenn
December 27, 2015
To idle is to work on meaningful and varied projects — and also to take it easy. (Like Nas, "I used to hustle/Now all I do is relax and strive.") If you're interested in my 4Q2015 projects, please keep reading; otherwise, don't! The title of this series of posts refers to this self-proclaimed idler's inability to take it easy.
MORE HYPOCRISY: 2010 | 2011 | 2012 | 2013 | 2014 | 2015 | 2016 | 2017 | 2018 | 2019 | 1Q2020 | 2Q2020 | 3Q2020 | 4Q2020 SNEAK PEEK.
UNBORED
WRITING
HILOBROW
SEMIOTICS
HERMENAUTIC CIRCLE
TAKING IT EASY
***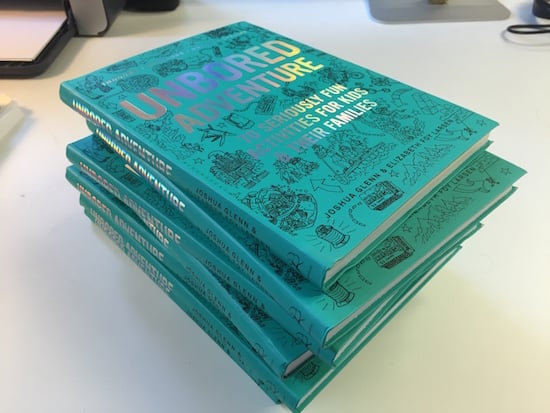 UNBORED
In October, Bloomsbury published the UNBORED team's third guidebook, UNBORED Adventure: 70 Seriously Fun Activities For Kids And Their Families. The UNBORED team — Elizabeth Foy Larsen and I are coauthors/editors; Tony Leone is art director and designer; Mister Reusch, Heather Kasunick, and Chris Piascik are the illustrators — agrees that this is our finest effort yet.
In the book's 176 full-color pages, you'll find: adventure apps, adventure gear, adventure skills (from building a fire to open-mindedness), adventure-building projects (e.g., bean shooter, box kite, ghillie poncho, paracord bracelet, upcycled raft), indoor adventures (e.g., sewing your own ditty bag, survival origami), instant adventures, and outdoor adventures (from the pervasive game Assassin to fire-pit recipes to shootin' craps).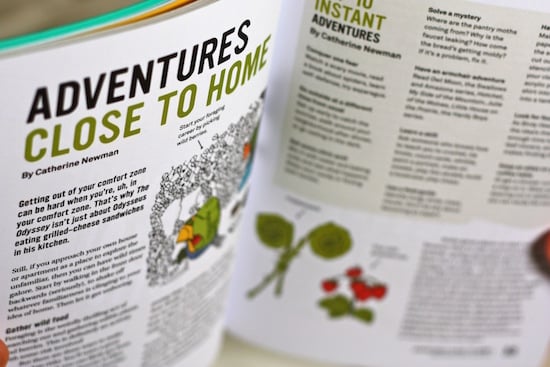 PLUS: Expert essays by adventurer Chris Spurgeon, Bike Snob author BikeSnobNYC, BEN AND BIRDY blogger Catherine Newman, and Kitchen Science Lab for Kids author Liz Lee Heinecke; Best Ever lists (e.g., Dystopian Sci-Fi, Outdoor Adventure Movies); Secret History Comics by Mister Reusch and Heather Kasunick (e.g., Treehouses, Female Explorers, Bicycles); Q&As with Joshua Foer and Dylan Thuras of Atlas Obscura, Playborhood author Mike Lanza, urban biking activist Elly Blue, and Cloudspotting author Gavin Pretor-Pinney; Train Your Grownup features (e.g., Send you Outside, Climb Trees, Let You Roam, Prep for Adventure); and classic lit excerpts (e.g., The Wouldbegoods, Gulliver's Travels, The Swiss Family Robinson). Wow!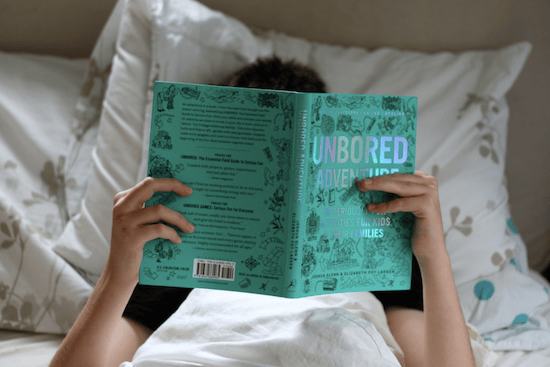 Thanks, BEN AND BIRDY, for describing UNBORED Adventure as "a chock-a-block book, filled with crazy, thoughtful, well-tested ideas that range from the immediately doable to the profoundly inspirational and aspirational." Thanks, Carla Sinclair of WINK BOOKS (powered by Cool Tools), for describing UNBORED Adventure as a "wholesomely retro" book that "inspires fun, innovation, and yes, real adventures." And thanks to our publishers, Bloomsbury, for the opportunity.
*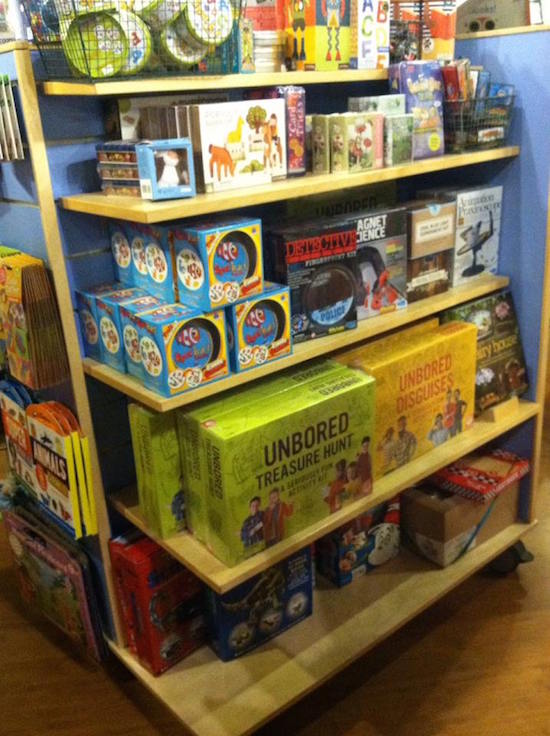 Also: Our two new activity kits — UNBORED Disguises and UNBORED Treasure Hunt — published by MindWare this spring — sold like hotcakes this fall.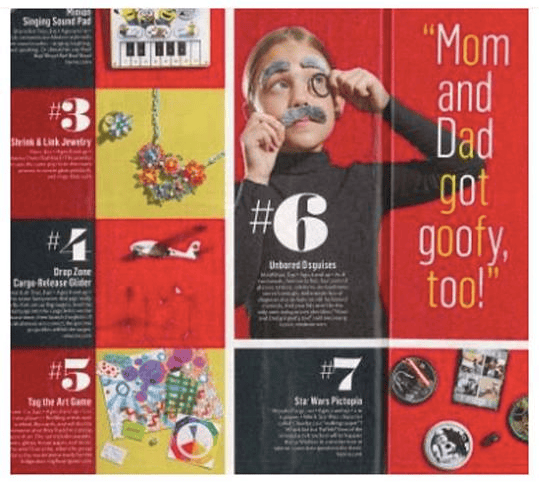 Thanks, Family Fun Magazine, for naming UNBORED DISGUISES one of your Top Ten Toys of 2015! And thanks, MindWare, for the opportunity. Making activity kits = fun.
***
WRITING
Although I was formerly a magazine, newspaper, and website writer, these days — because I'm busy with Semiovox and various projects — I publish more or less only at HILOBROW. During 4Q2015, I contributed the following posts:
THE UNCLE HYPOTHESIS. We're familiar with the notion that a respectable, even beloved author might write more salacious literature under a pseudonymous moniker. But consider the reverse predicament. What if an author notorious for writing "dirty" books using their own name should decide, one day, to write children's literature? (Originally published by PRIMER.)

I added 30 installments to the RADIUM AGE 100 series, via which I'm slowly but steadily working to identify the 100 science fiction novels published during the genre's Radium Age (1904–33) that are (in my opinion) most worth reading. 4Q2015 posts in this series include: Gustave Le Rouge's LE PRISONNIER DE LA PLANETE MARS, Charlotte Perkins Gilman's HERLAND, Maurice Renard's THE BLUE PERIL, Philip Gordon Wylie's GLADIATOR, David Lindsay's A VOYAGE TO ARCTURUS, Olaf Stapleton's LAST MEN IN LONDON, Karel Capek's R.U.R., and Yevgeny Zamyatin's WE.

I'm also working on a series of posts via which I aim to identify the 10 best adventure novels published each year from 1904–1983. 4Q2015 installments include: A 65th-anniversary list of the 10 Best Adventures of 1950; a 55th-anniversary list of the 10 Best Adventures of 1960; a 50th-anniversary (as of 2016) list of the 10 Best Adventures of 1966; a 45th-anniversary list of the 10 Best Adventures of 1970; and a 35th-anniversary list of the 10 Best Adventures of 1980. Thanks, Boing Boing, for linking to the Best of 1966 list!

With the occasional assist from an English colleague, Louise Jolly, I write HILOBROW's semiotic CODE-X series, which surfaces and dimensionalizes a few of the "codes" that make up the a priori network of classifications, categories, and concepts through which each of us intuitively makes sense of everyday life. Posts from 4Q2015 include: BEER FEAR, THERAPEUTIC PLEASURE, BON VIVANT, LOUCHE LIFE, BUSTING LOOSE, CREATIVE SPACE, GOING NATURAL, SEXY DAD, CURL CONTROL, and ESSENTIAL GEAR.

During 4Q2015, I kicked off a series of posts dedicated to my own juvenilia. Posts in the JOSHENILIA series so far: MR. NATURAL PATCH, STRAY TRADING CARDS, VINTAGE STICKERS, I.D., SELF-PROMOTION, O'MALLEY SCHWARTZ FICTION, ZENMAN COMICS.

Last but not least, I contributed an installment to the HERMENAUTIC TAROT series, edited by John Hilgart. My card? THE SELL-OUT.
***
HILOBROW
I'm the editor and publisher, here at HILOBROW. To see what we've been up to since October 1 (that is, in addition to the series listed above), please check out our HILOBROW 4Q2015 post.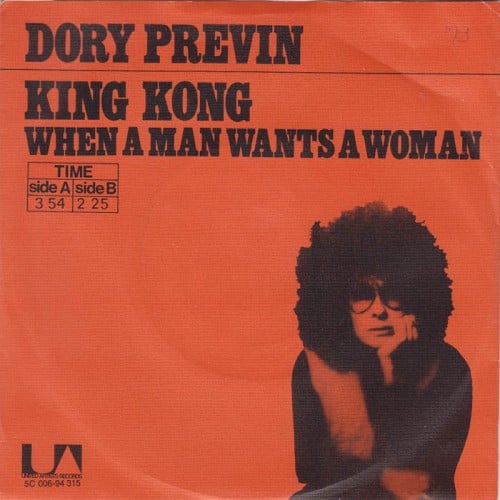 In this post, I'll just mention that, this winter, we'll wrap up our long-running HILO HEROES series.
During 4Q2015 we added a couple of dozen installments to the HILO HEROES series: Tor Aarestad on Richard Hell. Brian Berger on Dick Gregory, Victoria Spivey, Dory Previn, Hampton Hawes, Virgil Thomson, William Demby, and Elisha Cook Jr. Suzanne Fischer on Mary Oppen and Ellen Swallow Richards. Amanda French on Bob Mould and Sylvia Plath. Mark Kingwell on Henri Bergson and Lewis Mumford. Devin McKinney on Gore Vidal, Arlene Smith, Laud Humphreys, Kon Ichikawa, Julee Cruise, and Romer Wilson. Anthony Miller on Samuel Taylor Coleridge, Paul Thek, and Rod Serling. Tom Nealon on Kool Keith. Karinne Keithley Syers on Muriel Rukeyser.
I'm the HILO HEROES series editor. It's been an amazing run: Over 1,400 posts, since 2009! I'm very grateful to HILO HEROES contributors, past and present. Please stay tuned for one final RONDEL FOR HILO HEROES, coming in January.
***
SEMIOTICS
I'm a cultural and brand semiotician, and co-founder of the Boston- and New York-based branding and strategy agency Semiovox. October, November, and December of 2015 were non-stop, here at Semiovox HQ.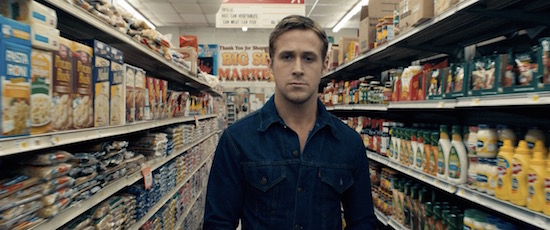 During 4Q2015, our team worked across a number of product categories, including Toilet Paper, Beer, Chewing Gum, and Insect Repellent; as well as across various cultural territories such as French Beauty and Personal Care. We collaborated with our research partners in Indonesia and elsewhere; and we continued to develop the SEMIODEX — a database of 75,000+ brand communications and pop culture phenomena, each meta-tagged according to its product category, cultural territory, and psychographics.
PS: If you're interested in applied semiotics, you might enjoy HILOBROW's CODE-X series of posts.
***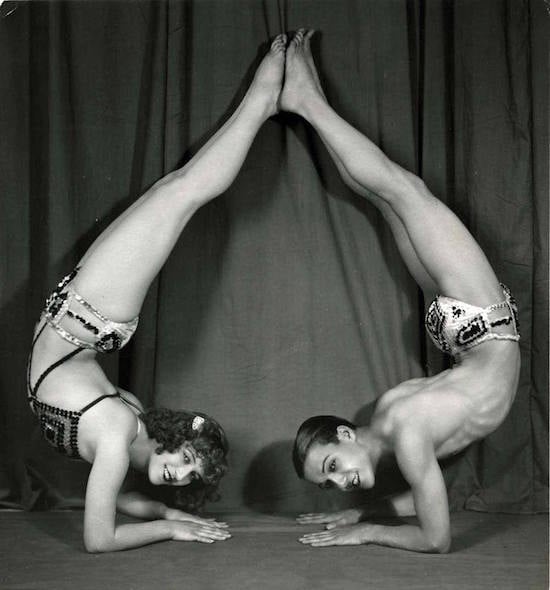 HERMENAUTIC CIRCLE
The Hermenautic Circle is a secretive society managed by yours truly. I'm not at liberty to discuss the HC, but you can read what may or may not be a parodic version of our history here.
***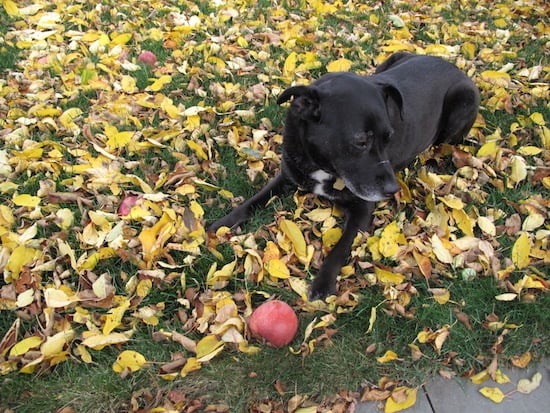 TAKING IT EASY
In the taking it easy department…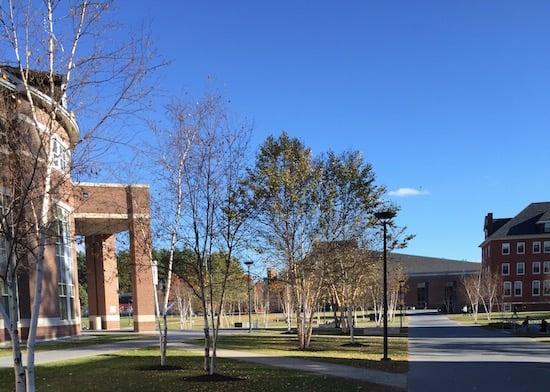 Our family was primarily concerned with the college-visting and -applying process, this fall. It was an intense but mercifully brief, and surprisingly enjoyable, experience. Sam applied early decision to Bates, and… he was accepted! Way to go, kid.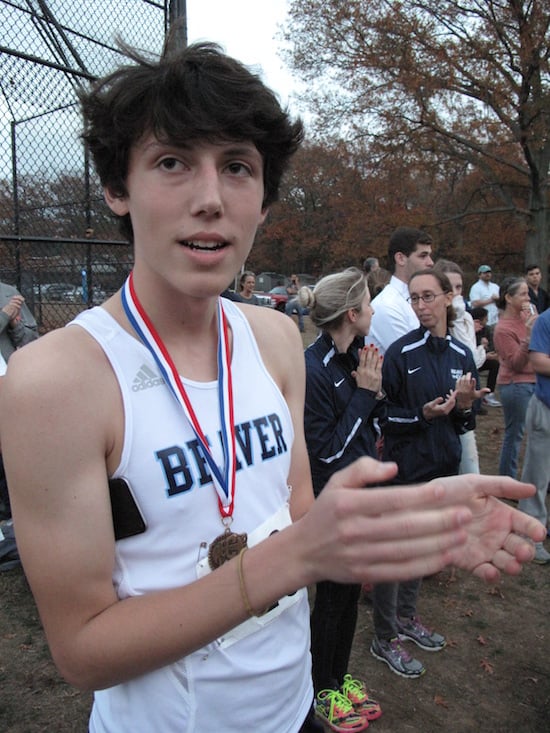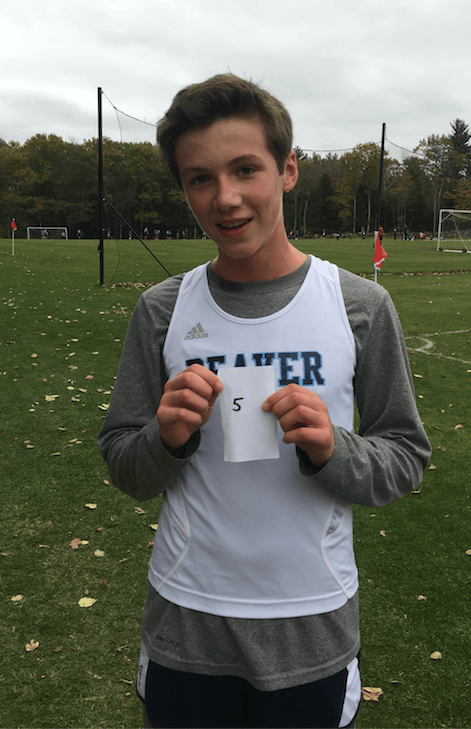 Our sons are on their school's cross-country team, so Susan and I attended a bunch of meets this fall. Sam, the team's co-captain, was a NEPSAC All Star; and Max was one of the fastest freshman in their division. Who knew?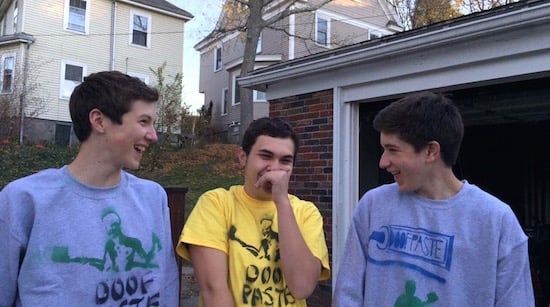 Max and his friends launched Boston's newest lifestyle brand, Doofpaste, this fall. Get Doofpaste gear while you can, it's moving fast.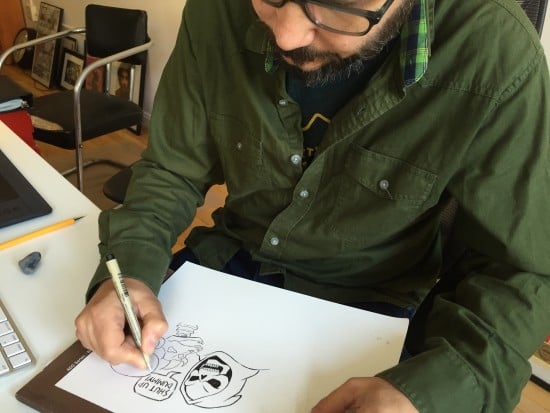 As mentioned above, this fall Semiovox — along with our friends at Leone Design and Rick Pinchera Illustration — relocated into a larger office. Shown here: Rick working on a Skulltober drawing.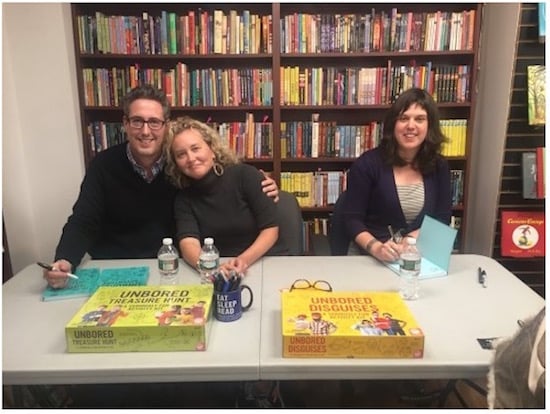 UNBORED events, this fall, were a fun excuse to gather the team together. ABOVE: Josh, Elizabeth, Heather at Brookline Booksmith. Also present: Tony, Mister Reusch, and Tony's son Luciano (modeling UNBORED's ghillie poncho).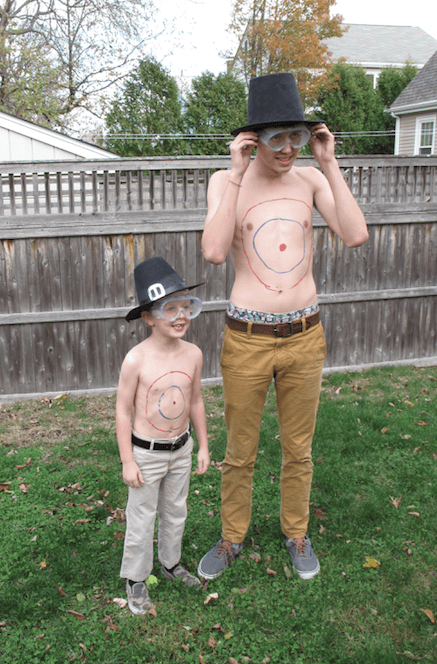 My brother Patrick's and brother-in-law Dave's families joined us for Thanksgiving — so we had eight cousins in the mix. Sam, who invented our family's violent Thanksgiving pasttime, Shoot the Pilgrim, some years ago, trained in a new pilgrim.
***
MORE HYPOCRISY: 2010 | 2011 | 2012 | 2013 | 2014 | 2015 | 2016 | 2017 | 2018 | 2019 | 1Q2020 | 2Q2020 | 3Q2020 | 4Q2020 SNEAK PEEK.
On to 1Q2016!