Ted Joans
By: Brian Berger
July 4, 2015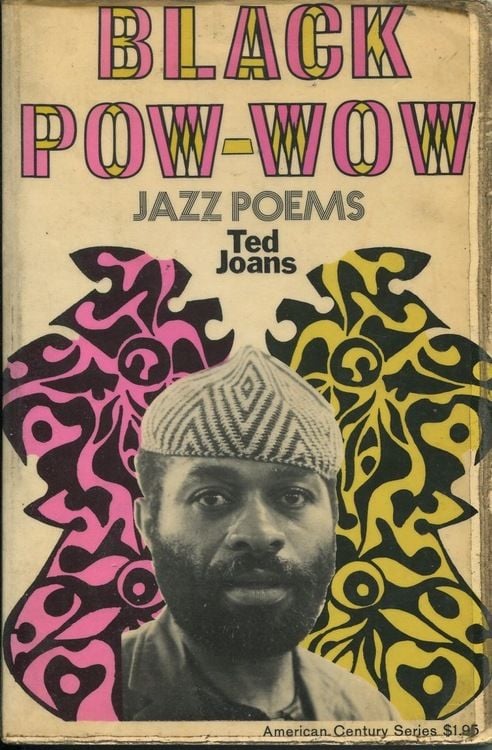 The story of the great black poet and artist TED JOANS (1928–2003) begins where that of Herman Melville's The Confidence Man crucially splits in two: Cairo, Illinois, at the confluence of the Ohio and Mississippi Rivers. The riverboats thereon were all: conduits of transformative jazz and blues and from whence, as a twelve-year-old, his parents bade him farewell, trumpet in hand, alone into the streets of Memphis. This was, even for a gifted child, rather much… so Joans moved to Indianapolis to live with his aunt, who provided the boy an extraordinary self-education. As a domestic for a wealthy white woman associated with dynamic avant-garde patron and muse Nancy Cunard, she brought home discarded European magazines and art books, including the November 1933 Salvador Dalí issue of Vogue, André Breton, and the 1938 Dictionnaire abrégé du surréalism. As a teen, Joans was not only an aspiring musician, but — inspired first by Dalí, then Paul Laurence Dunbar and especially Langston Hughes — poet. At Indiana University, Joans studied fine arts and worked part-time as a messenger for the Kinsey Institute, sometimes observing Kinsey observing others at college smokers. (Telling this story to the Village Voice in February 1955 — after graduation, Joans moved to New York, where he revealed himself a uniquely multi-talented and charismatic figure among the Beats — elicited an unexpected response two weeks later. "We never knew anyone by the name of Ted Joans," Kinsey testily wrote, "and certainly he was never employed by us.") While Joans' imagination was prodigious — as collections like Black Pow-Wow Jazz Poems (1969) and Afrodesia (1970) would dazzlingly demonstrate — it's likely Kinsey just didn't notice the black kid shuttling books back and forth from the library. His loss.
***
On his or her birthday, HiLobrow irregularly pays tribute to one of our high-, low-, no-, or hilobrow heroes. Also born this date: Nathaniel Hawthorne, Rube Goldberg, Robert Desnos, Meyer Lansky, Guy Endore.
READ MORE about members of the Postmodernist Generation (1924-33).