Best Older Kids' Lit 1965
By: Joshua Glenn
January 13, 2015
SEE: 100 BEST YA & YYA ADVENTURES OF THE SIXTIES (1964–1973)
Wes Anderson's 2012 movie Moonrise Kingdom, which is in large part an homage to the older kids' lit of the mid-1960s, is set in the year 1965. Say what you like, the guy has excellent taste.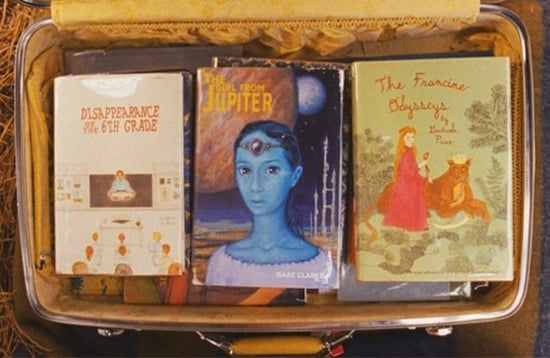 A year ago, I posted a list of the Best YYA Lit of 1964. The year 1964 was a cusp, a fulcrum between the eras we know as the Fifties (1954–1963) and the Sixties (1964–1973). By 1965, the Sixties were well under way… building towards their apex in '68 and '69. I think Wes Anderson would agree that the Golden Age for older kid's lit began in the Fifties, reached its full potential in the Sixties… and began to decline after 1973. Many good kids' books have been published since '73, of course, but the Golden Age was over.
Susan Cooper's Dark is Rising series, Louise Fitzhugh's Harriet the Spy, Hugo Pratt's Corto Maltese comic strip, Richard Adams's Watership Down, Ursula K. Le Guin's Earthsea series, Roald Dahl's Charlie and the Chocolate Factory, Joan Aiken's Wolves Chronicles series, Madeleine L'Engle's A Wind in the Door, Jean Merrill's The Pushcart War, John Christopher's Tripods trilogy and Sword of the Spirits trilogy, S.E. Hinton's The Outsiders, E.L. Konigsburg's From the Mixed-Up Files of Mrs. Basil E. Frankweiler, Peter Dickinson's Changes trilogy, Robert C. O'Brien's Mrs. Frisby and the Rats of NIMH, Ian Fleming's Chitty-Chitty-Bang-Bang, Lloyd Alexander's Chronicles of Prydain series, Alan Garner's Elidor and The Owl Service, not to mention Jack Kirby's various "Fourth World" DC comics series and Kamandi: The Last Boy on Earth… these all appeared in the Sixties. See my Best Sixties Adventure (1964–1973) list, for more examples.
In anticipation of the 50th anniversaries, this year, of the following titles, here's my list of the Best YYA Lit of 1965. Please let me know what I've overlooked!
*
Stan Lee and Jack Kirby's THE INHUMANS. Prior to the Sixties (1964–1973), Lee and Kirby created superhero teams who'd develop into beloved, enduring franchises: The Fantastic Four in '61, The X-Men in '63, The Avengers in '63. But the Inhumans, who first appeared in the November 1965 – March 1966 issues of Fantastic Four, were a different kettle of fish: misfits and outsiders even among mutant superheroes, a superior race living in the shadows. Black Bolt, Crystal, Karnak, Medusa, Gorgon aren't lovable; in fact, they're slightly villainous. But that just makes them an all the more romantic version of the Argonaut Folly mytheme.

*

Susan Cooper's OVER SEA, UNDER STONE. This is the first installment in The Dark is Rising: the best YA fantasy series ever, not to mention one of the best "Matter of Britain" (i.e., medieval Arthurian legend) adventure series. This particular installment is not particularly fantastical: It's a treasure-hunt thriller featuring three siblings on holiday in Cornwall. However, although the story begins in this Famous Five/Swallows and Amazons vein, soon enough we discover that the treasure the children (and some creepy adults) are seeking is in fact an artifact of the Light: a faction, that is to say, in an ancient, ongoing, worldwide struggle of free will and order vs. subservience and chaos! PS: Apparently, this is one of Wes Anderson's favorite books.

*

Lloyd Alexander's THE BLACK CAULDRON. The second in a series of Alexander's Chronicles of Prydain books, which use Welsh mythology (Prydain is the medieval Welsh term for the Brittonic parts of the island of Britain), particularly the Mabinogion, for inspiration, The Black Cauldron is my favorite. (But they're all good; see The Book of Three, on my Best YYA Lit 1964 list.) The antiheroic Prince Ellidyr, who loves only his horse, sickly Gwystyl of the Fair Folk, the sorceresses Orddu, Orwen, and Orgoch, and the doomed minstrel Adaon are tremendous characters. It's like Michael Moorcock's Elric series without the sex, drugs, and despair.

*

Alan Garner's ELIDOR. The author of the uncanny 1960 fantasy adventure The Weirdstone of Brisingamen, and its sequel The Moon of Gomrath (included on my Best YYA Lit 1963 list), returned in '65 with this retelling of Britain's "Childe Roland" fairy tale. Four English children enter a fantasy world, and set off on a quest to retrieve four treasures — a spear, a sword, a stone, and a cauldron. Most fantasy stories would have ended with the successful resolution of this quest; however, when the children return to Manchester — which is portrayed as an uninhabitable wasteland — evil follows them. The book is written in two different styles: When the children are in Elidor, we're reading High Fantasy; when they're back in England, we're reading The Famous Five. It's uneven, but in a good way.

*

Tove Jansson's MOOMINPAPPA AT SEA. The character of Moominpappa was an uncanny one, to me, when I first read these books. He alternates between writing his memoirs and sudden whims; his emotions are volatile. Here, he decides he wants to be a more traditional paterfamilias, because he realizes that his family doesn't look to him for guidance or support… so he herds his wife and children onto a boat, and sets off for Moominpappa's Island. (The plot is in some ways quite similar to Paul Theroux's The Mosquito Coast, also a sardonic inversion of the Robinsonade adventure genre.) Moominpappa's family suffers through one problem after another… why? Because they love him.

*

Sid Fleischman's THE GHOST IN THE NOONDAY SUN. He's not read much any more, I suspect, but Fleischman was one of my very favorite authors when I was between, say, 9 and 13. This book falls between Fleischman's two best: By the Great Horn Spoon! (included on my Best YYA Lit 1963 list) and Chancy and the Grand Rascal (1966). Like these yarns, the protagonist — 12-year-old Oliver Finch, who is kidnapped by pirates because they believe he can see ghosts, and they want to thwart the ghosts guarding treasure they've buried — is looking for a father figure, and finds one in an unlikely place. It's a version of Treasure Island… but easier for today's older kid to actually read.

*

René Goscinny and Albert Uderzo's ASTERIX and CLEOPATRA. The sixth book in the Asterix comic book series; it was originally published in serial form in 1963. My favorite Asterix book has got to be Asterix the Gladiator… but this adventure is right up there. Enraged at Julius Caesar's cultural imperialism, Cleopatra orders the Egyptian architect Edifis to build a new palace in Alexandria within three months. Edifis recruits Asterix, Obelix, and Getafix to help out… which they do by dosing the Egyptian workers with their magic potion. Edifis's arch-rival attempts to sabotage the palace's progress, leading to a fun escape-from-a-pyramid sequence, in which Dogmatix saves the day. (Note that Asterix and the Banquet also first appeared in album form in 1965.)

PS: When this post was republished by Boing Boing, it sparked a discussion about ethnic/racial stereotypes in Asterix books. (I thought the comment by user turkeybrain was very thoughtful: "Heads up, though, about Asterix. That stuff is racially troublesome. You go, ok, this one is all white people, which isn't great but it's better than the alternative but then BAM surprise caricature idiot black pirate. Granted, it does give you the opportunity to talk with your kids about how some people draw other people as less than human, but it's a mixed message when you present it as part of an entertaining whole.") In my 2012 book UNBORED, as part of my introduction to a list of the Best Ever Graphic Novels, I offered the following comment: "It's important to note that although Tintin, Lucky Luke, Asterix, and other titles published before the late 1960s often feature ethnic and national stereotypes, their heroes aren't prejudiced. In most cases, those stereotypes were being mocked by the author."

*

Bertrand R. Brinley's THE MAD SCIENTISTS' CLUB. Jeff, Henry, Dinky, and other members of the do-it-yourself Mad Scientists' Club tinker in a makeshift electronics lab above their town's hardware store, and use whatever materials they can find to pull off various pranks and stunts. For example: a remote-controlled lake monster! Fun fact: The author of the Mad Scientists series — story collections published in 1965 and 1968; and the novels The Big Kerplop! (1974) and The Big Chunk of Ice (2005) — directed an Army program for assistance and safety instruction for amateur rocketeers. He also wrote Rocket Manual for Amateurs (1960). so he actually knew what he was talking about. These stories first appeared in the Boy Scouts magazine Boys' Life.

*

Louise Fitzhugh's THE LONG SECRET. This book might blow your mind… if you are, like I was when I first read it, a devoted fan of Fitzhugh's Harriet the Spy (included on my Best YYA Lit 1964 list). In this sequel, Harriet has another mystery to crack. She's summering on Montauk — not with her excellent outsider weirdo friends Sport and Janie, but with the milquetoasty Beth Ellen — when nasty notes begin to appear around town. Like the vicious aperçus from Harriet's own notebooks, they're right on target. Who's leaving them? And what's happening to Beth Ellen's body? Also: Harriet is a jerk, kinda! Lizzie Skurnick's take on this book ("CSI: Puberty") is really spot-on: check it out.

*

Beverly Cleary's THE MOUSE AND THE MOTORCYCLE. By the author of the wildly successful kids' books (1950–99) about Henry Huggins, Ribsy, Beezus, and Ramona Quimby. I liked those books OK, when I was a kid… but I really liked this one. Set in a run-down resort hotel in California, it concerns the fateful meeting of Ralph, a mouse who longs for danger and speed, and Keith, a boy with a toy motorcycle. It turns out that Ralph can make the motorcycle run by making an engine noise with his lips… and off he goes, zooming up and down the creepy hotel's corridors, dodging vacuum cleaners and cats. (Is this where Kubrick got the idea for those scary Big Wheel scenes in The Shining?) When Keith falls sick, Ralph must brave the greatest danger of all in order to bring him medicine.
BEST SIXTIES YA & YYA: [Best YA & YYA Lit 1963] | Best YA & YYA Lit 1964 | Best YA & YYA Lit 1965 | Best YA & YYA Lit 1966 | Best YA & YYA Lit 1967 | Best YA & YYA Lit 1968 | Best YA & YYA Lit 1969 | Best YA & YYA Lit 1970 | Best YA & YYA Lit 1971 | Best YA & YYA Lit 1972 | Best YA & YYA Lit 1973. ALSO: Best YA Sci-Fi.
***
JOSH GLENN'S *BEST ADVENTURES* LISTS: BEST 250 ADVENTURES OF THE 20TH CENTURY | 100 BEST OUGHTS ADVENTURES | 100 BEST RADIUM AGE (PROTO-)SCI-FI ADVENTURES | 100 BEST TEENS ADVENTURES | 100 BEST TWENTIES ADVENTURES | 100 BEST THIRTIES ADVENTURES | 75 BEST GOLDEN AGE SCI-FI ADVENTURES | 100 BEST FORTIES ADVENTURES | 100 BEST FIFTIES ADVENTURES | 100 BEST SIXTIES ADVENTURES | 75 BEST NEW WAVE SCI FI ADVENTURES | 100 BEST SEVENTIES ADVENTURES | 100 BEST EIGHTIES ADVENTURES | 75 BEST DIAMOND AGE SCI-FI ADVENTURES | 100 BEST NINETIES ADVENTURES (in progress) | 1994 | 1995 | 1996 | 1997 | 1998 | 1999 | 2000 | 2001 | 2002 | 2003 | NOTES ON 21st-CENTURY ADVENTURES.