Naming the Cinema
By: Matthew Battles
January 8, 2012
Two current films in wide release, Michel Hazanivicius' The Artist and Martin Scorcese's Hugo, speak to an interest in the early cinema — an interest surely inspired in part by a sense that, in our perpetual state of emerging media, the struggles of past artists to realize their visions while the terms of expression seem to swirl and change has special meaning for us. As we strive to manage the welter of new names for technologies and tools of the expressive media, so did turn-of-the-last-century viewers try to figure out what to call the various newfangled means of making and viewing moving pictures. Here's a piece from the "Times Topics" section of the January, 28, 1898 edition of the New York Times enumerating the many names for the newfangled medium: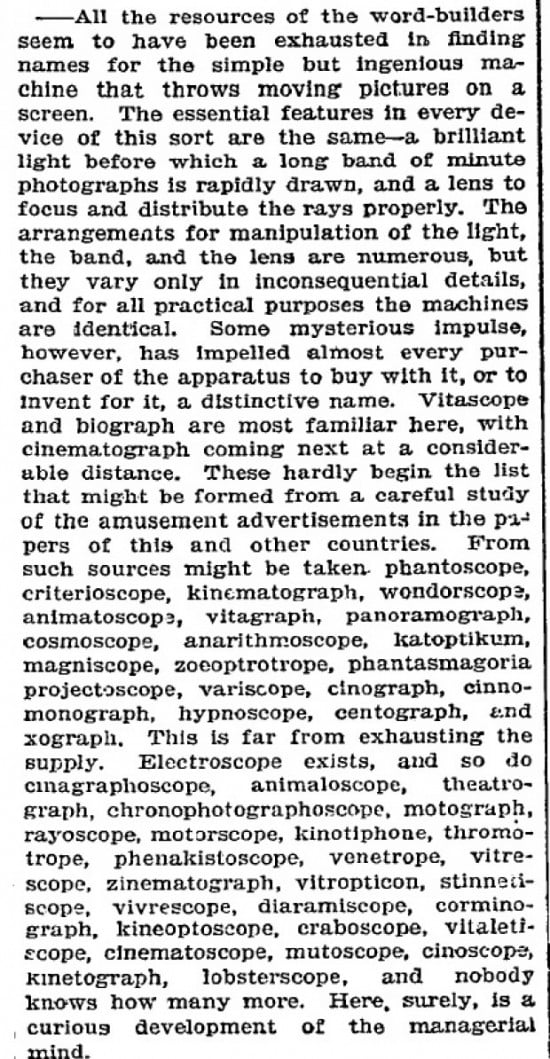 It's a vibrant bestiary of images, actions, and ideals: time, light, vitality, movement, judgment, change, vision, epiphany, and the animal world. Although the writer of this piece talks about a single machine, these weren't all names for the same thing; moving pictures emerged in a radiant bouquet of formats, modes of presentation, and proprietary media. The names are evocative of another time — and taken together, they express a condition familiar to us all.
Item first appeared at Gearfuse.