Basil Rathbone
By: Matthew Battles
June 13, 2010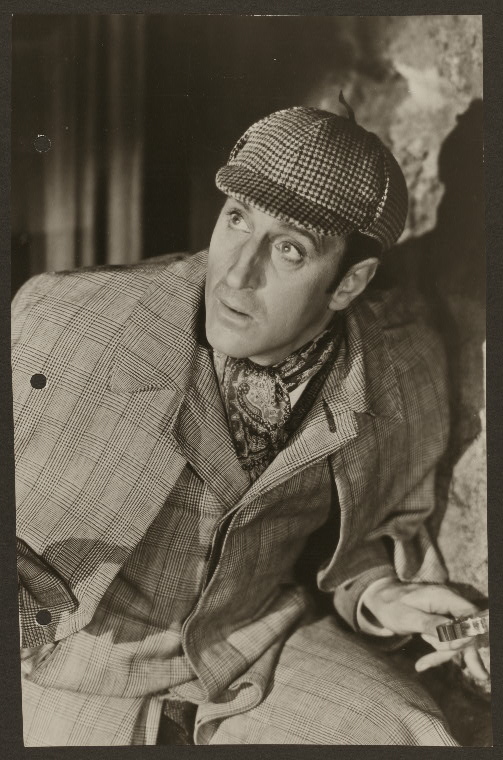 For much of his film career, BASIL RATHBONE (1892-1967) employed his dark good looks, lidded intensity, and considerable skill at swordplay in amassing a catalogue of turpitude. His roles include such memorable, murderous baddies as Guy of Gisbourne (Robin Hood), Captain Esteban Pasquale (Zorro), Captain Levasseur (Captain Blood), and Richard III (Tower of London); and shifty ne'er-do-wells as Mr. Murdstone (David Copperfield), Karenin (Anna Karenina), and Mr Black (Comedy of Terrors). Of course, Rathbone is remembered for his portrayal of Sherlock Holmes, setting the model, in deerstalker hat and Inverness cape, for every other Holmes to emulate or reject. Through no fewer than fourteen films as well as television appearances and advertising spots, his Holmes became cartoonish — a trend the actor followed in his late career with the B-movie factory American International Pictures. But it's worth considering Rathbone's Baker Street genius in the context of his dastardly characters: what draws them together? An answer might be sought in the actor's experiences in the Great War. Fresh out of Repton School, Rathbone joined the British Army (where he served alongside another future master of moral ambiguity, Claude Rains); as an intelligence officer, he became an expert in camouflage and disguise, scouting enemy positions in the midst of incredible violence. The details of Rathbone's war service are beyond the scope of this brief consideration. But we can say that his memorable characters, whether in the right or the wrong, were acquainted with the shadows.
ALSO BORN THIS DATE: William Butler Yeats
***
Each day, HILOBROW pays tribute to one of our favorite high-, low-, no-, or hilobrow heroes on that person's birthday.
READ MORE about the Modernist Generation (1884-93).
READ MORE HiLo Hero shout-outs.
SUBSCRIBE to HiLo Hero updates via Facebook.
SHARE this post, by clicking on the toolbar below.