HERMENAUTICA (11)
By: Joshua Glenn
March 17, 2023
One in a series of posts featuring pages from Hermenaut, a DIY intellectual zine/journal published by HILOBROW's Josh Glenn from 1992 through 2000-01.
*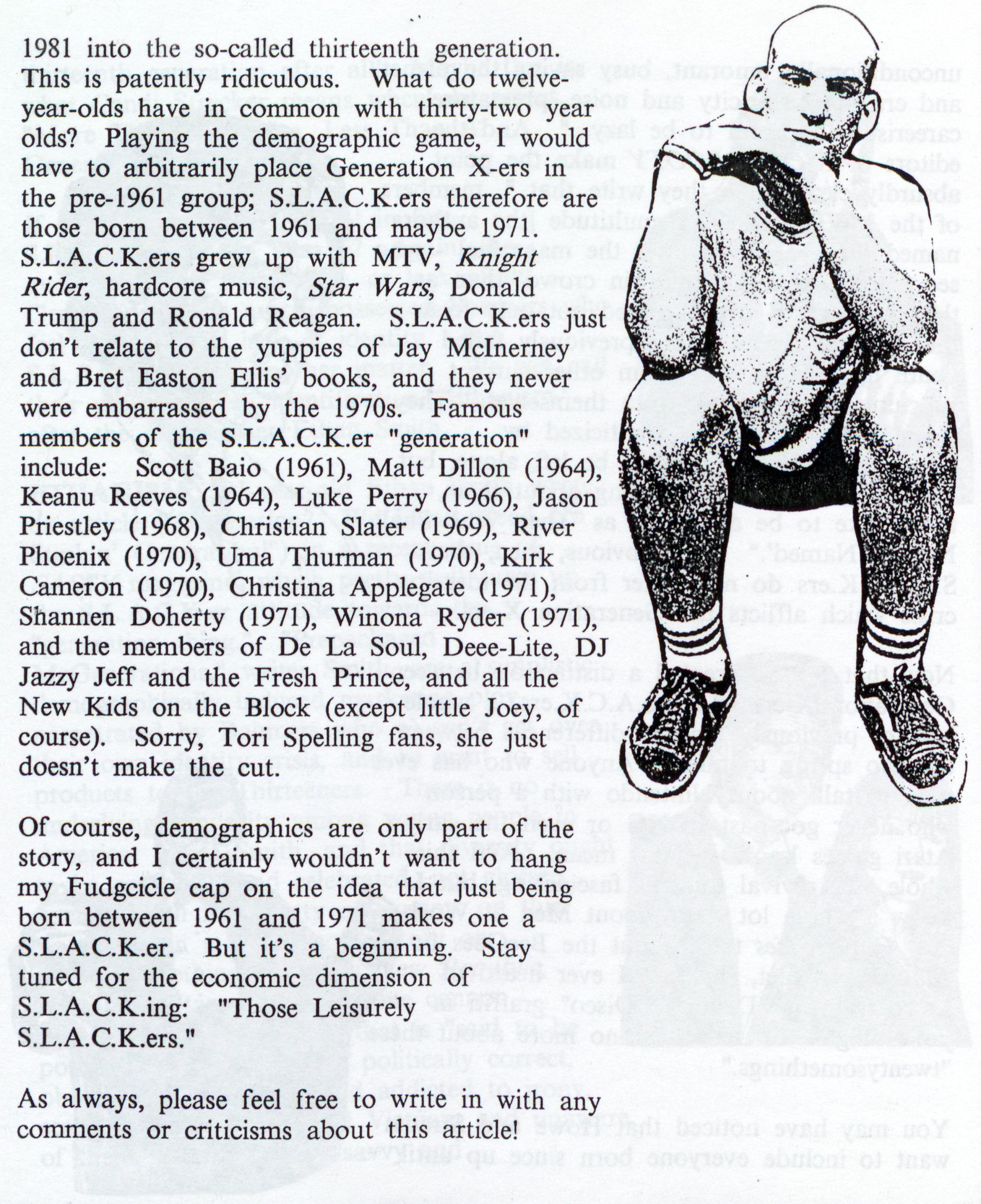 A glimpse at an early version of my generational re-periodization project. I'd still argue that mainstream generational periodizations are arbitrary and foolish; however, I hadn't at that time yet figured out a way to correct for this. What I eventually decided was that my own scheme — the "4/3" business — would be overtly and risibly arbitrary. So these days I'd argue that I was born into a 1964–1973 cohort — not 1961–1971, as this page tentatively suggests. Sorry, Scott Baio — you don't get to be in my generation.
Pub. Date: Winter 1992–1993
Theme: Subculture (S.L.A.C.K. series)
Hermenaut: Levinas
Pages: 26
Print Run: 75
***
MORE HERMENAUT on HILOBROW: HERMENAUTICA series | MEET THE HERMENAUTS | HERMENAUT's last five issues | Snapshots | Letters to HERMENAUT | Dialectical Design | Josh Glenn on CAMP, KITSCH & CHEESE | Josh Glenn on DANIEL CLOWES: Q&A | Clarke Cooper on APOCALYPSE ALREADY | Lisa Carver on THE ART OF BEING UNCOMFORTABLE | Josh Glenn on FAKE AUTHENTICITY | Chris Fujiwara on ZOOMING THROUGH SPACE | John Marr on CAMPANILE FREE-FALL | Clarke Cooper on THE WILL TO SCORN | Dan Reines on PURE EVEL | Chris Fujiwara on ROADWORTHY JAZZ | Dan Reines on LETTER FROM LA | Mary E. Ladd & Julie Wiskirchen on ONWARD CHRISTIAN TOURISTS | Chris Fujiwara on SAVED BY BETRAYAL | Margaret Blonder on MEMORIES OF THE BIOSPHERE | Josh Glenn on HERMENAUT: PHILIP K. DICK | Ingrid Schorr on ROCKVILLE GIRL SPEAKS.