HERMENAUTICA (4)
By: Joshua Glenn
January 23, 2023
One in a series of posts featuring pages from Hermenaut, a DIY intellectual zine/journal published by HILOBROW's Josh Glenn from 1992 through 2000-01.
*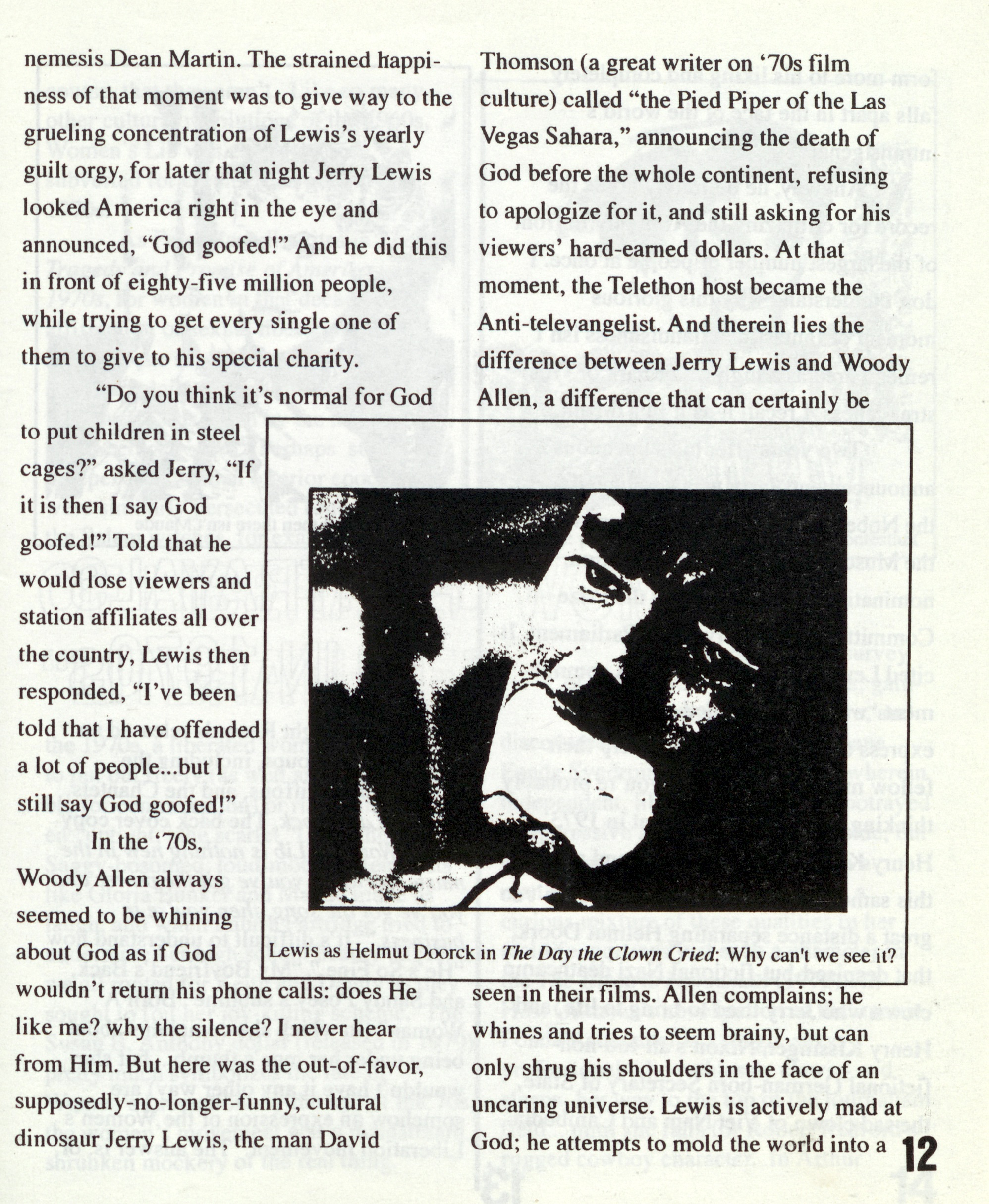 In issue #7, Scott Hamrah's "Thus Spake Cinderfella" discussed Jerry Lewis's career in the 1970s, including the ill-fated The Day The Clown Cried.
Pub. Date: January 1994
Theme: Unheimlich
Print Run: 500
Margaret Blonder, John Cradock, Scott Hamrah, and Susan Roe are listed as editorial staff of this issue. Jennifer Engel was art director. I can't remember if Jennifer laid out the pages before I moved from Boston to Minneapolis, or if we did it by mail? Collaborating online was not an option in those days.
***
MORE HERMENAUT on HILOBROW: HERMENAUTICA series | MEET THE HERMENAUTS | HERMENAUT's last five issues | Snapshots | Letters to HERMENAUT | Dialectical Design | Josh Glenn on CAMP, KITSCH & CHEESE | Josh Glenn on DANIEL CLOWES: Q&A | Clarke Cooper on APOCALYPSE ALREADY | Lisa Carver on THE ART OF BEING UNCOMFORTABLE | Josh Glenn on FAKE AUTHENTICITY | Chris Fujiwara on ZOOMING THROUGH SPACE | John Marr on CAMPANILE FREE-FALL | Clarke Cooper on THE WILL TO SCORN | Dan Reines on PURE EVEL | Chris Fujiwara on ROADWORTHY JAZZ | Dan Reines on LETTER FROM LA | Mary E. Ladd & Julie Wiskirchen on ONWARD CHRISTIAN TOURISTS | Chris Fujiwara on SAVED BY BETRAYAL | Margaret Blonder on MEMORIES OF THE BIOSPHERE | Josh Glenn on HERMENAUT: PHILIP K. DICK | Ingrid Schorr on ROCKVILLE GIRL SPEAKS.