INTO THE GROVE (9)
By: Brian Berger
April 8, 2017
One in a series of posts, by long-time HILOBROW friend and contributor Brian Berger, celebrating perhaps America's most exciting and controversial publisher: Barney Rosset's Grove Press.
*
Patrick Mullahy's Oedipus: Myth and Complex (1948, 1955)
Theodor Reik's Listening With the Third Ear: The Inner Experience of a Psychoanalyst (1949, 1958)
Theodor Reik's Masochism in Modern Man (1941, 1958)
Theodor Reik's The Search Within: The Inner Experiences of a Psychoanalyst (1956)
Theodor Reik's Of Love and Lust: On the Psychoanalysis of Romantic and Sexual Emotions (1957, 1959)
Psychoanalysis and Contemporary Thought edited by John Sutherland (1958)
Projective Psychology edited by Lawrence Edwin and Leopold Bellak (1950, 1959)
Frederick J. Hoffman's Freudianism and the Literary Mind (1957, 1959)
Wilhelm Stekel's Patterns of Psychosexual Infantilism, edited & introduction by Emil A. Gutheil (1952, 1959)
All cover designs by Roy Kuhlman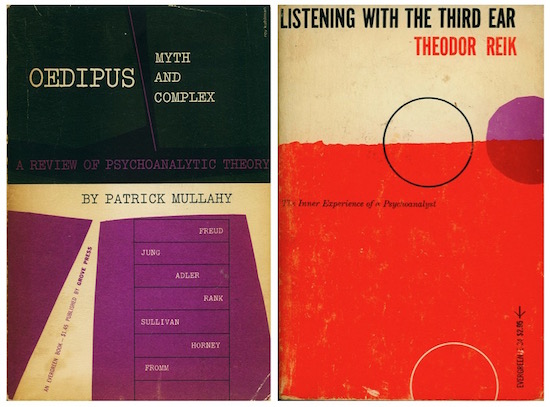 Because its literary reputation is so great, relatively scant attention has been paid to Grove Press's rich catalog of psychology titles, including many within what we can broadly call the Freudian tradition. Just what experiences Barney Rosset and Roy Kuhlman had with psychotherapy is uncertain beyond the fact that both men were interested in Freud's most famous — and controversial — follower, the Austrian-born Wilhelm Reich, who would die in Lewisburg Federal Penitentiary in November 1957. What's clear is both Rosset and Kuhlman responded strongly to certain psychology texts and that, for all their intellectual rigor, such interests were not esoteric.
That serious psychology was part of the popular Cold War zeitgeist, one needn't look further than the first season of The Phil Silvers Show, a.k.a. Sgt. Bilko. In the episode "Bilko and the Beast," first broadcast on March 27, 1956, an aggressive drill Sergeant (Federal Theater Project veteran George Matthews) joins the platoon, an imposition Bilko will subvert not by physical force but rather the power of his mind. Though his men are skeptical, Bilko explains how the drill sergeant's behavior is "an obvious display of a massive inferiority complex and it manifests itself in the Freudian Theory of Inner Regret." The what? Bilko goes on.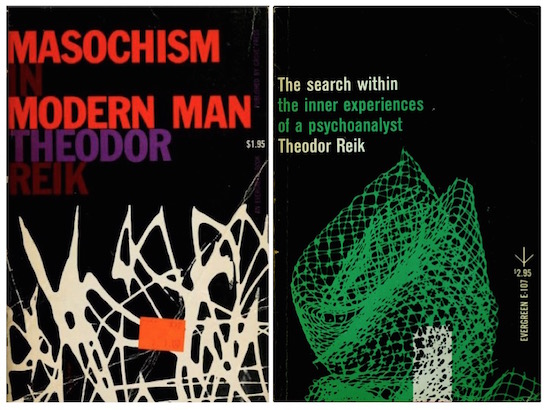 You don't know about the debate? Oh! This all came about in the debate that Freud had with Spinoza many years ago in Budapest. You re— you read this? You didn't? Oh, tremendous! TREMENDOUS!

Freud came out with a then-unheard-of theory that man and the inner man, when there is an obvious submersion of the libido, into the id section you will find a regression. Freud definitely points out that in the alter ego, when there is an Oedipus complex which is prevalent, you will see that the man who shows sadistic tendencies, aggression will also submerge into the cocoon of being withdrawn from the entire soul.

Freud — Freud, in his search for knowledge — oh, this was way before The Search for Bridey Murphy! — he had this down. He knew this. He knew the id complex would manifest itself with an outburst of bedlam of guilt and there you have the libido intertwined with the id complex, intertwined with heliogistic sections "A"; heliogistic sections "B" —

Oh, Spinoza denied this! Oh he screamed, SCREAMED! Didn't do him any good because there was the theory brought right out here. We have a man showing inner rejection in this very room. A few moments ago he walked with this massive aggressiveness — it looks on the surface he's sadistic but it isn't that at all. It's just his desire saying, "I'm not so big, I am little." That's what he's saying. He wants to be loved, he shows it, but he hides it. That's his whole quest. He wants to be loved. It's his way of saying, "Love me."

Now, how can we get rid of the creep?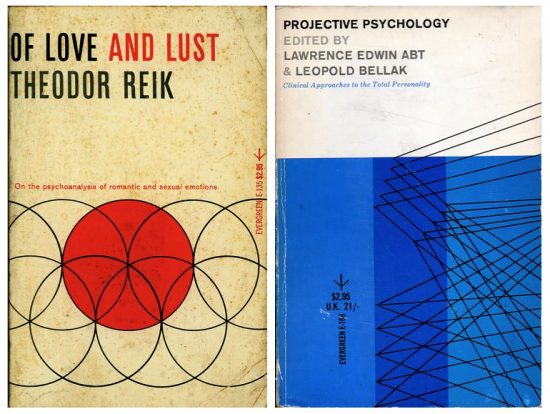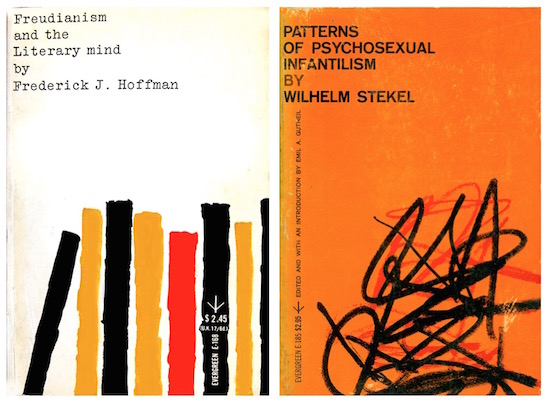 Was Freud really that funny? Is psychology? Is — lurking behind all in this period — nuclear annihilation? Or is this an example of what Theodor Reik would write about in his 1963 book Jewish Wit? (Baruch Spinoza, Freud, Reik, Bilko creator Nat Hiken and Phil Silvers all were Jewish.) The answer, I think, is yes, to everything. Which isn't to say Reik's books aren't serious; to the contrary. They are very serious and the analyst will explain — some might say overexplain — at length, with frequent literary and musical allusions, what he's learned about the way people think. Sometimes Jewish food is involved.
A patient told me he had a very intense impulse of a most puzzling kind. During a performance of [Wagner's] Parsifal in the Vienna Staatsopera, in the middle of the most solemn scene, he had the most irresistible impulse to shout at the top of his voice: "Mazzesknoedel!" (Matzoth-balls.) The impulse became so intense that he almost succumbed, and only quick flight saved him from the unpleasant scene that would have resulted.

… While I am still brooding over the term "dialectic connection," I realize that the hidden meaning of intended shout, "Matzoth-balls!" eludes me. I admit, of course, that the impulse had something to do with the "oral fixation" because Matzoth-balls are food. But only God — in this case the God of our forefathers called Jahweh — knows what the connection is. Should I look for a traumatic experience in the childhood of the patient, something to do with those delicious dumplings?"
NB: Though Listening With The Third Ear and The Search Within share a subtitle — "The Inner Experiences of a Pyschoanalyst" — they are in fact different books. The former, a stand-alone volume of 514 pages, the latter an anthology weighing in at an even more imposing 657 pages.
***
BOOK COVERS at HILOBROW: INTO THE GROVE series by Brian Berger | FILE X series by Josh Glenn | THE BOOK IS A WEAPON series | HIGH-LOW COVER GALLERY series | RADIUM AGE COVER ART | BEST RADIUM AGE SCI-FI | BEST GOLDEN AGE SCI-FI | BEST NEW WAVE SCI-FI | REVOLUTION IN THE HEAD.