Hans Scharoun
By: Marilyn Berlin Snell
September 20, 2015
When the Nazis came to power, German architect HANS SCHAROUN (1893–1972) quickly ran afoul of the Bau Polizei. An established practitioner of "Organic Architecture," Scharoun sought form based on clients' experience and the specific site rather than ego or ideology. Because his aesthetic was deemed degenerate, he was unable to realize his building designs, and was terminated from his teaching position in 1933. In the days following German surrender, Scharoun was tapped to survey Berlin's bomb damage; he then became the city's Chief Architect — before partition and politics cost him his job. His creative genius and concern for the way architecture can bring people together reached its apex with the Berlin Philharmonic (1963) and the Berlin State Library (1967). With the Philharmonic, he was the first to design a concert hall with terraced, in-the-round seating, creating a sense of community rather than an audience of mere spectators. The acoustics are exceptional — one feels enfolded in sound as it arrives crisp and clean from every direction. From the building's sensual curves and textured gold-metal skin to its festive yet calm interior, Scharoun made magic incarnate. Filmmaker Wim Wenders saw the same magic in the State Library, and paid homage by enchanting it with angels in Wings of Desire.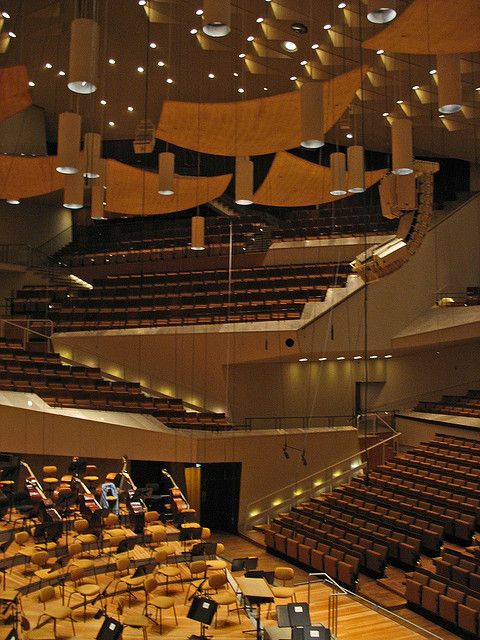 ***
On his or her birthday, HiLobrow irregularly pays tribute to one of our high-, low-, no-, or hilobrow heroes. Also born this date: Jay Ward, Stevie Smith, Upton Sinclair.
READ MORE about men and women born on the cusp between the Modernist (1884–93) and Hardboiled (1894-1903) Generations.