Shepard Fairey
By: Marilyn Berlin Snell
February 15, 2013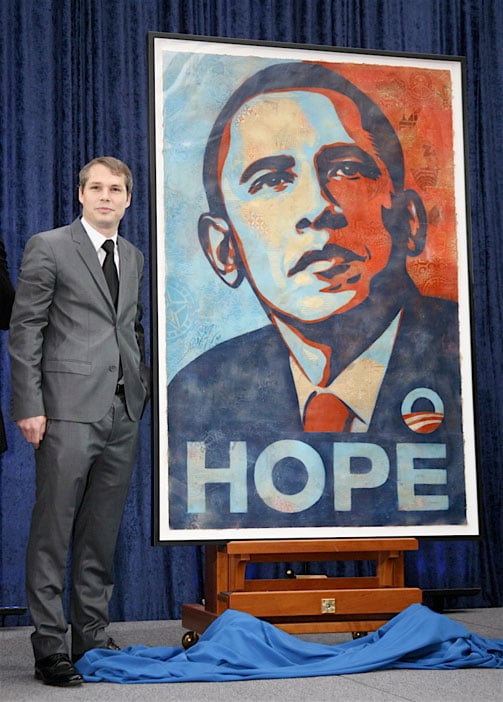 Street artist SHEPARD FAIREY (born 1970) is a study in apparent contradictions. He's been on the receiving end of a personal thank you note from the president of the United States and a lawsuit from the Associated Press for the same artwork — his transformation of an AP photo of then Senator Barack Obama into 2008's HOPE campaign poster. On the opening day of his first solo show, in February 2009 at Boston's Institute of Contemporary Art, he was arrested on a nine-year-old vandalism warrant for surreptitiously plastering his art on Boston streets. His work is ubiquitous and ephemeral, appearing free for the unsticking on telephone poles, cross-walk boxes, any old derelict space; and selling for big bucks in fancy galleries. He's adversarial toward propaganda, which to him includes advertising, yet has created campaigns for Saks Fifth Avenue and Pepsi, among other corporate behemoths. Influenced by groups like Public Enemy, Sex Pistols, and Black Flag more than by visual artists, Fairey's contradictions cohere in his personal anthem to "Question Everything." A skateboarder and student at the Rhode Island School of Design in the late 80s and early 90s, Fairey has said that his sticker art began during that time as a joke; hut he's also said that the coarsely copied image of pro-wrestler André the Giant, appearing above the word "OBEY," was an experiment in "phenomenology [or] the process of letting things manifest themselves." The "Obey Giant" image is nonsensical and just hollow enough for viewers to fill it in with whatever meaning they choose. Fairey's not so much a scold as a provocateur. His visual disobedience may be an irritant to those city workers who have to peel it off public buildings but it's also a wake-up call to the somnambulant consumer. Plus, it's a cool thing to stick on your notebook.
***
On his or her birthday, HiLobrow irregularly pays tribute to one of our high-, low-, no-, or hilobrow heroes. Also born this date: Sax Rohmer, Conor Oberst, and Ernest Shackleton.
READ MORE about members of the Reconstructionist Generation (1964–1973).