Joseph Cornell
By: Marilyn Berlin Snell
December 24, 2013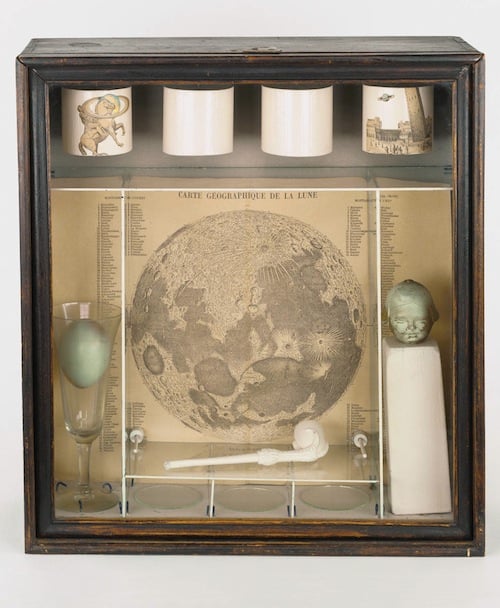 When JOSEPH CORNELL (1903–72) was young, he confided to his sister that he was terrified by the concept of infinity. The self-schooled artist mastered what panicked him by creating discrete little universes in each of his pieces. His collages, shadow boxes, and films were circumscribed by frames and populated with talismanic objects that meant something to him, that placed him in time and space and tethered him. He constructed his cosmologies in the basement of the Queens row house he shared with his mother and invalid brother, pulling the heaven of his passions, reflections, and dreams down to earth. Feathers from a prima ballerina's Swan Lake costume (she was a friend); the constellations Andromeda and Camelopardalis; Greta Garbo; the Medicis; birds and sea shells and glass beads; the everyday objects he found at Woolworth's – all these artifacts, notions, and images wend their way into his constructions. Unlike Warhol, who Cornell disdained for the way he trivialized the quotidian, the "master of dreams" imbued his objects with mystery and reverence. Cornell sprang fully formed onto the art scene in 1932 when, in the first public display of his work, he was part of a multi-media exhibition called Surrealisme at the Julien Levy Gallery in New York. Others in that groundbreaking show included Marcel Duchamp, Picasso, and Man Ray. Like the piece of scrap paper placed in a way that makes perfect sense to the whole, Cornell was in exquisite company but also integral.
***
On his or her birthday, HiLobrow irregularly pays tribute to one of our high-, low-, no-, or hilobrow heroes. Also born this date: Lemmy.
READ MORE about men and women born on the cusp between the Hardboiled (1894-1903) and Partisan (1904-13) Generations.