Walt Whitman
By: Brian Berger
May 31, 2014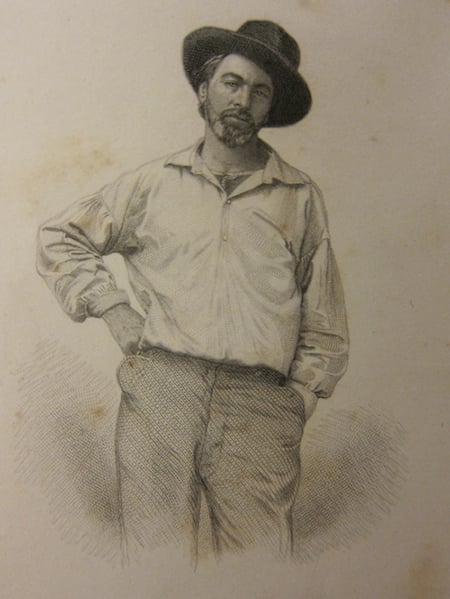 There are many reasons to love WALT WHITMAN (1819–92), few of which are best presented in the ubiquitous, so-called "deathbed edition" of Leaves of Grass (1891-92). No. Read his characteristically vigorous Brooklyn journalism of the 1840s–50s. Amaze at the first, self-published Leaves (1855), which earned Ralph Waldo Emerson's endorsement and, from one of the book's few contemporary reviews, "No sniveller, or tea-drinking poet, no puny clawback or prude, is Walt Whitman. He will bring poems to fill the days and nights — fit for men and women with the attributes of throbbing blood and flesh. The body, he teaches, is beautiful. Sex is beautiful too." That the anonymous critic was Whitman himself is pure genius and charm, which he exceeded in the epochal, 456-page 1860 Leaves, published by Boston abolitionists, Thayer & Eldridge. A curious liaison, this, for though he opposed slavery, Whitman was never an abolitionist, nor much concerned with free blacks, or their rights, which the Supreme Court's 1857 Dred Scott decision averred were none. If similar can be said of Abraham Lincoln — though Dred Scott disturbed him greatly — his Presidency would belie such indifference. The Civil War transfigured Whitman; read his correspondence to his mother, to soldiers' families. Lincoln changed more: the Emancipation Proclamation; equal rights for black soldiers; friendship with Frederick Douglass, whose existence Whitman ignored. Whitman loved Lincoln — read Sequel to Drum Taps (1865) — but Lincoln the racial progressive frightened him and muddleheaded evasions like Democratic Vistas (1871) and worse followed. "Throb, baffled and curious brain!" indeed.
***
On his or her birthday, HiLobrow irregularly pays tribute to one of our high-, low-, no-, or hilobrow heroes. Also born this date: John Bonham, Gilbert Shelton, Rainer Werner Fassbinder, Johnny Paycheck, D.M.C., Jean Rouch.
READ MORE about members of the Retrogressivist Generation (1815–24).