Gilbert Shelton
By: David Smay
May 31, 2010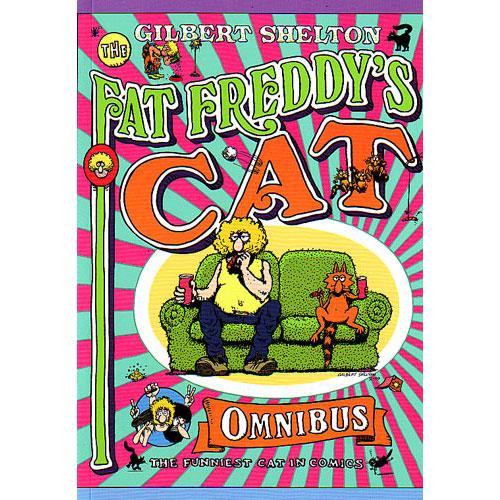 Late in the 8th century, the great alchemist Jabir ibn Hayyan discovered that the pure distillate of comedy displayed remarkable properties when exposed to the vapor of burning hemp flowers, producing a resinous giggle that collapsed in a fit of coughing. Along with his better known accomplishments — the invention of the alembic, the discovery of sulfuric acid, and the invention of aqua regia — he had inadvertently created the stoner comedy. The enduring THC strand of American humor has produced Mssrs. Chong and Cheech, Bill and Ted, Harold and Kumar, and most recently the Franco/Rogen show in Pineapple Express. But it reached its apex (and found its blueprint) early, with cartoonist GILBERT SHELTON's (born 1940) comic The Fabulous Furry Freak Brothers. Collaborating first with Bill Sheridan and then Paul Marvides, Shelton followed Phineas, Freddy, and Franklin's trail of seeds and stems across an increasingly elaborate comic universe, establishing himself as his generation's premier farceur. The pull in Shelton's work comes from an intimate portrait of countercultural self-indulgence and what is a classic comic sensibility; aside from the subject matter, Shelton could have been writing scenarios for Abbott and Costello or the Marx Brothers. His is not a radical reinvention of comedy, but an extension of the long inquiry into the appetites and their obstacles through hippiedom. Unlike many of his underground comic contemporaries, Shelton's comics are not only still readable but still funny, carefully crafted and closely observed. And if Fat Freddy's cat inadvertently spawned Garfield, then that's surely not his fault.
ALSO BORN ON MAY 31: John Bonham.
***
Each day, HILOBROW pays tribute to one of our favorite high-, low-, no-, or hilobrow heroes on that person's birthday.
READ MORE about the Anti-Anti–Utopian Generation (1934-43).
READ MORE HiLo Hero shout-outs.
SUBSCRIBE to HiLo Hero updates via Facebook.
SHARE this post, by clicking on the toolbar below.