Al Jolson
By: Brian Berger
May 26, 2014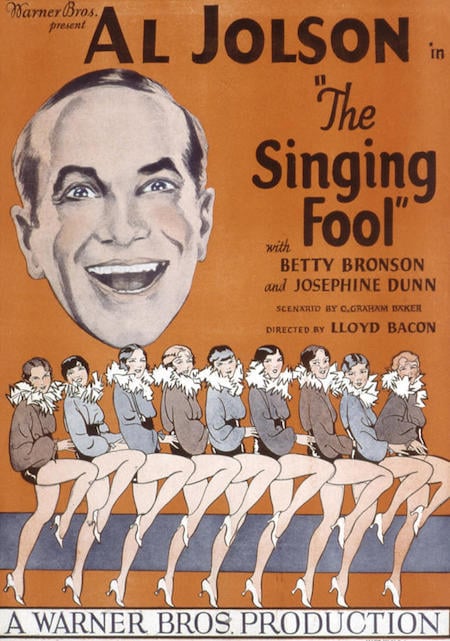 Two quotes come to mind when considering Lithuanian-American Jew and erstwhile "World's Greatest Entertainer," AL JOLSON (1886-1950). The first comes from "The Killer," who would repeat it, with slight variations, often: "Y'know son, there's only been four of us: Al Jolson, Jimmie Rodgers, Hank Williams, and Jerry Lee Lewis. That's your only goddamn four stylists that's ever lived. We could write, sing, yodel, dance make love, or what. Makes no damn difference. The rest of these idiots is either ridin' a damn horse, pickin' a guitar or shootin' somebody in some damn movie." In chapter one of Souls of Black Folk, published in 1903, W.E.B. DuBois, asked of his race — asked of himself — "How does it feel to be a problem?" and in the year following, the young vaudevillian Al Jolson, then part of a trio with his older brother Harry and comedian Joe Palmer, first donned blackface. Precisely why Al made the change remains unclear — in one version, the suggestion came from a black theater dresser in Brooklyn — but it was transformative. While Harry would have a respectable career as a minstrel singer/comedian, freed by burnt cork, Al became a phenomenon, an electrifying presence who would transcend, though never forsake his blackened soul: Broadway, records, film. Unlike Bert Williams, the early 20th century's greatest black blackface star — Al was unbothered by his success. He loved to sing — to communicate — and America listened.
"I've Got My Captain Working For Me Now" (1919)
"A Chazend'l oif Shabbes" (1932)
Hallelujah, I'm A Bum Again scene (1934)
"Swanee" from Rhapsody in Blue (1945)
***
On his or her birthday, HiLobrow irregularly pays tribute to one of our high-, low-, no-, or hilobrow heroes. Also born this date: Pam Grier, John Wayne, Matt Stone.
READ MORE about members of the Modernist Generation (1884–93).