John Wayne
By: Peggy Nelson
May 26, 2010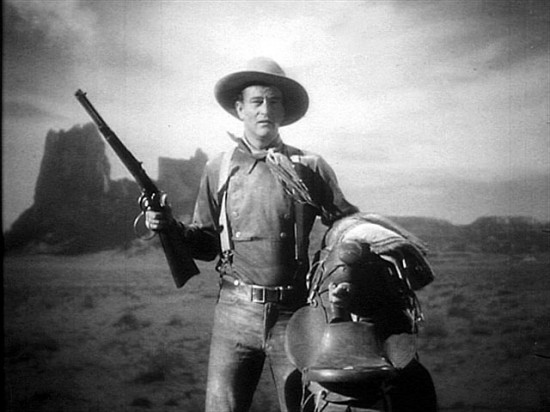 Marion Mitchell Morrison, better known as JOHN WAYNE (1907–1979), wasn't just a western icon ambling onscreen betwixt hat and horse; he seemed to distill the very landscape into his person. Massive and deliberate, he had more in common with the mountains and buttes than with the cowboys and co-stars scrabbling beneath. One could trace the firm contours of his principles in the lined countenance that grew only more sedimentary with age. A veteran of well over a hundred films, Wayne worked hard to show his way around a gun. In real life Wayne never went to war. Although he received an age exemption in WWII, his failure to enact in life what he so often portrayed onscreen seemed to increase the pressure on his beliefs, hardening them further into conservative veins. John Wayne was also never president. Despite being courted by the Republican party, he demurred, claiming that the people would never vote an actor into the White House. And yet we did, and when we did, we wanted Wayne: in the role of John Wayne-lite, his understudy Ronald Reagan went on to massive acclaim and the coveted curtain call. But it was in Wayne's late, great roles, like J. B. Books in 1976's The Shootist, that the myth finally cracked and the man showed through. Indiscriminate dust blurred good and evil; problem-solving violence had become the problem. We could read the end between the lines: the west had been won. Time to call the cowboys home.
ALSO BORN MAY 26: Pam Grier.
***
Each day, HILOBROW pays tribute to one of our favorite high-, low-, no-, or hilobrow heroes on that person's birthday.
READ MORE about the Partisan Generation.
READ MORE HiLo Hero shout-outs.
SUBSCRIBE to HiLo Hero updates via Facebook.
SHARE this post, by clicking on the toolbar below.