Jimmie Rodgers
By: Matthew Battles
September 8, 2011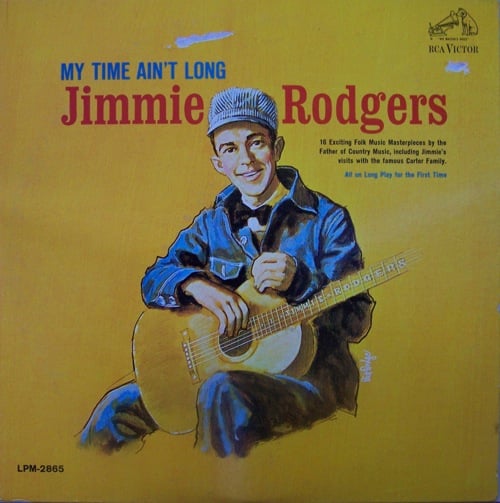 Called the father of country music, JIMMIE RODGERS (1897–1933) sparked the canny alchemy that turned the blues forms, the modal palette, and the keening vocal stylings of poor white and black southerners into a massive entertainment industry. His haunt was not the pew or the porch but the railroad platform — and although he had indeed been a railroad worker, in becoming "The Singing Brakeman" his vaudevillian costumes and aw-shucks banter helped to form the spirited fake authenticity that is country camp. Rodgers was no rube, but a canny pro when it came to building a musical career, making his way from the railroad sidings of New Orleans to New York and New Jersey, eventually recording with Louis Armstrong and touring with Will Rogers. His career was curtailed by the tuberculosis he contracted in his twenties, which killed him in in the midst of recording sessions in New York City in 1933. His simple guitar stylings and his sly, flexible vocals set a pattern many country stars would emulate. His most curious legacy isn't found in Nashville, however, but in Africa, where a selection of his records found their way to the Kipsigis, a Nilotic people living in Kenya's southeastern highlands. Haunted by his ghostly yodels and the uncannily familiar modes in which he strummed, the Kipsigis understood Rodgers' music as the vessel or avatar of some familiar spirit. Around 1950, ethnomusicologist Hugh Tracey recorded a group of young women singing a paean to "Chemirocha," calling on his music's seductive powers to help them win husbands. Here the pure intervals and plangent timbres bend back to regard themselves, as if pondering the curious journey they've made.
***
On his or her birthday, HiLobrow irregularly pays tribute to one of our high-, low-, no-, or hilobrow heroes. Also born this date: Alfred Jarry and Peter Sellers.
READ MORE about members of the Hardboiled Generation (1894-1903).