Shackleton (6)
By: Peggy Nelson
February 22, 2013
A weekly digest of Sir Ernest Shackleton's Imperial Trans-Antarctic Expedition of 1914-1917, as told by @EShackleton on Twitter.
Follow on Twitter: @EShackleton
The story thus far:
A change in the pressure loosens the grip of the ice, and the Endurance sinks below the surface forever. Camp life settles into a routine but Shackleton is restless – remaining camped and going with the floe might bring them NE, and away from any land reachable in the lifeboats. Mulling over the options, Shackleton is struck down by what he terms "sciatica" and cannot exit his sleeping bag without assistance. Discord is beginning to show amongst the men; though they are keeping themselves busy, the lack of movement (preceded by the long months when the Endurance was trapped in the ice), is beginning to tell in strain and uncertainty. Recovering, Shackleton makes a controversial decision: they will head west over the uneven ice. Not all agree, but they pull up stakes. Once underway, Shackleton sends Worsley back to the remains of the camp with a secret kept from the rest: a message in a bottle in case they do not survive. The going is very slow, the ice surface rotten and soft; good days gain only a mile, or slightly more.
***
Excerpts: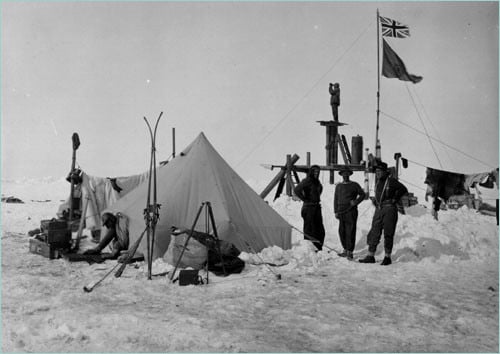 Our daily routine:
Morning:
6:30 a.m. Light the stove.
7:00 a.m. Emerge from tents.
7:45 a.m. "Lash up and stow!"
Breakfast. Rolled-up sleeping bags are used as chairs, while the tent Peggies bring round each tent's ration of hoosh.
Then chores, cooking, hunting, making improvements to the boats, exercising the dogs, returning back to the Endurance for further salvage. mostly hunting.
Dogs fed at 5 p.m.
Our dinner at 5:30 p.m. Seal hoosh, a bannock, and watered cocoa.
Evening:
Read aloud, cards, or singalong.
Lights out at 8:30 p.m.
Late conversation, if any, must be hushed; voices carry in the cold, dry air.
By 10 p.m. all quiet except the first night watchman; we each have our watch hour assignment.
Note that the sun does not conform to our schedule: first light is at 3:00 a.m., while dusk reluctantly makes her appearance around 9:00 p.m.
"a hard, rough, jolly life, this marching and camping… working as hard as the human physique is capable of on a minimum of food."
Macklin and Greenstreet have gone out for seals.
"We found no seals. So for diversion we got on a small piece of ice, and shoved out into the lead, paddling ourselves along with ski sticks. We were just like a couple of schoolboys doing a stupid thing just for devilment. Sir E. saw us, and I personally had the feeling of a schoolboy caught stealing apples.

"We immediately paddled for the bank and landed and went on with our seal hunt, finally meeting him as he returned to camp. Instead of the long harangue as we expected he only gave us an awful look and passed on."

— Alexander Macklin
***
The Endurance has sunk another 18 inches.
"I do not worry about these dangers but live comfortably & happily in the present…" — Worsley
"It has been a lovely day, and it is hard to think we are in a frightfully precarious situation." — Macklin
"Pack quiet, but away to the distant North clouds of sea smoke arise like a distant fire." — Hurley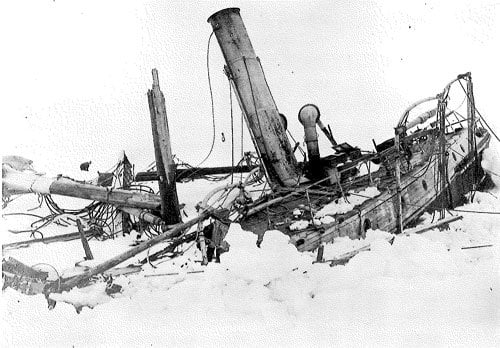 — A sudden movement in the wreck —
"At 4:50, saw the funnel dip behind a hummock suddenly: ran up the lookout."
"It gave a sickening sensation to see it, for mastless & useless as she was, she seemed a link with the outer world."
The slush and floes closed over the aperture as if it had never been. It took 10 minutes.
"There was a queer silence over the camp. As for me, there was an odd lump in my throat and I found it hard to swallow… We were now very lonely." — Bakewell
"At 5 p.m. she went down by the head: the stern the cause of all the trouble was the last to go under water."
"I cannot write about it." — Shackleton's private diary
***
Right. I decided we should have a treat at dinner tonight: fish paste and biscuits. It was very well received.
"Our meals now consist in the main of a fairly generous helping of seal or penguin, either boiled or fried."
"Meals are invariably taken very seriously, and little talking is done till the hoosh is finished."
"All is eaten that comes to each tent, and everything is most carefully and accurately divided into as many equal portions as there are men in the tent. One member then closes his eyes or turns his head away and calls out the names at random, as the cook for the day points to each portion, saying at the same time, 'Whose?' "

"Partiality, however unintentional it may be, is thus entirely obviated and every one feels satisfied that all is fair, even though one may look a little enviously at the next man's helping, which differs in some especially appreciated detail from one's own."

— Ernest Shackleton, South
"We break the Tenth Commandment energetically, but as we are all in the same boat in this respect, no one says a word."
"It is just like schooldays over again, and very jolly it is too, for the time being!"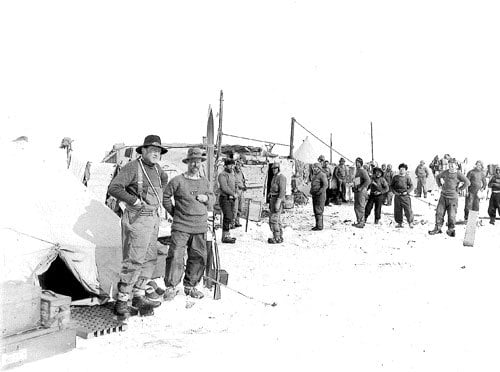 I am Attacked by Sciatica.
As well I seem to have a sort of cold; unusual in the Antarctic…
I cannot exit my (wet, woolen) bag in my (wet) tent without assistance.
DAMN.
Doctors! I will not be examined.
(It is not my heart.) (As I have explained to them.)
"He was constantly on the watch for any break in the morale, or any discontent, so that he could deal with it at once." — James
I am consoling myself somewhat with Kinglake's Eothen.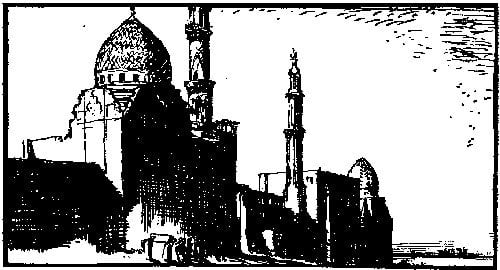 "The first night of your first campaign (though you be but a mere peaceful campaigner) is a glorious time in your life. It is so sweet to find one's self free from the stale civilisation of Europe!"

— excerpt from Eothen, or, Traces of Travel Brought Home from the East, by A. W. Kinglake: full excerpt; full online text.
***
Our body heat melts the ice under our bags overnight.
..despite salvaging wood from the dog kennels for makeshift floors. (The dogs, of course, preferring to curl up directly on the ice.)
"Day by day goes by much the same as one another. We work; we talk; we eat. Ah, how we eat!"
"By comparison with home standards we are positive barbarians, and our gastronomic rapacity knows no bounds."
***
"There is a movement on foot to eject me from the 8 man pole tent & make me sleep in the Rabbit Hutch." — Orde-Lees
Orde-Lees has been ousted from tent #5 for snoring, and general annoyance.
"Sounds of bitter sobs and lamentations are heard this evening from No. 5 tent at the loss of their dearly beloved 'Colonel' [Orde-Lees] who has removed himself for a season to sleep in his store in the old wheelhouse. He indulgently yields to our earnest entreaties to continue to dine with us and comforts us with the assurance that he will return promptly to our Humble but Happy Home immediately we prepare to get on the march."

— Frank Worsley
On occasion the ice loosens slightly, which has the effect of making our floe an island, yet without a lead to pursue in the boats.
On those days we must exercise the dogs around the perimeter only.
Even the dogs know they're not getting anywhere.
"We have drifted back a bit…but I think it will be for our good as it will give the ice between us & the Land a chance to get out & us a chance in." — McNeish
"Really Sir Ernest does not at all ignore the possibility of having to remain on the floe until it reaches the vicinity of the S. Orkneys. But he does not like it to be discussed for fear of creating a feeling of despondency, especially among the sailors." — Orde-Lees
"Put footstep of courage into stirrup of patience." Repeat.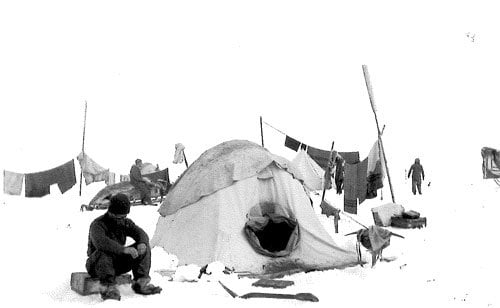 "Our time at Ocean Camp has not been one of unalloyed bliss."
"Tent walls are very thin, thinner than this paper, and they have ears on both sides — inside & outside and many are the scrappy bits one hears which one 'didn't ought' to hear."

— Thomas Orde-Lees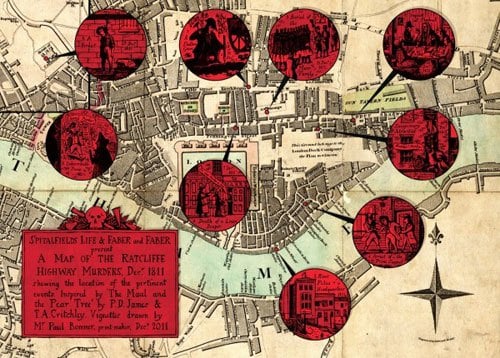 "One would imagine he is in Ratcliffe Highway or some other den by the language that is being used. I have been shipmates with all sorts of men both in sail and steam, but never nothing like some of our party – as the most filthy language is used as terms of endearment, and, worse of all, is tolerated."

— Harry McNeish
"Once again across the Antarctic Circle it will seem as if we are practically half way home again." — Orde-Lees
And now we've been blown back below the 67th parallel, not a day after we had crossed it.
I have hardly patience enough for "stop." But none at all for "reverse."
"Am thinking of starting off for the west."
"The Boss seems keen to try to strike to westward, as we don't make headway as we are. That will mean travelling light and taking only two boats at the most and leaving a lot of provisions behind. As far as I have seen the going is awful, everything being in a state of softness far worse than when we left the ship, and in my opinion it would be a measure to be taken only as a last resort and I sincerely hope he will give up the idea directly. There have been great arguments about the matter in our tent…"

— Lionel Greenstreet
"My idea is to stay here — unless the drift should become large to the East… The advantages of waiting a little longer are that the drift will convey us part of our journey without any exertion on our part, that probably we should be able to keep 3 boats, and that in the meantime leads may open in the pack."

— Frank Worsley
"…personally I think that we ought to push west as hard as we can. We know that there is land 200 miles west, therefore the pack edge should be somewhere about 150 – 180 miles off in that direction… At our present rate of drift it would take us to the end of March to reach the latitude of Paulet Island, and even then we cannot be certain of breaking out. Consequently my view is, 'Make as hard and as far as possible to the west.' The drift will take us north, and the resulting direction will be NW, the direction in which we want to go… Anyway we will see what they think of things tomorrow."

— Alexander Macklin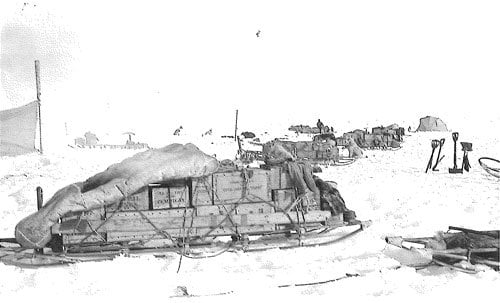 "[Should a visitor arrive at midnight…] he would notice that… it was still light, the sun never setting at this time of year in this latitude. He would have to pass a line of dogs tethered in teams to wires… secured at one end to their own loaded sledges and at the other to an iron stanchion driven deeply in the snow. The sledge trace is in position and the harnesses all secured in place and ready to be put on the dogs… The sledges are loaded and lashed…everything ready to be moved at a moment's notice."

— Alexander Macklin
"A spell of hard work would do everybody good." — Wild
"Found the surface & conditions good, there being about 75% of splendid going." — Hurley
It's settled. We'll travel at night.
"It's rather heavy. Do you think we ought to take it?" — Hussey #Banjo
"Yes, certainly. It's vital mental medicine, and we shall need it." — Shackleton #Banjo
***
Since we can't carry all the food, I have ordered a "gorgie." To begin immediately.
Hoosh of course. And bannocks. And canned peaches, cold mutton, curried prawns, jam, figs, walnuts, onions…
"Everybody finishing up feeling full as a tick." — Greenstreet
3am. Conditions have changed since our scouting mission not 24 hours back. Foggy, humid, warm. The surface is soft.
Not splendid. Not good.
All hands push the James Caird on its sledge until stopped by the next pressure ridge.
Then half the party sets to hacking a pass through the obstacle, while the rest return for the Dudley Docker.
Distance gained: one mile.
We pitched tents and turned in, but everything is wet through and through: the ice, the tents, the bags, ourselves.
Macklin and Worsley have given up on the tent idea entirely and are attempting to sleep in the Dudley Docker.
***
I have sent Worsley back to camp with a message in a bottle, under the guise of retrieving additional supplies.
This is confidential.
If the men see that I have doubts about our survival, then we are truly lost.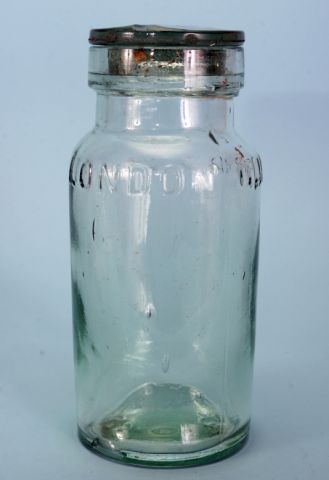 "The Endurance has been crushed and abandoned at 69° 5′ South, 51° 35′ West, and the members of the Imperial Trans-Antarctic Expedition are now at 67° 9′ South, 52° 25′ West, and proceeding to the west across the ice in the hopes of reaching land. The message concluded: 'All well.' Dated December 23, 1915, and signed, 'Ernest Shackleton.'"

— Alfred Lansing, Endurance: Shackleton's Incredible Voyage

[Pickle jar from the Nimrod Expedition, 1907-09. Auctioned in 2010: Lot # 275: SHACKLETON'S HUT ANTARCTICA ARTIFACT PICKLE JAR, "appears to have been washed." Item listed as sold.]
The surface of the ice is a thin crust frozen over rotting, saturated floes, covered itself by a layer of soft snow.
More often than not we burst through the crust into the freezing waterlogged slush below. Sometimes to the knees. Sometimes further.
We find we can only take 200-300 yards sustained punishment at a time, even without pressure ridges to break through.
Distance gained: another mile and a half.
***
Follow on Twitter: @EShackleton
Companion Blog: Shackleton
@EShackleton is written by artist and HiLobrow Arts Editor Peggy Nelson, whose previous Twitter novel was @adelehugo (2009-10). Direct quotations are from the participants, who kept regular diaries at Shackleton's insistence. Most photos are by Frank Hurley, official Expedition photographer. Other material sourced as noted and/or linked.
Note: Missed the beginning? No worries: @EShackleton's Twitter adventure will set sail again in 2014, tweeting a month-to-month correspondence during the 100-year anniversary of the Expedition.
***
Read more about Shackleton and extreme adventure on HiLobrow:
The Shackleton weekly digests
Shackleton project overview
Shackleton as HiLo Hero
Age of Exploration versus the Age of Reenactments
Wide World of Extreme Sports
Shackleton's Google Doodle
The Psychonaut Generation
and
In Search of Adele on HiLobrow