Who's Feeling Lucky?
By: Peggy Nelson
February 15, 2011
Perhaps you have read of the exploits of today's HiLo Hero, early 20th-century polar explorer Sir Ernest Shackleton. Or seen one of the many films, documentaries, museum exhibits, rescued bottles of whisky, or Harvard Business School case studies that examine from almost every angle the poster child of spectacular failure turned to unbelievable success.
But what if he had to do it today? Now that the Age of Heroes is over and the age of reenactments is decidedly, prosaically, here? Of what modern technologies would Shackleton avail himself to aid in his search?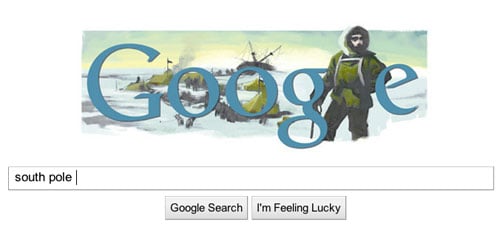 [Doodle, www.google.co.uk, Feb 15, 2011]