Shackleton (5)
By: Peggy Nelson
February 8, 2013
A weekly digest of Sir Ernest Shackleton's Imperial Trans-Antarctic Expedition of 1914-1917, as told by @EShackleton on Twitter.
Follow on Twitter: @EShackleton
The story thus far:
An intense blizzard blows the floe 6 miles NW, exactly the direction needed. Camp life on the ice floe settles into a routine, as things do in even the most improbable situations, given time. An epidemic has broken out — of card-playing! A deck was unearthed from the rubble by No. 5 tent, and Shackleton and McIlroy have undertaken to teach the men bridge. Hunting and various maintenance tasks continue, while dog teams make daily round trips to the Endurance to salvage anything and everything portable. Shackleton quotes Browning (as he has all along); the men organize evening reading parties with some recovered books, a somewhat eccentric selection. All are in a fine mood, including the dogs, which are happily belligerent.
***
Excerpts:
48-hour blizzard.
Trapped in the tents, with howling for company.
"He collected with him the ones he thought wouldn't mix with the others…"
Hurley, James and Hudson are with me.
"They were not so easy to get on with, the ones he had in his tent with him – they were quite a mixed bag." — Greenstreet
The men are confined and the dogs are belligerent. Yet we are all in a fine mood.
"We all hope it lasts for a month." – McNeish
Winds this strong can carry us some distance north.
We have been blown 6 miles NW. #Excellent.
"The dog teams have worn a glazy track to the boat."
"Each team averaging 5 loads during the day & my team did seven. Some loads averaging 110lbs in dog weather."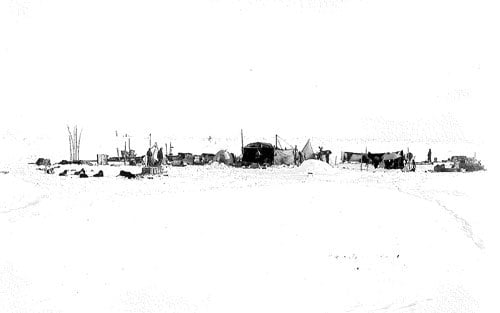 "camp is assuming the appearance of a Yukon gold rush camp & I often expect to see at times Indians & squaws coming to visit us." — Hurley
The hoop tents had been designed by Marston especially for this expedition. They function in a similar way to a baby's pram, unfurling up and down, and can be struck in a number of seconds. The center-pole tents, although less quick to collapse, are significantly more wind-resistant, in that they provide a slimmer profile to the elements.

The galley shielding stove and cook has been christened The Billabong by our Australian, while the ex-wheelhouse sheltering the stores, the province of stores master Orde-Lees, has become The Rabbit Hutch.
"Living in a tent without any furniture requires a little getting used to."
"The cook found that he could bake a sort of flat bannock or scone, but he was seriously hampered for want of yeast or baking powder."
"For our meals we have to sit on the floor, and it is surprising how awkward it is to eat in such a position…it is better by far to kneel and sit back on one's heels, as do the Japanese."
I did increase the food allowance from 9 1/2 ounces per man per day. For now.
"All seals and penguins that appeared anywhere within the vicinity of the camp were killed to provide food and fuel."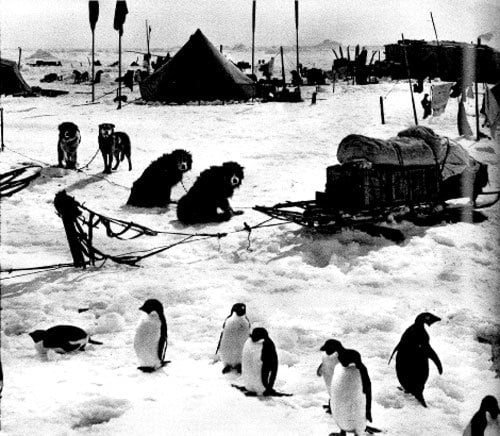 A composite picture by Frank Hurley, demonstrating penguins wandering into camp.
"When one was found a signal was hoisted, usually in the form of a scarf or a sock on a pole, & an answering signal was hoisted at camp."
"Then Wild went out with a dog team to shoot and bring in the game."
Seals are killed by hand, not gun, when possible, by sneaking up and slitting the jugular.
This saves on ammunition, and also preserves the brain (which is ruined by the use of a pickaxe).
Brains being high in vitamins…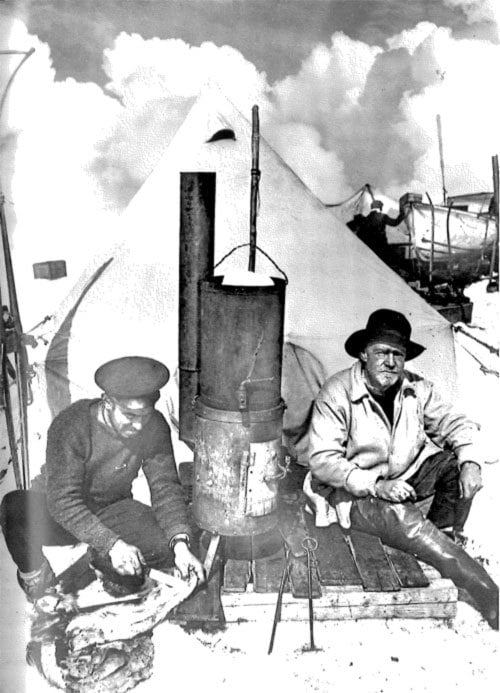 Penguin-skinning (Shackleton and Hurley at the stove)
"To feed ourselves and the dogs at least one seal a day was required."
"The seals were mostly crab eaters, and emperor penguins were the general rule."
Ah, MOST excellent: #5 tent have unearthed some playing cards!
McIlroy and I have set to teaching everyone the rules of bridge.
***
The muffled thunder of ice on ice.
A sharp, splintering crack just issued from the wreck.
3,500 yards away we saw the foremast of the Endurance come crashing down, carrying the blue ensign with it.
***
We are in the midst of a bridge epidemic.
"…from each tent may be heard, '1 club, 2 hearts, 2 no-trump, double 2 no-trump' etc." — Greenstreet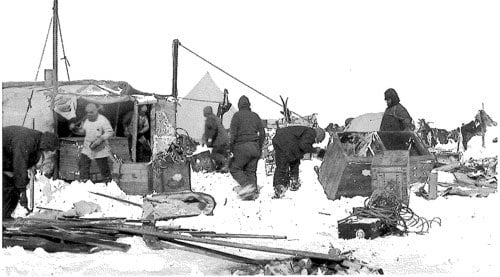 "Really, this sort of life has its attractions. I read somewhere that all a man needs to be happy is a full stomach and warmth, and I begin to think it is nearly true. No worries, no trains, no letters to answer, no collars to wear — but I wonder which of us would not jump at the chance to change it all tomorrow!"
— Alexander Macklin
We find there is a use for everything, even if it is quite remote from its original intention.
McNeish has caulked the raised sides of the whaler with cotton lamp wick, sealed with Marston's oil colors.
"I have been busy since Saturday finishing the sledge for the boat & now I am building the boat up 1 foot higher & decking her in half way making her fit to carry the whole party in case we have to make a longer journey than we intisipate at present.

"I have started to raise the Dudley Docker a strake higher at my leisure. It is to pass time for me & it makes the boat carry more & more seaworthy."
— Harry McNeish
We will name the boats after the expedition's backers, which is only right and proper.
The large whaler will be henceforth known as the James Caird.
The No. 1 cutter will be the Dudley Docker, and the second cutter will be the Stancomb Wills.
Marston is using what McNeish has left him of his paints to letter the names on the sides.
I will be in charge of the James Caird, with Wild as mate. Worsley will captain the Dudley Docker with Greenstreet his second, and 'Buddha' Hudson will head the Stancomb Wills, assisted by Tom Crean.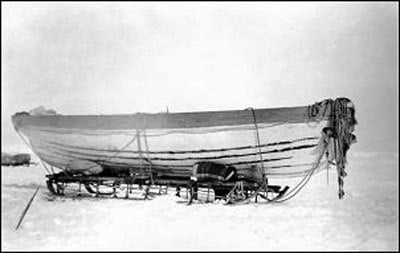 ***
"How bare the rock, how desolate, / Which had received our precious freight"
I am, as ever, about my Browning.
My Star

All, that I know
Of a certain star
Is, it can throw
(Like the angled spar)
Now a dart of red,
Now a dart of blue
Till my friends have said
They would fain see, too,
My star that dartles the red and the blue!
Then it stops like a bird; like a flower, hangs furled:
They must solace themselves with the Saturn above it.
What matter to me if their star is a world?
Mine has opened its soul to me; therefore I love it.
— Robert Browning
Actual volumes being quite unnecessary, as I have committed so much of it to memory:
Hurley parries back with Keats!
On the Sea

It keeps eternal whisperings around
Desolate shores, and with its mighty swell
Gluts twice ten thousand Caverns, till the spell
Of Hecate leaves them their old shadowy sound.
Often 'tis in such gentle temper found,
That scarcely will the very smallest shell
Be moved for days from where it sometime fell.
When last the winds of Heaven were unbound.
Oh, ye! who have your eyeballs vexed and tired,
Feast them upon the wideness of the Sea;
Oh ye! whose ears are dinned with uproar rude,
Or fed too much with cloying melody —
Sit ye near some old Cavern's Mouth and brood,
Until ye start, as if the sea nymphs quired!
— John Keats
A valiant attempt, but I fear he cannot dislodge the — my — favorite.
"Oh, to be in England / now that April's there"
(To be sure, an April of the mind; yet one ought not to indulge too often…)
"We are almost as well off as we were aboard the ship, and most of us are just as happy." — Macklin
Macklin has busied himself for hours sewing a trouser patch; Greenstreet has put himself to resoling all our boots with penguin skin.
"What an ingrate I have been for such jobs when done for me at home." — Macklin
"One of the finest days we have ever had… a pleasure to be alive." — Greenstreet
"Sir E. optimistically discusses an expedition to the Lands N. of Canada. We … wax enthusiastic about our next trip before we can definitely settle how the devil we are going to get out of this one." — Worsley
As a group, we are in two minds about the blubber smoke from the galley.
We are all of us covered with it.
Some let it accumulate, believing it provides protection against frostbite, while others attempt to remove the daily layer with snow.
The futility of which may be imagined.
The gallery is provided with a small looking glass where we can measure relative progress in this regard. & we all have a growth of beard.
***
No. 5 tent has organized a nightly reading party.
They arrange themselves as spokes, with feet under the bunched-up sleeping bags for a hub.
Clark went first, reading aloud from "Science from an Easy Chair:"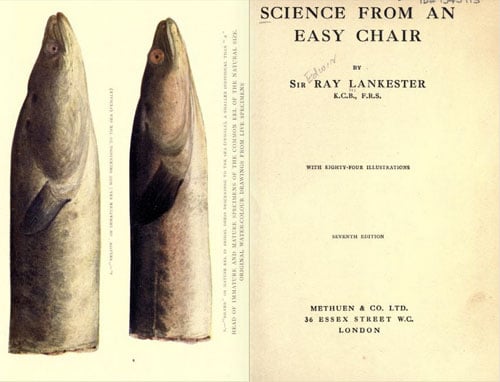 "In order to know very minutely the differences and resemblances between all the kinds or species of one group of living things Darwin studied for eight years the "cirrhipedes," the name give to the sea-acorns and ships' barnacles which occur in all parts of the world, some living on rocks, some on the backs of turtles, others on whales, on the feet of birds, on bits of floating wood or of pumice-stone, and some on one another! They are all hermaphrodites, but Darwin found in several a most singular thing, namely, the existence of minute males, complemental to and parasitic on the hermaphrodites. His discovery was doubted and denied, but he had the pleasure of seeing it at last fully confirmed thirty years after his book on cirrhipedes was published."
Then it was Greenstreet's turn, with Sir Walter Scott's "Marmion:"
I do not rhyme to that dull elf,
Who cannot image to himself
"I must confess I find his reading an excellent soporific." – Macklin
***
Follow on Twitter: @EShackleton
Companion Blog: Shackleton
@EShackleton is written by artist and HiLobrow Arts Editor Peggy Nelson, whose previous Twitter novel was @adelehugo (2009-10). Direct quotations are from the participants, who kept regular diaries at Shackleton's insistence. Most photos are by Frank Hurley, official Expedition photographer. Other material sourced as noted and/or linked.
Note: Missed the beginning? No worries: @EShackleton's Twitter adventure will set sail again in 2014, tweeting a month-to-month correspondence during the 100-year anniversary of the Expedition.
***
Read more about Shackleton and extreme adventure on HiLobrow:
The Shackleton weekly digests
Shackleton project overview
Shackleton as HiLo Hero
Age of Exploration versus the Age of Reenactments
Wide World of Extreme Sports
Shackleton's Google Doodle
The Psychonaut Generation
and
In Search of Adele on HiLobrow