Eddie Cochran
By: Lynn Peril
October 3, 2012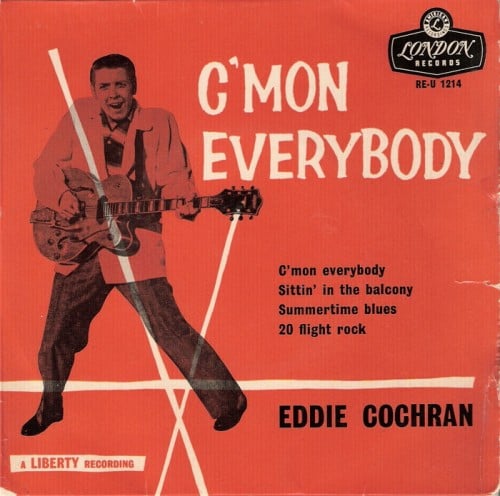 EDDIE COCHRAN (1938–1960) went to rock-and-roll heaven via a London taxicab crash at only 21 years of age.(*) Cochran's triple talent for singing, songwriting, and guitar playing meant that despite his youth, he left a body of work that many an older artist might envy. A producer spotted the handsome, blond Cochran — a working musician since his mid-teens — playing a studio session in Hollywood and cast him in The Girl Can't Help It (1957), starring Jayne Mansfield and a bevy of early rock-and-rollers. Cochran's frantic performance of "Twenty-Flight Rock" made him a star — and indirectly played a role in the Beatles' creation myth: allegedly John only let Paul into The Quarrymen because the latter knew all the words to the song. A year later, Cochran and his writing partner came up with the mighty "Summertime Blues." Though the song climbed no higher than number 8 on the U.S. charts, "Summertime Blues" has been covered by artists as diverse as Blue Cheer and Olivia Newton John. Powered by a chunky rhythm punctuated with handclaps, each witty chorus ends with lyrics "spoken" by an authority figure to whom the youthful narrator appeals. Boss, parents, congressman — all form a united front against teen freedom.
(*) Rocker Gene Vincent's boozy, self-medicated end was probably hastened due to injuries sustained to his already damaged leg in the same accident. Cochran's unofficial fiancée, songwriter Sharon Sheeley — who penned Cochran's 1959 rocker "Somethin' Else" at the age of 19 — was also in the cab and sustained a broken pelvis.
***
On his or her birthday, HiLobrow irregularly pays tribute to one of our high-, low-, no-, or hilobrow heroes. Also born this date: Talib Kweli.
READ MORE about members of the Anti-Anti-Utopian Generation (1934-43).