Santiago Jiménez, Jr.
By: Brian Berger
April 8, 2012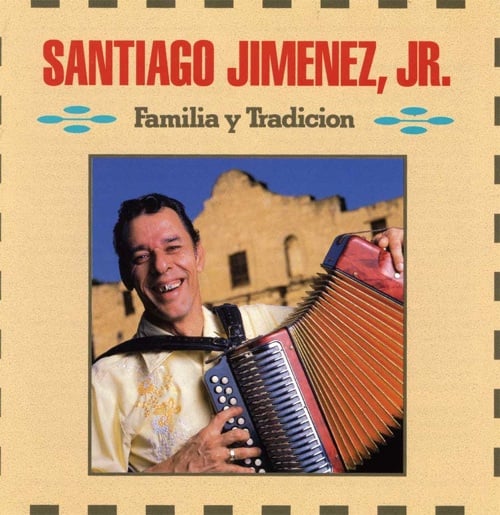 "Mi vida es un estoria muy loca" ("My life is a crazy story"), says "El Chief," SANTIAGO JIMÉNEZ JR. (born 1944), foremost living exponent of traditional conjunto music. His father, "Don" Santiago Jiménez (1913-84), was one of the genre's pioneers. While, like the blues, conjunto's exact provenance is unknown, it assuredly springs from some meeting of central European (German, Czech, Polish) and Mexican cultures in southern and central Texas. Jiménez Sr. — like fellow Lone Star native Ernest Tubb — first recorded in 1936 and his sound became his son's: two-row button accordion (Jr. performs "Viva Seguin" solo, below), bajo sexto (a 12-string guitar) and tololoche (acoustic bass); later, drums and electric bass were added as necessary. Glorious as this was, unlike its country-western coeval honky-tonk, conjunto remained a regional phenomenon, one supported almost exclusively by the Tejano working class, of which the Jiménez family of San Antonio's La Piedrea barrio were part. Thus, when in the early 1960s Santiago Jr. made an album with his older brother, Flaco, Hermano y Hermano, few took notice and, in 1973, when conjunto-influenced Texas music visionary Doug Sahm introduced Flaco to a rock audience, Jr. remained behind, yet immersed in old ways he sought to master. Happilly, word of his devotion spread and, in the 1980s and '90s, Jr. made wonderful albums for the Arhoolie, Rounder, and Watermelon labels; find them and you'll want to find out more. San Antonio road trip!
VIVA SEGUIN
SAN ANTONIO DANCE PARTY
***
On his or her birthday, HiLobrow irregularly pays tribute to one of our high-, low-, no-, or hilobrow heroes. Also born this date: Edmund Husserl, Vivienne Westwood, and Yip Harburg.
READ MORE about men and women born on the cusp between the Anti-Anti-Utopian (1934-43) and Blank (1944-53) Generations.