Forever
By: Matthew Battles
September 13, 2011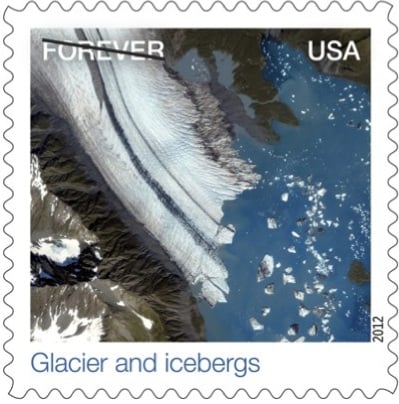 This stamp design, one in a new "Earthscapes" series from the USPS featuring stunning satellite imagery, has me wondering if the Post Office is getting in on the climate-denial act. Forever?
Some checking reveals that the feature in question is Bear Glacier on Alaska's Kenai Peninsula. And it's shrinking, as revealed by photographs taken by the U.S. Geological Survey—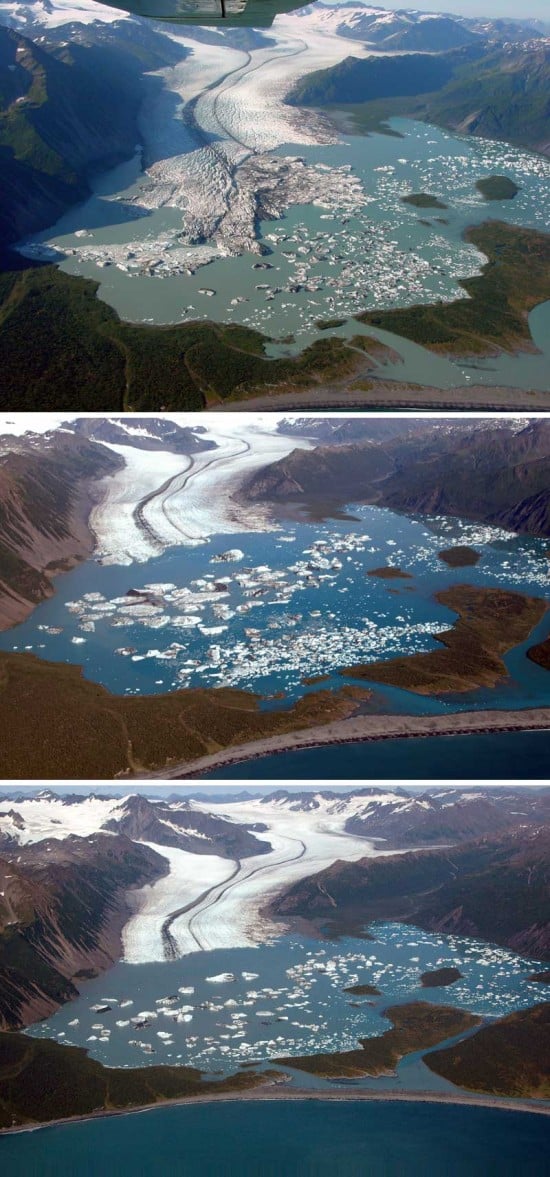 Prior to 1950, the entire basin of Bear Lake was filled by Bear Glacier's piedmont lobe. By 1961, a small lake occupying less than 10% of the basin had developed adjacent to the southeast margin of the glacier. By 1984, the lake nearly doubled in size. In the 18 years between 1984 and September 2002, the lake quadrupled in size. The triangular-shaped terminus of the glacier depicted here has retreated at least 2 kilometers (1.2 miles) from its 1984 maximum position. The large tabular icebergs and the low relief, low-gradient terminus suggests that the terminus has thinned so much that much of its lower reaches are afloat…. The second photograph was made on August 6, 2005. During the 35 months between photographs, the triangular-shaped terminus of the glacier retreating more than 3 kilometers (1.9 miles) with the large triangular lobe disappearing, the result of intensive passive calving. The glacier has also thinned by about 10 meters (33 feet)…. (USGS photograph by Bruce. F. Molnia). The third photograph was made on August 13, 2007. From 2005-2007, the terminus continued to retreat through passive calving, although at a slower rate than prior to 2005…. In the 24 months between images, the western margin of the glacier retreated more than 0.4 kilometers (0.25 miles). (USGS Photograph by Bruce F. Molnia).
The Earthscapes stamps cost 44¢ apiece; back when Bear Glacier's piedmont lobe filled its lake, it cost 3¢ to mail a letter. But the "Forever" stamps, unlike glaciers, are meant to survive rate increases. How much will it cost to mail a letter when Bear Glacier is gone?
— via @eatingbark; a gallery of the Earthscapes series is featured at the Washington Post.