Antoine de Sainte-Exupéry
By: Matthew Battles
June 29, 2010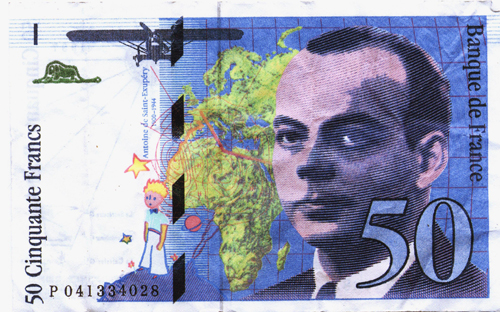 En route to Saigon in 1935, ANTOINE DE SAINTE-EXUPERY (1900–1944) crashed his Caudron C-630 near Wadi Natrun in the Libyan desert. Unsure of his location, and with a day's worth of fruit and wine to sustain him and his navigator, he soon stopped sweating and began to hallucinate under the implacable Saharan sun. Rescued by the chance arrival of a camel caravan, Sainte-Exupéry would turn that lost crater in the sands into an elysium rivaling The Rabbit Hole, Mr. McGregor's Garden, and The Hundred Acre Wood in the popular imagination. With more than 80 million copies in print worldwide, The Little Prince has earned a reputation as tear-jerking treacle. But unlike the settings of other fondly-remembered books, the world of Sainte-Exupéry's fable is a singularly bleak place. It is a planet imagined by a pilot — and in Sainte-Exupéry's reckoning, pilots know that there is no pity or comfort in the surface of the Earth but that which we bring to it. "Roads avoid the barren lands," he wrote in Wind, Sand, and Stars, his memoir; "they shape themselves to man's needs and run from stream to stream…. only from the height of our rectilinear trajectories do we discover the essential foundation, the fundament of rock and sand and salt in which here and there from time to time life like a little moss in the crevices of ruins has risked its precarious existence." For all his success, Sainte-Exupéry would abandon the succor of those crevices for the theatre of the clouds; flying reconnaissance for the Free French forces, he disappeared over the Mediterranean in 1944.
ALSO BORN THIS DATE: Stokely Carmichael
***
Each day, HILOBROW pays tribute to one of our favorite high-, low-, no-, or hilobrow heroes on that person's birthday.
READ MORE about members of the Hardboiled generation (1894-1903).