CURVE YOUR ENTHUSIASM (17)
By: Joshua Glenn
August 19, 2023
One in a series of 25 enthusiastic posts, contributed by 25 HILOBROW friends and regulars, on the topic of reconsidered passions, reassessed hates, and reversed feelings everywhere in-between. Series edited by Adam McGovern.
*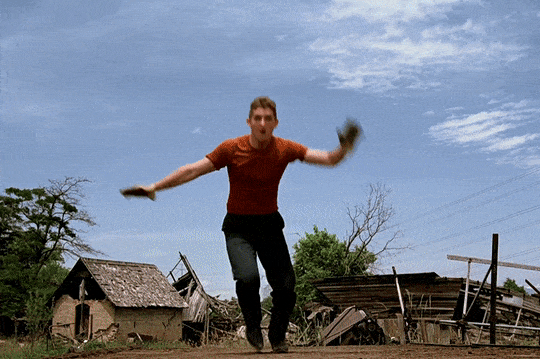 FOOTLOOSE
I was a 16-year-old in the throes of transitioning from one subculture (sci-fi, fantasy, Dungeons & Dragons) to another (hardcore punk, skateboarding) when Footloose, one of the highest-grossing movies of 1984, was released. I went to see it, but didn't get what the fuss was about. The soundtrack (Kenny Loggins, Deniece Williams, Bonnie Tyler) is Top 40 crapola. Kevin Bacon's dancing is awkward; when it's his gymnastics double who's doing the dancing, it's excruciating. The movie's premise, meanwhile — in thrall to a reactionary preacher, a southern Texas town has banned rock'n'roll and dancing — was as implausible to this viewer as it is to the movie's Chicagoan protagonist.
And yet… "on to greener pastures," as the last hardcore EP I'd ever purchase (the following year) laments, "the core has gotten soft." When I rewatched Footloose recently, my hard heart melted.
I still don't like the soundtrack… except for the scene where Shalamar's "Dancing in the Sheets," blasted from an illicit boombox by the preacher's daughter, gets everyone at the soda shop shaking their asses. This is a powerful, fun example of American Graffiti-style "worldizing" — diegetic music persuading us that we're sharing time and space with the movie's characters. As for the title track, at the level of form it mirrors Footloose itself: tedious, predictable, and cringe-inducing… yet undeniably charming and infectious, in at least some of the right places.
Yes, Kevin Bacon's dancing is awkward — but this is very much on purpose. While most movie musicals are populated by graceful dancers perfectly executing Broadway-style moves, Footloose choreographer Lynne Taylor-Corbett celebrates spontaneous dancing… the awkwardness of which makes it all the more thrilling and life-affirming. (Think of the drunken dancing on the bus in It Happened One Night, or the Cutters' clumsy victory dance in Breaking Away — pure joy.) The true heart of the movie isn't Bacon's often and rightfully mocked angry-dancing scene — Broadway-ish schmaltz — but rather the sequence in which Chris Penn overcomes his macho inhibitions and starts shaking a leg.
In 2023, the movie's premise feels less unlikely than prophetic. One of the revelations of rewatching Footloose was my realization that John Lithgow's preacher character is, if not quite sympathetic, at least far more nuanced and self-aware than I'd remembered. This sort of conservative, amenable to persuasion by a spiky-haired teen armed with subversive Bible quotes, has gone extinct, whereas Roger and Eleanor Dunbar, the Stepford-esque kooks who go from book-banning to book-burning, are running shit now. The story's emotional apex? Diane Wiest's steely "Eleanor, sit down!"
Is Footloose, in fact, science fiction? The mise en scène is post-apocalyptic-ish, thanks to the abandoned buildings in which the characters dance, fight, and dance again. Plus, there's a medieval-style joust on rusty tractors, not to mention a sanctuary where fragments of forbidden texts are stored. Into this isolated, devolving society comes Kevin Bacon's character, who — like Eli Doyle in Octavia E. Butler's Clay's Ark (also 1984) — possesses heightened physical abilities. Will his infectious dance moves spread to others, or will he be neutralized first?
***
CURVE YOUR ENTHUSIASM: INTRODUCTION by Adam McGovern | Tom Nealon on PIZZA PURISM | Holly Interlandi on BOY BANDS | Heather Quinlan on THE '86 METS | Whitney Matheson on THE SMITHS | Bishakh Som on SUMMER | Jeff Lewonczyk on WHOLE BELLY CLAMS | Kelly Jean Fitzsimmons on HOW I MET YOUR MOTHER | Nikhil Singh on LOVE ISLAND UK | Adrienne Crew on CILANTRO | Adam McGovern on MISSING PERSONS | Art Wallace on UFOs | Fran Pado on LIVERWURST | Lynn Peril on ELTON JOHN'S GREATEST HITS | Marlon Stern Lopez on ADOLESCENT REBELLION | Juan Gonzalez on STAN & JACK or JACK & STAN | Christopher-Rashee Stevenson on BALTIMORE | Josh Glenn on FOOTLOOSE | Annie Nocenti on SIDEVIEW MIRROR | Mandy Keifetz on BREATHLESS | Brian Berger on HARRY CREWS | Ronald Wimberly on GAMING AND DATING | Michele Carlo on HERITAGE FOODS | Gabriela Pedranti on MADONNA | Ingrid Schorr on MAXFIELD PARRISH AND SUE LEWIN | Mariane Cara on ORANGE.
MORE ENTHUSIASM at HILOBROW
MÖSH YOUR ENTHUSIASM (1Q2024): ENTER SANDMAN | MILQUETOAST | CHRISTBAIT RISING | GOING BLIND | HERE COME THE COPS | & 20 other Eighties (1984–1993) Metal songs. STOOGE YOUR ENTHUSIASM (4Q2023): MOVE ON FAST | 96 TEARS | SHE CRACKED | WHAT A WAY TO DIE | PSYCHOTIC REACTION | & 20 other Sixties (1964–1973) proto-punk songs. CURVE YOUR ENTHUSIASM (3Q2023): PIZZA PURISM | BOY BANDS | THE '86 METS | LOVE ISLAND UK | ELTON JOHN | & 20 other reconsidered enthusiasms. TEEN YOUR ENTHUSIASM (2Q2023): ANDY GIBB | VALERIE BERTINELLI | KIM WILDE | ARLO GUTHRIE | MIKE PATTON | & 20 other heartthrobs from our adolescences. DOLLY YOUR ENTHUSIASM (1Q2023): WE FOUND IT | TOGETHER AGAIN | SUNDAY MORNIN' COMIN' DOWN | BAD CASE OF THE BLUES | FANCY | & 20 other Sixties (1964–1973) Country records. KILL YOUR ENTHUSIASM (4Q2022): LT. TASHA YAR | JOYCE SUMMERS | COL. HENRY BLAKE | MRS. LANDINGHAM | ALEX KAMAL | & 20 other TV deaths. BLURB YOUR ENTHUSIASM (3Q2022): LEFT-CORNER BRICK | JOY IS RESISTANCE | THE FUTURE IS PASSÉ | EVERY MINUTE AN OCEAN | SHUT UP, HE EXPLAINED | & 20 other apothegms to live by. KOJAK YOUR ENTHUSIASM (2Q2022): ARK II | WKRP IN CINCINNATI | BUCK ROGERS | THE WHITE SHADOW | POLICE WOMAN | & 20 other Seventies (1974–1983) TV shows. KICK YOUR ENTHUSIASM (1Q2022): KUILL | CATO | COSMO | TRIXIE | VOLSTAGG | & 20 other sidekicks. NERD YOUR ENTHUSIASM (4Q2021): TIME | THE POST OFFICE | ARDUIN | DOUBT | SUMMATIONS | & 20 other nerdy passions. SWERVE YOUR ENTHUSIASM (3Q2021): WARHOL'S WALT WHITMAN | 70, GIRLS, 70 | TYRAEL'S MIGHT | SHIRATO SANPEI | THE LEON SUITES | & 20 other never-realized cultural productions. FIVE-O YOUR ENTHUSIASM (2Q2021): DARK SHADOWS | MANNIX | GET SMART | THE ADDAMS FAMILY | I DREAM OF JEANNIE | & 20 other Sixties (1964–1973) TV shows. FERB YOUR ENTHUSIASM (1Q2021): STEVEN UNIVERSE | TOP CAT | REN & STIMPY | SHE-RA AND THE PRINCESSES OF POWER | DRAGON BALL Z | & 20 other animated series. CARBONA YOUR ENTHUSIASM (2020): "Sex Bomb" | "Going Underground" | "Soft South Africans" | "Typical Girls" | "Human Fly" | & 20 other Seventies (1974–1983) punk singles. KLAATU YOU (2020 weekly): ZARDOZ | METROPOLIS | DARK STAR | SINS OF THE FLESHAPOIDS | SOLARIS | & dozens of other pre-STAR WARS sci-fi movies. CONVOY YOUR ENTHUSIASM (2019): THE TAKING OF PELHAM ONE TWO THREE | ROLLERBALL | BLACK SUNDAY | SORCERER | STRAIGHT TIME | & 20 other Seventies (1974–1983) action movies. SERIOCOMIC (2019 weekly): LITTLE LULU | VIZ | MARSUPILAMI | ERNIE POOK'S COMEEK | HELLBOY | & dozens of other comics. TUBE YOUR ENTHUSIASM (2018): LOONEY TUNES | THREE STOOGES | THE AVENGERS | ROCKY & BULLWINKLE | THE TWILIGHT ZONE | & 20 other Fifties (1954–1963) TV shows. WOWEE ZOWEE (2018 weekly): UNISEX | UNDER THE PINK | DUMMY | AMOR PROHIBIDO | HIPS AND MAKERS | & dozens of other Nineties (1994–2003) albums. KLUTE YOUR ENTHUSIASM (2017): THE KILLERS | BANDE À PART (BAND OF OUTSIDERS) | ALPHAVILLE | HARPER | BLOW-UP | & 20 other Sixties (1964–1973) neo-noir movies. #SQUADGOALS (2017 weekly): THE WILD BUNCH | BOWIE'S BAND | THE BLOOMSBURY GROUP | THE HONG KONG CAVALIERS | VI ÄR BÄST! & dozens of other squads. GROK MY ENTHUSIASM (2016 weekly): THE THEORY AND PRACTICE OF LUNCH | WEEKEND | MILLION YEAR PICNIC | LA BARONNE EMILE D'ERLANGER | THE SURVIVAL SAMPLER | & dozens more one-off enthusiasms. QUIRK YOUR ENTHUSIASM (2016): "Tainted Love" | "Metal" | "Frankie Teardrop" | "Savoir Faire" | "Broken English" | & 20 other Seventies (1974–1983) new wave singles. CROM YOUR ENTHUSIASM (2015): DARKER THAN YOU THINK | THE SWORD IN THE STONE | OUT OF THE SILENT PLANET | THIEVES' HOUSE | QUEEN OF THE BLACK COAST | & 20 other Thirties (1934–1943) fantasy novels. KERN YOUR ENTHUSIASM (2014): ALDINE ITALIC | DATA 70 | TORONTO SUBWAY | JOHNSTON'S "HAMLET" | TODD KLONE | & 20 other typefaces. HERC YOUR ENTHUSIASM (2013): "Spoonin' Rap" | "Rapper's Delight" | "Rappin' Blow" | "The Incredible Fulk" | "The Adventures of Super Rhyme" | & 20 other Seventies (1974–1983) hip-hop songs. KIRK YOUR ENTHUSIASM (2012): Justice or vengeance? | Kirk teaches his drill thrall to kiss | "KHAAAAAN!" | "No kill I" | Kirk browbeats NOMAD | & 20 other Captain Kirk scenes. KIRB YOUR ENTHUSIASM (2011): THE ETERNALS | BLACK MAGIC | DEMON | OMAC | CAPTAIN AMERICA | & 20 other Jack Kirby panels.