CURVE YOUR ENTHUSIASM (10)
By: Adam McGovern
July 29, 2023
One in a series of 25 enthusiastic posts, contributed by 25 HILOBROW friends and regulars, on the topic of reconsidered passions, reassessed hates, and reversed feelings everywhere in-between. Series edited by Adam McGovern.
*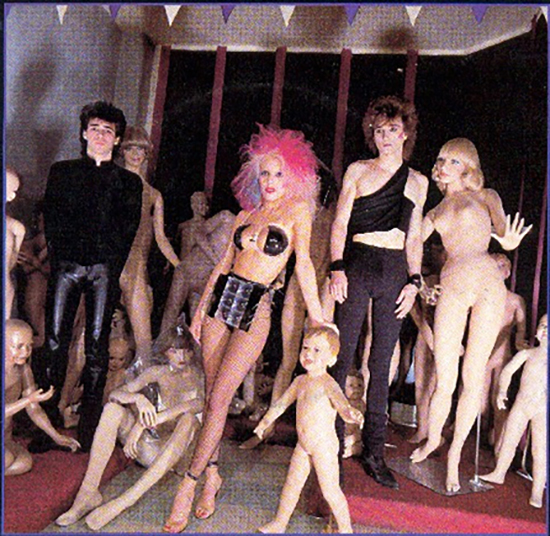 MISSING PERSONS
Like my mother, the content algorithms of the 2020s know me better than I know myself. The cloud-radio in my electric car calls up songs I haven't listened to in 40 years, and makes me realize I liked them all along.
We tend to see musical taste as subjective, but in the days before our playlists were each curated for an audience of one, personal taste was a lot more conditioned on what other people think. Those of us who identified as outliers guarded our margins fiercely, with strict rules for what we allowed each other, and ourselves, to enjoy.
While we sat in front of MTV for hours-long jags, it satisfied us to think the suits had filtered out the edgier artists we knew were missing from the diluted mix that did get on.
And one thing that was always on was Missing Persons. The clockwork syncopation of "Words" and the strangely blissful melancholy of "Destination Unknown" seemed like earworms genetically engineered to go straight to your subconscious. Resistance was futile, but though I couldn't get them out of my head, I also couldn't recognize what they were rhyming with that was already in there.
Or, I wouldn't. There were any number of ingredients of Missing Persons' sound, imagery and success that I felt obliged to reject. Their limited palette of electronic tones felt remaindered from Gary Numan's or Devo's keyboard-memory; we'd heard this before and enjoyed pointing it out. Their alienation felt like an affectation; our own outsider anguish repackaged as a fashion statement. Their lead singer Dale Bozzio's discarded-mannequin aesthetic and Betty Boop-bot delivery seemed a troubling Reagan-era retreat from assertive feminism, not so much in the foreground as on display.
To groove to "Words" would be to capitulate; to succumb to "Destination"'s mournful beauty would be to wallow. The truth was, the abandon of bouncy pop like "Words" made way too direct an appeal to a body I didn't even feel I was in, and the wistful gloom of a "Destination" came way too close to the long and deep post-adolescent depression I would rather not realize I was sliding into.
While I was running from those truths, there were contexts and comic timing I was rushing right past. These were virtuosos masquerading as one-note new-wavers, veterans of (and actually then still serving in) Frank Zappa's stable of symphonic players and audio anarchists. Bozzio was a double-agent taking her real-life Playboy Bunny past and pushing it beyond its dissolute extreme to short-circuit gender norms from within. The band economically reprocessed their biggest hits' programmed-sounding rhythms and run-down-battery melodic patterns into their lesser hits like "Walking in L.A."
Observations like that last one are assisted by digital radio's roulette of associations. So is the realization that Missing Persons were as much leaders as followers, to judge from, say, their whole career being condensed into 'Til Tuesday's defining hit, the lushly numb "Voices Carry," later that decade. The direct lineage between Bozzio's posthuman persona and Lady Gaga's artificial identities is more something I can figure out on my own, with the fog of period specifics cleared away.
Missing Persons made their mark and reached their peak with the businesslike efficiency of a marketing team, both the perfect product of and comment on the moment that created them. Now I can appreciate it fully, even if I myself was partly missing when I heard it first.
***
CURVE YOUR ENTHUSIASM: INTRODUCTION by Adam McGovern | Tom Nealon on PIZZA PURISM | Holly Interlandi on BOY BANDS | Heather Quinlan on THE '86 METS | Whitney Matheson on THE SMITHS | Bishakh Som on SUMMER | Jeff Lewonczyk on WHOLE BELLY CLAMS | Kelly Jean Fitzsimmons on HOW I MET YOUR MOTHER | Nikhil Singh on LOVE ISLAND UK | Adrienne Crew on CILANTRO | Adam McGovern on MISSING PERSONS | Art Wallace on UFOs | Fran Pado on LIVERWURST | Lynn Peril on ELTON JOHN'S GREATEST HITS | Marlon Stern Lopez on ADOLESCENT REBELLION | Juan Gonzalez on STAN & JACK or JACK & STAN | Christopher-Rashee Stevenson on BALTIMORE | Josh Glenn on FOOTLOOSE | Annie Nocenti on SIDEVIEW MIRROR | Mandy Keifetz on BREATHLESS | Brian Berger on HARRY CREWS | Ronald Wimberly on GAMING AND DATING | Michele Carlo on HERITAGE FOODS | Gabriela Pedranti on MADONNA | Ingrid Schorr on MAXFIELD PARRISH AND SUE LEWIN | Mariane Cara on ORANGE.
MORE ENTHUSIASM at HILOBROW
MÖSH YOUR ENTHUSIASM (1Q2024): ENTER SANDMAN | MILQUETOAST | CHRISTBAIT RISING | GOING BLIND | HERE COME THE COPS | & 20 other Eighties (1984–1993) Metal songs. STOOGE YOUR ENTHUSIASM (4Q2023): MOVE ON FAST | 96 TEARS | SHE CRACKED | WHAT A WAY TO DIE | PSYCHOTIC REACTION | & 20 other Sixties (1964–1973) proto-punk songs. CURVE YOUR ENTHUSIASM (3Q2023): PIZZA PURISM | BOY BANDS | THE '86 METS | LOVE ISLAND UK | ELTON JOHN | & 20 other reconsidered enthusiasms. TEEN YOUR ENTHUSIASM (2Q2023): ANDY GIBB | VALERIE BERTINELLI | KIM WILDE | ARLO GUTHRIE | MIKE PATTON | & 20 other heartthrobs from our adolescences. DOLLY YOUR ENTHUSIASM (1Q2023): WE FOUND IT | TOGETHER AGAIN | SUNDAY MORNIN' COMIN' DOWN | BAD CASE OF THE BLUES | FANCY | & 20 other Sixties (1964–1973) Country records. KILL YOUR ENTHUSIASM (4Q2022): LT. TASHA YAR | JOYCE SUMMERS | COL. HENRY BLAKE | MRS. LANDINGHAM | ALEX KAMAL | & 20 other TV deaths. BLURB YOUR ENTHUSIASM (3Q2022): LEFT-CORNER BRICK | JOY IS RESISTANCE | THE FUTURE IS PASSÉ | EVERY MINUTE AN OCEAN | SHUT UP, HE EXPLAINED | & 20 other apothegms to live by. KOJAK YOUR ENTHUSIASM (2Q2022): ARK II | WKRP IN CINCINNATI | BUCK ROGERS | THE WHITE SHADOW | POLICE WOMAN | & 20 other Seventies (1974–1983) TV shows. KICK YOUR ENTHUSIASM (1Q2022): KUILL | CATO | COSMO | TRIXIE | VOLSTAGG | & 20 other sidekicks. NERD YOUR ENTHUSIASM (4Q2021): TIME | THE POST OFFICE | ARDUIN | DOUBT | SUMMATIONS | & 20 other nerdy passions. SWERVE YOUR ENTHUSIASM (3Q2021): WARHOL'S WALT WHITMAN | 70, GIRLS, 70 | TYRAEL'S MIGHT | SHIRATO SANPEI | THE LEON SUITES | & 20 other never-realized cultural productions. FIVE-O YOUR ENTHUSIASM (2Q2021): DARK SHADOWS | MANNIX | GET SMART | THE ADDAMS FAMILY | I DREAM OF JEANNIE | & 20 other Sixties (1964–1973) TV shows. FERB YOUR ENTHUSIASM (1Q2021): STEVEN UNIVERSE | TOP CAT | REN & STIMPY | SHE-RA AND THE PRINCESSES OF POWER | DRAGON BALL Z | & 20 other animated series. CARBONA YOUR ENTHUSIASM (2020): "Sex Bomb" | "Going Underground" | "Soft South Africans" | "Typical Girls" | "Human Fly" | & 20 other Seventies (1974–1983) punk singles. KLAATU YOU (2020 weekly): ZARDOZ | METROPOLIS | DARK STAR | SINS OF THE FLESHAPOIDS | SOLARIS | & dozens of other pre-STAR WARS sci-fi movies. CONVOY YOUR ENTHUSIASM (2019): THE TAKING OF PELHAM ONE TWO THREE | ROLLERBALL | BLACK SUNDAY | SORCERER | STRAIGHT TIME | & 20 other Seventies (1974–1983) action movies. SERIOCOMIC (2019 weekly): LITTLE LULU | VIZ | MARSUPILAMI | ERNIE POOK'S COMEEK | HELLBOY | & dozens of other comics. TUBE YOUR ENTHUSIASM (2018): LOONEY TUNES | THREE STOOGES | THE AVENGERS | ROCKY & BULLWINKLE | THE TWILIGHT ZONE | & 20 other Fifties (1954–1963) TV shows. WOWEE ZOWEE (2018 weekly): UNISEX | UNDER THE PINK | DUMMY | AMOR PROHIBIDO | HIPS AND MAKERS | & dozens of other Nineties (1994–2003) albums. KLUTE YOUR ENTHUSIASM (2017): THE KILLERS | BANDE À PART (BAND OF OUTSIDERS) | ALPHAVILLE | HARPER | BLOW-UP | & 20 other Sixties (1964–1973) neo-noir movies. #SQUADGOALS (2017 weekly): THE WILD BUNCH | BOWIE'S BAND | THE BLOOMSBURY GROUP | THE HONG KONG CAVALIERS | VI ÄR BÄST! & dozens of other squads. GROK MY ENTHUSIASM (2016 weekly): THE THEORY AND PRACTICE OF LUNCH | WEEKEND | MILLION YEAR PICNIC | LA BARONNE EMILE D'ERLANGER | THE SURVIVAL SAMPLER | & dozens more one-off enthusiasms. QUIRK YOUR ENTHUSIASM (2016): "Tainted Love" | "Metal" | "Frankie Teardrop" | "Savoir Faire" | "Broken English" | & 20 other Seventies (1974–1983) new wave singles. CROM YOUR ENTHUSIASM (2015): DARKER THAN YOU THINK | THE SWORD IN THE STONE | OUT OF THE SILENT PLANET | THIEVES' HOUSE | QUEEN OF THE BLACK COAST | & 20 other Thirties (1934–1943) fantasy novels. KERN YOUR ENTHUSIASM (2014): ALDINE ITALIC | DATA 70 | TORONTO SUBWAY | JOHNSTON'S "HAMLET" | TODD KLONE | & 20 other typefaces. HERC YOUR ENTHUSIASM (2013): "Spoonin' Rap" | "Rapper's Delight" | "Rappin' Blow" | "The Incredible Fulk" | "The Adventures of Super Rhyme" | & 20 other Seventies (1974–1983) hip-hop songs. KIRK YOUR ENTHUSIASM (2012): Justice or vengeance? | Kirk teaches his drill thrall to kiss | "KHAAAAAN!" | "No kill I" | Kirk browbeats NOMAD | & 20 other Captain Kirk scenes. KIRB YOUR ENTHUSIASM (2011): THE ETERNALS | BLACK MAGIC | DEMON | OMAC | CAPTAIN AMERICA | & 20 other Jack Kirby panels.