INTO THE GROVE (10)
By: Brian Berger
April 22, 2017
One in a series of posts, by long-time HILOBROW friend and contributor Brian Berger, celebrating perhaps America's most exciting and controversial publisher: Barney Rosset's Grove Press.
*
Herman Melville's Omoo: A Narrative of Adventure in the South Seas (1847, 1958)
Herman Melville's White Jacket, or The World in a Man-of-War (1850, 1956), introduction by William Plomer
Frank Norris's The Pit: A Story of Chicago (1903, 1956)
Eugène Ionesco's Three Plays: Amédée, The New Tenant, Victims of Duty, translated by Donald Watson (1958)
John Malcolm Brinnin's Gertude Stein and Her World (1959)
Roots of Contemporary American Architecture, edited by Lewis Mumford (1952, 1959)
All cover designs by Roy Kuhlman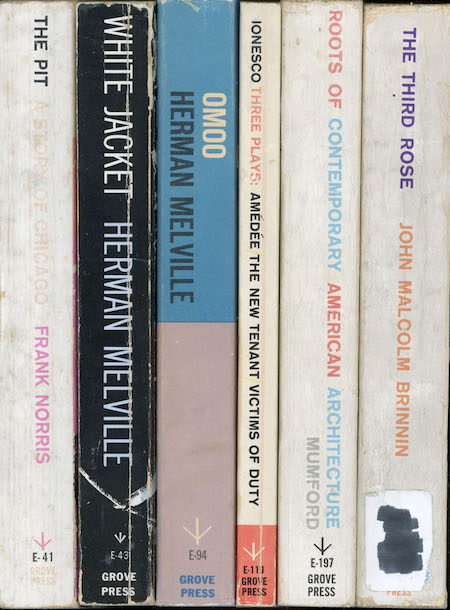 It's not just the books Grove Press published but how Barney Rosset published them. Not to denigrate their hardcovers but it's the paperbacks issued under the Evergreen imprint that represent Grove's avant-populist triumph. Though there were occasionally inferior printings made with poor, doomed-to-browning paper, aside from general cover wear most Grove paperbacks from the 1950s and '60s have held up remarkably well and shame the quality of bookmaking qua bookmaking of today's "major" publishers. As a used book store habitué, I'll look at any book with the Grove Press arrow colophon and see what the jacket copy says. Extra hep is when said copy is printed on a color field; it's like Roy Kuhlman reminding us not to forget our Josef Albers — or Anni Albers either.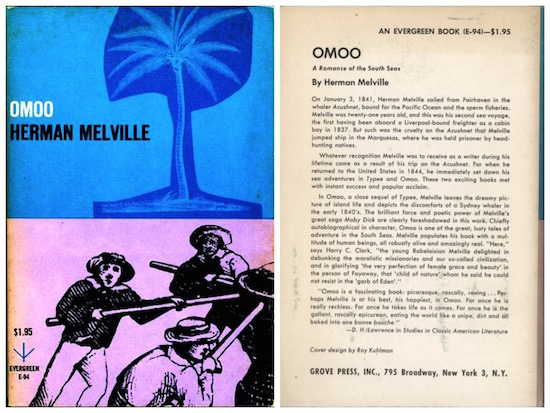 Omoo is a fascinating book: picaresque, rascally, roving… Perhaps Melville is at his best, his happiest, in Omoo. For once he is really reckless. For once he takes life as it comes. For once he is the gallant, rascally, epicurean, eating the world like a snipe, dirt and all baked into one bonne bouche.
— D.H. Lawrence, Studies in Classic American Literature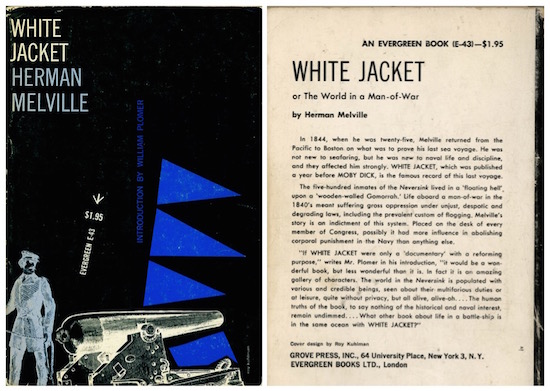 The five-hundred inmates of the Neversink lived in a "floating hell" upon a "wooden-walled Gomorrah." Life aboard a man-of-war in the 1840's meant suffering gross oppression under unjust, despotic and degrading laws, including the prevalent custom of flogging. Melville's story is an indictment of this system. Placed on the desk of every member of Congress, it possibly had more influence in abolishing corporal punishment in the Navy than anything else.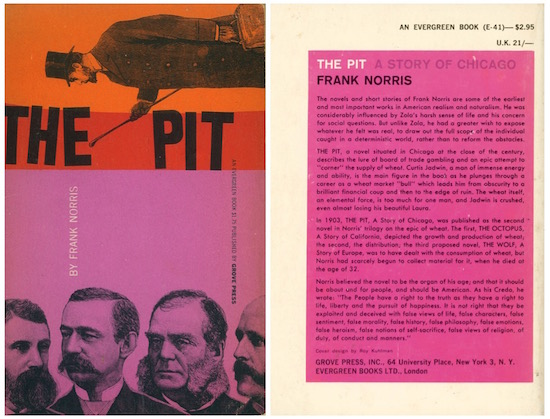 THE PIT, a novel situated in Chicago at the close of the century, describes the lure of board of trade gambling and an epic attempt to "corner" the supply of wheat. Curtis Jadwin, a man of immense energy and ability, is the main figure in the book as he plunges through a career as a wheat market "bull" which leads him from obscurity to a brilliant financial coup and then to the edge of ruin. The wheat itself, an elemental force, is too much for one man, and Jadwin is crushed, even almost losing his beautiful Laura.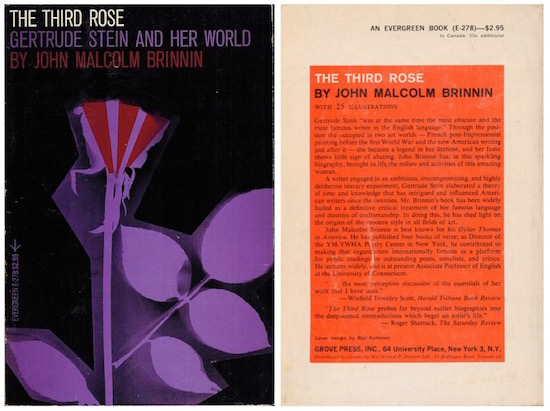 Gertrude Stein "was at the same time the most obscure and the most famous writer in the English language." Through the position she occupied in two art worlds — French post-Impressionist painting before the first World War and the new American writing just after it — she became a legend in her lifetime, and her fame shows little sign of abating. John Brinnin has, in this sparkling biography, brought to life the milieu and activities of this amazing woman.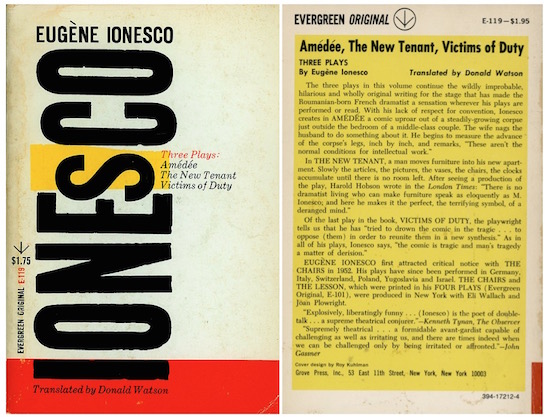 The three plays in this volume continue the wildly improbably, hilarious and wholly original writing for the stage that has made this Romanian-born French dramatist a sensation wherever his plays are performed or read. With his lack of respect for convention, Ionesco creates in AMEDEE a comic uproar out of a steadily-growing corpse just outside the bedroom of a middle-class couple. The wife nags the husband to do something about it. He begins to measure the advance of the corpse's legs, inch by inch, and remarks, "These aren't the normal conditions for intellectual work."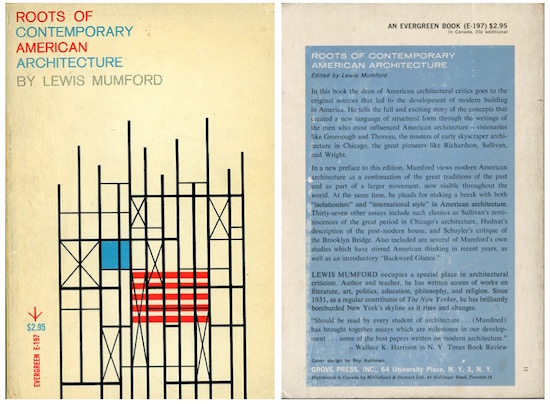 In this book the dean of American architectural critics goes to the original sources that led to the development of modern building in America. He tells the full and exciting story of the concepts that created a new language of structural form through the writings of the men who most influenced American architecture—visionaries like Greenough and Thoreau, the masters of early skyscraper architecture in Chicago, the great pioneers like Richardson, Sullivan and Wright.

In a new preface to this edition, Mumford views modern American architecture as a continuation of the great traditions of the past and as part of a larger movement, now visible throughout the world. At the same time, he pleads for making a break with both "isolationism" and "international style" in American architecture.
NB: Sharp eyed readers will that note the rear cover of the Grove Press Omoo says "A Romance of the South Seas." This is in error, and is properly the subtitle of Melville's 1846 debut novel, Typee, which Grove never issued.
***
BOOK COVERS at HILOBROW: INTO THE GROVE series by Brian Berger | FILE X series by Josh Glenn | THE BOOK IS A WEAPON series | HIGH-LOW COVER GALLERY series | RADIUM AGE COVER ART | BEST RADIUM AGE SCI-FI | BEST GOLDEN AGE SCI-FI | BEST NEW WAVE SCI-FI | REVOLUTION IN THE HEAD.