Heathcliff, For Why? (7)
By: Brandi Brown
October 18, 2016
A series of posts, by HiLobrow friend Brandi Brown, puzzling over the Andy Kaufman-like anti-comedy antics of Heathcliff, a cat who has nonplussed newspaper funny pages readers since 1973. These posts were selected from among many others that first appeared at Brandi's website Heathcliff, For Why?.
*
Stand Your Girth
Continuing the trend of throwing incomprehensible Heathcliff comics to my friends, we have this gem: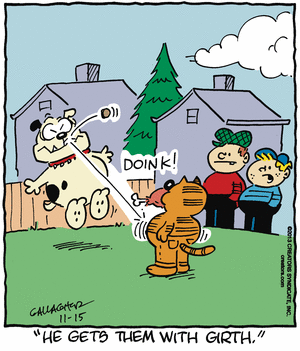 Mark: Is it just me or has he styled the lower half of his fur to look like denim?
Alvin: He cuffs his fur.
Alvin: The dumbass dog threw a pebble at Heathcliff's stomach. Stupid move. My cat didn't even move and kept the chickn firmly in mouth. You ever notice he does a lot of shit with his eyes closed & the most cavalier attitude ever captured in comics.
Alvin: The kids are like, daaaaaaamn!
Elizabeth: Why is he eating the drumstick with no hands?
Brandi: 1. I didn't even notice the drumstick. This got even more weird than I originally thought. 2. Why does his fur have pockets?
Jeremy: Man, HC passed that kidney stone like a boss!
Brandi: This one literally makes no sense to me. Someone get Bill & James.
Brandi: Okay, did the dog throw a rock at Heathcliff and then Heathcliff used his fat belly to repel the rock while he was inexplicably eating a drumstick with no hands?
Linda: And six year olds use the word girth?
Jeremy: I just assumed the drumstick was floating there independently as a red herring, which is perfectly logical in the Heathcliff universe.
Sarah: He's wearing pants. Because he's fat, and getting fatter (hence the drumstick), the pants' button popped off, hitting the dog.
Brandi: But… This makes perfect sense and absolutely no sense at the same time. Sarah's explanation is Schroedinger's Heathcliff Explanation.
Sarah: I once saw this very same thing happen to Kristy Hanson in junior high during choir. We were goofing around, and somehow, her pants button popped off and launched itself for a solid 10 feet, hitting the dry erase board and putting a chip in it. That kind of velocity is nothing to mess around with.
Brandi: I assume Kristy Hanson had standard-issue jeans on. Not orange jeans that were designed to blend in with the fur of a tabby cat who never wears pants.
Jeremy: I'll be damned. He is wearing pants! Who wears flesh/fur colored pa— never mind. Heathcliff does.
Sarah: Correct. Kristy's jeans were of the sort that were the norm for a 14 year old girl in 1993. That is, high rise, not baggy, but not form fitting, with tapered legs.
James: Sarah is correct. Heathcliff grows buttons on his abdomen, which pop off violently when he binges on drumsticks. If he can time it so he can assault a neighborhood pooch, it is totally defensible under Stand Your Ground. Heathcliff is totally George Zimmerman in cat form.
That took way too much effort to get to the bottom of. Also, Heathcliff never gets them with his girth. He never wears pants. Why is he randomly wearing pants in this comic? WHY?!
***
CURATED SERIES at HILOBROW: UNBORED CANON by Josh Glenn | CARPE PHALLUM by Patrick Cates | MS. K by Heather Kasunick | HERE BE MONSTERS by Mister Reusch | DOWNTOWNE by Bradley Peterson | #FX by Michael Lewy | PINNED PANELS by Zack Smith | TANK UP by Tony Leone | OUTBOUND TO MONTEVIDEO by Mimi Lipson | TAKING LIBERTIES by Douglas Wolk | STERANKOISMS by Douglas Wolk | MARVEL vs. MUSEUM by Douglas Wolk | NEVER BEGIN TO SING by Damon Krukowski | WTC WTF by Douglas Wolk | COOLING OFF THE COMMOTION by Chenjerai Kumanyika | THAT'S GREAT MARVEL by Douglas Wolk | LAWS OF THE UNIVERSE by Chris Spurgeon | IMAGINARY FRIENDS by Alexandra Molotkow | UNFLOWN by Jacob Covey | ADEQUATED by Franklin Bruno | QUALITY JOE by Joe Alterio | CHICKEN LIT by Lisa Jane Persky | PINAKOTHEK by Luc Sante | ALL MY STARS by Joanne McNeil | BIGFOOT ISLAND by Michael Lewy | NOT OF THIS EARTH by Michael Lewy | ANIMAL MAGNETISM by Colin Dickey | KEEPERS by Steph Burt | AMERICA OBSCURA by Andrew Hultkrans | HEATHCLIFF, FOR WHY? by Brandi Brown | DAILY DRUMPF by Rick Pinchera | BEDROOM AIRPORT by "Parson Edwards" | INTO THE VOID by Charlie Jane Anders | WE REABSORB & ENLIVEN by Matthew Battles | BRAINIAC by Joshua Glenn | COMICALLY VINTAGE by Comically Vintage | BLDGBLOG by Geoff Manaugh | WINDS OF MAGIC by James Parker | MUSEUM OF FEMORIBILIA by Lynn Peril | ROBOTS + MONSTERS by Joe Alterio | MONSTOBER by Rick Pinchera | POP WITH A SHOTGUN by Devin McKinney | FEEDBACK by Joshua Glenn | 4CP FTW by John Hilgart | ANNOTATED GIF by Kerry Callen | FANCHILD by Adam McGovern | BOOKFUTURISM by James Bridle | NOMADBROW by Erik Davis | SCREEN TIME by Jacob Mikanowski | FALSE MACHINE by Patrick Stuart | 12 DAYS OF SIGNIFICANCE | 12 MORE DAYS OF SIGNIFICANCE | 12 DAYS OF SIGNIFICANCE (AGAIN) | ANOTHER 12 DAYS OF SIGNIFICANCE | UNBORED MANIFESTO by Joshua Glenn and Elizabeth Foy Larsen | H IS FOR HOBO by Joshua Glenn | 4CP FRIDAY by guest curators