Heathcliff, For Why? (5)
By: Brandi Brown
October 16, 2016
A series of posts, by HiLobrow friend Brandi Brown, puzzling over the Andy Kaufman-like anti-comedy antics of Heathcliff, a cat who has nonplussed newspaper funny pages readers since 1973. These posts were selected from among many others that first appeared at Brandi's website Heathcliff, For Why?.
*
CATS BE REAL CREEPERISH
My younger cousin hates cats. I thought it was because he's severely allergic to them. Turns out, it's for a deeper reason. My cousin explained, "Yo, cats be real creeperish. They be rubbin' up on you like uninvited houseguests, then they just leave like nothing happened."
A few things:
Dogs hump legs.
What kind of uninvited houseguests does my cousin have? If an uninvited houseguest rubs up on you, that's probably a break-in. Only a Minnesotan would call a break-in/molestation "an uninvited houseguest."
Should the cat stick around for a while? What cat hurt him?
Still, my cousin has a point. And nothing underscores this point better than the creeperish stuff Heathcliff be doing.
Here, Heathcliff partakes in some good, ol' fashioned street harassment.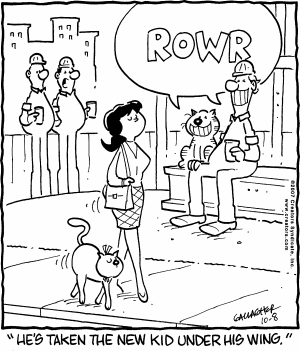 The weird part is that the construction workers aren't giving "The New Kid" grief for needing to be "mentored" by a cat. In other news, what's up with the legs of those two construction workers? It looks like they have paddles for legs.
Wait, does Heathcliff work for the construction company? That would explain where he gets all his money. Also, it brings into question the structural integrity of the entire town of Westfinster.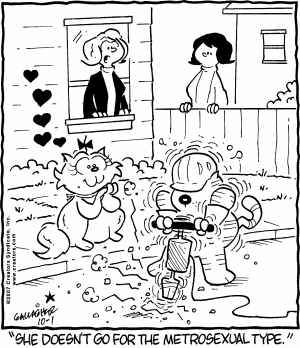 Aren't all cats metrosexual by default? Have you ever been around a cat? Diva/os, ALL of them.
But back to Heathcliff's creeperish behavior…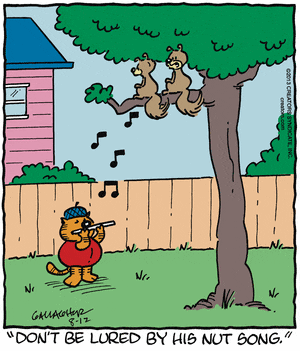 Heathcliff has taught himself to play the fife and he has composed a "nut song." Look, I'm no animal expert but I'm pretty sure that squirrels aren't drawn toward the sound of fifes. Also: "nut song" looks/sounds like some type of hazing invented by frat boys. If I had to guess which frat Heathcliff belonged to, I'd say DKE.
Oh my stars, "nut song" IS a frat thing. From Urban Dictionary:
A song played by someone to celebrate getting a nut. It is traditionally played early in the morning in a fraternity house as the girl is leaving in order to A.) wake up your neighbors to let them know you got a nut, and B.) alert your boys so they have a chance to check her out as she leaves. It is also typically a really funny/goofy song, eg. the "YMCA" song, or "Jump (For My Love)."
Yup, Heathcliff is totally a DKE bro.
The more I learn about Heathcliff, the more I think he's one of those "pick-up artist" bros. Heathcliff probably ghostwrote The Game.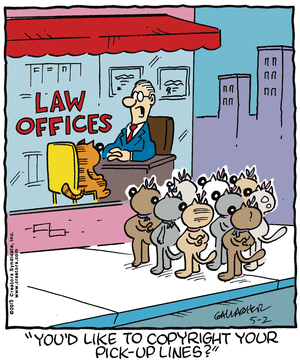 Heathcliff probably wants to copyright his pick-up lines because he still hasn't been compensated for being the real author of The Game. Yup, you heard it here first, Neil Strauss didn't write The Game, Heathcliff the Cat did.
I don't understand why Clio, Heathcliff's girlfriend, puts up with him. Also, I don't understand why all these lady cats are standing peacefully outside, waiting for Heathcliff. If his pick-up lines were that good, those cats would be fighting with each other. Unless, all those cats are scorned women, planning on killing Heathcliff as soon as he exists the law firm.
Also: there's an intellectual property law firm in Westfinster that has cat clientele.
Finally, there's this gem from a 9-11 a few years ago.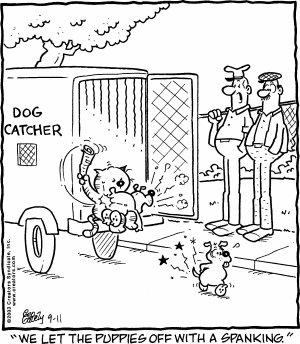 Heathcliff is an independent contractor for the Westfinster Dog Catcher. Why don't they catch cats? Good question. Anyway, given what we know about independent contractors and the town of Westfinster, it's safe to say there's little-to-no oversight. Heathcliff just drives around in his "spank van" delivering vigilante puppy justice, all with the blessing of The Man. Enabling-ass humans.
***
CURATED SERIES at HILOBROW: UNBORED CANON by Josh Glenn | CARPE PHALLUM by Patrick Cates | MS. K by Heather Kasunick | HERE BE MONSTERS by Mister Reusch | DOWNTOWNE by Bradley Peterson | #FX by Michael Lewy | PINNED PANELS by Zack Smith | TANK UP by Tony Leone | OUTBOUND TO MONTEVIDEO by Mimi Lipson | TAKING LIBERTIES by Douglas Wolk | STERANKOISMS by Douglas Wolk | MARVEL vs. MUSEUM by Douglas Wolk | NEVER BEGIN TO SING by Damon Krukowski | WTC WTF by Douglas Wolk | COOLING OFF THE COMMOTION by Chenjerai Kumanyika | THAT'S GREAT MARVEL by Douglas Wolk | LAWS OF THE UNIVERSE by Chris Spurgeon | IMAGINARY FRIENDS by Alexandra Molotkow | UNFLOWN by Jacob Covey | ADEQUATED by Franklin Bruno | QUALITY JOE by Joe Alterio | CHICKEN LIT by Lisa Jane Persky | PINAKOTHEK by Luc Sante | ALL MY STARS by Joanne McNeil | BIGFOOT ISLAND by Michael Lewy | NOT OF THIS EARTH by Michael Lewy | ANIMAL MAGNETISM by Colin Dickey | KEEPERS by Steph Burt | AMERICA OBSCURA by Andrew Hultkrans | HEATHCLIFF, FOR WHY? by Brandi Brown | DAILY DRUMPF by Rick Pinchera | BEDROOM AIRPORT by "Parson Edwards" | INTO THE VOID by Charlie Jane Anders | WE REABSORB & ENLIVEN by Matthew Battles | BRAINIAC by Joshua Glenn | COMICALLY VINTAGE by Comically Vintage | BLDGBLOG by Geoff Manaugh | WINDS OF MAGIC by James Parker | MUSEUM OF FEMORIBILIA by Lynn Peril | ROBOTS + MONSTERS by Joe Alterio | MONSTOBER by Rick Pinchera | POP WITH A SHOTGUN by Devin McKinney | FEEDBACK by Joshua Glenn | 4CP FTW by John Hilgart | ANNOTATED GIF by Kerry Callen | FANCHILD by Adam McGovern | BOOKFUTURISM by James Bridle | NOMADBROW by Erik Davis | SCREEN TIME by Jacob Mikanowski | FALSE MACHINE by Patrick Stuart | 12 DAYS OF SIGNIFICANCE | 12 MORE DAYS OF SIGNIFICANCE | 12 DAYS OF SIGNIFICANCE (AGAIN) | ANOTHER 12 DAYS OF SIGNIFICANCE | UNBORED MANIFESTO by Joshua Glenn and Elizabeth Foy Larsen | H IS FOR HOBO by Joshua Glenn | 4CP FRIDAY by guest curators