Heathcliff, For Why? (3)
By: Brandi Brown
October 13, 2016
A series of posts, by HiLobrow friend Brandi Brown, puzzling over the Andy Kaufman-like anti-comedy antics of Heathcliff, a cat who has nonplussed newspaper funny pages readers since 1973. These posts were selected from among many others that first appeared at Brandi's website Heathcliff, For Why?.
*
THE CAT PRISON CYCLE
Heathcliff's dad, Pop, is a career criminal.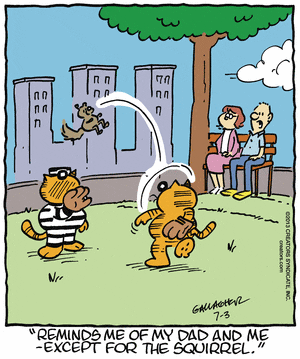 Sometimes he lives with Grandma, Grandpa, and Heathcliff — and sometimes he's in jail. Which is weird, for several reasons:
Animal control seems only concerned with catching dogs.

Heathcliff routinely commits crime and never gets arrested. So much crime.
If you're a career criminal pet who routinely commits crime and you keep getting "arrested", you're usually euthanized.
But the weirdest thing, obviously, is that Heathcliff's dad wears prison clothes. Somewhere near Westfinster, there is an adorable cat prison that dresses cats up in clothes. Westfinster might be in Japan. And this cat prison might be a private prison run by the lady who runs Cat Prin: tailor of a cat.
You can tell Heathcliff's dad is trying to be a good dad because he's trying to spend time with his son. Then again, he's not really trying that hard to be a good influence because, well, HE WEARS PRISON CLOTHES ON THE OUTSIDE. Also, they plot crimes together.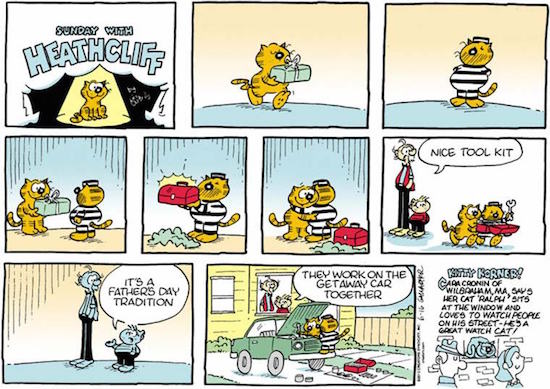 What are they getting away from? Also: Heathcliff has, like, 20 modes of transport already. Where did this rundown car come from? And why don't their owners seem concerned. About the owners…
Why don't Grandma and Grandpa take some responsibility for their cat? My cat used to be an outdoor cat until he got arrested for breaking into my neighbor's house and, after retrieving him from the Humane Society, he became an indoor cat (because he had gotten sick). This is a true story. Also, my cat was allowed to wear his normal cat clothes consisting of nothing. How much money do these people spend on bailing Pop out of cat prison? And how doesn't Heathcliff just use his insider connections to prevent his dad from getting arrested? Westfinster is perhaps the most confusingly corrupt town in the Western cartoon world.
On the Heathcliff cartoon show (the second one; yes, there were two), Pop doesn't wear prison clothes. He just has heavier stripes. I guess because he was born a criminal. Or he got cat tattoos in prison. I hope it's the latter because I don't want to believe that some cats are innate criminals.
Here's the YouTube summary for the episode "Pop on Parole":
Heathcliff's father has been paroled from prison for good behavior. But he needs to visit his parole officer before 5pm. Pops decides to drop in on his son, and Heathcliff immediately thinks he broke outta the joint! He tries to hide him, but he runs away, eventually due to Heathcliff's harassment (and the fact that he's a habitual criminal), he robs a bank and is hauled off to jail again.
There's a cat parole office in Westfinster? Who runs that? Again, no one gives a damn what Heathcliff does. Also, this entire episode is crazy. Heathcliff drove his dad into going back to prison. Is there a cat therapist in Westfinster? There needs to be. Whew boy. Anyway, you can watch this episode if you want.
I know what you're thinking; where's Heathcliff's mom?
Here's a summary from a YouTube account where you can buy an episode of the show (including another episode about hockey):
Heathcliff's thrilled to learn his mom is coming to visit, but terrified she'll discover he's been fibbing about living with a wealthy family. Enlisting Sonja's aid, Heathcliff pretends to live in her mansion. Between dodging Marcy and Iggy in the neighborhood and the maid and butler inside the mansion, Heathcliff has his hands full keeping up a fat-cat front. Finally, Heathcliff confesses to Mom. After meeting the Nutmegs she wonders why Heathcliff bothered fibbing when he lives with such a wonderful family. Giving Mom a goodbye kiss, Heathcliff suggests that maybe he lives with a good family because he came from a good family.
Wait, how did she find Heathcliff in the first place? I have so many questions but this blog isn't about the television shows, it's about the comic strip.
You can watch the segment here:
In conclusion, someone should write a dissertation on Heathcliff's family.
***
CURATED SERIES at HILOBROW: UNBORED CANON by Josh Glenn | CARPE PHALLUM by Patrick Cates | MS. K by Heather Kasunick | HERE BE MONSTERS by Mister Reusch | DOWNTOWNE by Bradley Peterson | #FX by Michael Lewy | PINNED PANELS by Zack Smith | TANK UP by Tony Leone | OUTBOUND TO MONTEVIDEO by Mimi Lipson | TAKING LIBERTIES by Douglas Wolk | STERANKOISMS by Douglas Wolk | MARVEL vs. MUSEUM by Douglas Wolk | NEVER BEGIN TO SING by Damon Krukowski | WTC WTF by Douglas Wolk | COOLING OFF THE COMMOTION by Chenjerai Kumanyika | THAT'S GREAT MARVEL by Douglas Wolk | LAWS OF THE UNIVERSE by Chris Spurgeon | IMAGINARY FRIENDS by Alexandra Molotkow | UNFLOWN by Jacob Covey | ADEQUATED by Franklin Bruno | QUALITY JOE by Joe Alterio | CHICKEN LIT by Lisa Jane Persky | PINAKOTHEK by Luc Sante | ALL MY STARS by Joanne McNeil | BIGFOOT ISLAND by Michael Lewy | NOT OF THIS EARTH by Michael Lewy | ANIMAL MAGNETISM by Colin Dickey | KEEPERS by Steph Burt | AMERICA OBSCURA by Andrew Hultkrans | HEATHCLIFF, FOR WHY? by Brandi Brown | DAILY DRUMPF by Rick Pinchera | BEDROOM AIRPORT by "Parson Edwards" | INTO THE VOID by Charlie Jane Anders | WE REABSORB & ENLIVEN by Matthew Battles | BRAINIAC by Joshua Glenn | COMICALLY VINTAGE by Comically Vintage | BLDGBLOG by Geoff Manaugh | WINDS OF MAGIC by James Parker | MUSEUM OF FEMORIBILIA by Lynn Peril | ROBOTS + MONSTERS by Joe Alterio | MONSTOBER by Rick Pinchera | POP WITH A SHOTGUN by Devin McKinney | FEEDBACK by Joshua Glenn | 4CP FTW by John Hilgart | ANNOTATED GIF by Kerry Callen | FANCHILD by Adam McGovern | BOOKFUTURISM by James Bridle | NOMADBROW by Erik Davis | SCREEN TIME by Jacob Mikanowski | FALSE MACHINE by Patrick Stuart | 12 DAYS OF SIGNIFICANCE | 12 MORE DAYS OF SIGNIFICANCE | 12 DAYS OF SIGNIFICANCE (AGAIN) | ANOTHER 12 DAYS OF SIGNIFICANCE | UNBORED MANIFESTO by Joshua Glenn and Elizabeth Foy Larsen | H IS FOR HOBO by Joshua Glenn | 4CP FRIDAY by guest curators