Alice Coltrane
By: Brian Berger
August 27, 2015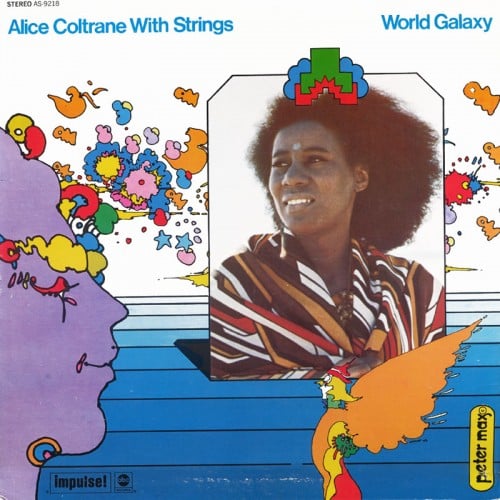 It's been suggested there's little humor in the music of ALICE COLTRANE (1937–2007) so try not to laugh. She came from Detroit, where she studied classical piano, was raised in the Baptist church and her half-brother, Ernie Farrow, was a prominent jazz bassist. In 1959, Alice went to France, befriended expatriate piano genius Bud Powell and married fellow Detroiter and notable bop vocalist Kenny Hagood. Back in the States, Alice joined the quartet of vibraphonist Terry Gibbs (neé Julius Rubenko, of Brooklyn), with whom she recorded the albums Plays Jewish Melodies in Jazztime (mazel tov!) and folk-revival-inspired Hootenanny My Way (both 1963); her parents being from Alabama, Alice knew "Boll Weevil." That same year in New York, Alice met John Coltrane with love; Mexican divorce (for John); marriage and three children together following. Though family life took Alice off the scene, the radical evolution of John's music over the next three years wasn't his alone, both Coltranes were greatly interested in Indian music and philosophy — Alice would also become a disciple of Integral Yoga guru Satchidananda Saraswati — and Harpo Marx-admirer John encouraged Alice to pursue the harp, which instrument would play an essential part of her music. In late 1965, John asked Alice to join his band, which completed two albums — Live at the Village Vanguard Again and Expression — before his sudden death from liver cancer in July 1967. Alice's solo career would both extend John's legacy and assert her own identity as a visionary composer and improviser in settings ranging from small group to orchestra; for starters, all of her Impulse label albums from 1968–1972 offer abundant revelations even to those whose own spiritual practice peaks with "Who Dat Man?" from A Day at the Races.
Terry Gibbs "Boll Weevil" (1963)
John Coltrane "Ugunde" (1967)
Alice Coltrane "Galaxy in Turiya" (1971)
Solo Live 1987
***
On his or her birthday, HiLobrow irregularly pays tribute to one of our high-, low-, no-, or hilobrow heroes. Also born this date: Jimmy Finlayson, Paul Reubens, Jeanette Winterson, Man Ray.
READ MORE about members of the Anti-Anti-Utopian Generation (1934-43).