Wynona Carr
By: Brian Berger
August 23, 2015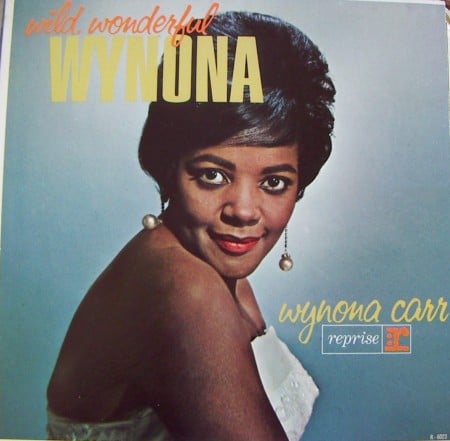 A uniquely powerful singer and an inspired songwriter, WYNONA CARR (1924—76) struggled to find success commensurate with her multiple talents. Raised by devout parents, Carr studied at the Cleveland Conservatory of Music, acquiring voice, piano and arranging skills she'd use professionally in various churches, including Rev. C.L. Franklin's New Bethel Baptist Church in Detroit. In early 1949, J.W. Alexander, leader of gospel quartet the Pilgrim Travelers, recommended Carr to Specialty Records owner Art Rupe, who — hoping to link his discovery with Decca star "Sister" Rosetta Tharpe — gave Carr the same honorific. While nearly all Carr's recordings showcased her husky contralto and vivid lyricism, only "The Ball Game" from 1952 hit. (Numerous superb Carr gospel tunes, including "Dragnet For Jesus," would remain unreleased until 1992.) By summer 1955, Carr was a "Sister" no more: instead, she was in L.A. playing jazz piano for Bumps Blackwell, with whom she'd record perhaps her greatest secular side, "Please Mr. Jailer," praised by Billboard in May 1956 as  "unusually impressive blues chanting… with a throbbing vocal style." As with her sacred work, however, the quality of Carr's accolades would exceed the quantity of her sales and following one album for Reprise, Wild, Wonderful Wynona (1961), she faded unto shadows and woe. In Jet magazine of April 11, 1968 ("'Non-violence' Still Answer, King Says In Memphis"), there's a last known photograph of Carr. She's fit and smiling again in a sleeveless sequined dress, while an unseen man behind her air-gropes her breasts. The caption reads:
LOOK MA, NO HANDS: Willowy blues singer Wynona Carr looks as if she sprouted a set of hands as she wails in the Zanzibar lounge, San Juan, Puerto Rico. The hands belong to the puckish Emmet Mathew, singer-saxist of Steve Gibson and the Redcaps.
Carr's death appears to have been unreported and her gravesite is currently unknown.
Brother Joe May & Wynona Carr IT'S ALL RIGHT (1950)
DRAGNET FOR JESUS (1954, released 1992)
PLEASE MR. JAILER (1956)
I WANNA BE AROUND (1961)
***
On his or her birthday, HiLobrow irregularly pays tribute to one of our high-, low-, no-, or hilobrow heroes. Also born this date: Clifford Geertz, Paul Otlet, Allan Kaprow, Ernie Bushmiller.
READ MORE about men and women born on the cusp between the New God (1914-23) and Postmodernist (1924-33) Generations.