Carmen Mondragón
By: William Nericcio
July 8, 2015
Artist and bohemian CARMEN MONDRAGÓN (1893–1978) was born into a Mexican industrialist family of privilege. Before Madonna and Lady Gaga, there was Nahui Olín (as Mondragón styled herself): bon vivant, artists' model, subject of scandalized press reports that framed her as a witch or madwoman. Her major works of poetry are the 23-part Óptica cerebral, poemas dinámicos (Brainy Optics, Dynamic Poems, 1922) and the collection Calinement je suis dedans (Tender, I am inside, 1923). Her paintings are raw, bursting with color; take a look at the self-portrait Autorretrato en los jardines de versalles (c. 1920s), and you'll realize that Mondragón, not Margaret Keane, is the mother of Big-Eye paintings. She spent formative years in Paris, where her circle included Cocteau, Picasso, and Henri Matisse. Back home, she modeled for Rivera and Modotti, hung out with José Vasconcelos (father of "La Raza Cosmica"), and composed poetry with Gerardo "Dr. Atl" Murillo. As both artist and model, we find a dance of optics in Mondragón's work — an intoxicating beat. Today, Mondragón's legend has overshadowed her own artwork and poetry, which deserve a second look.
ABOVE: Edward Weston's 1923 portrait of Mondragón.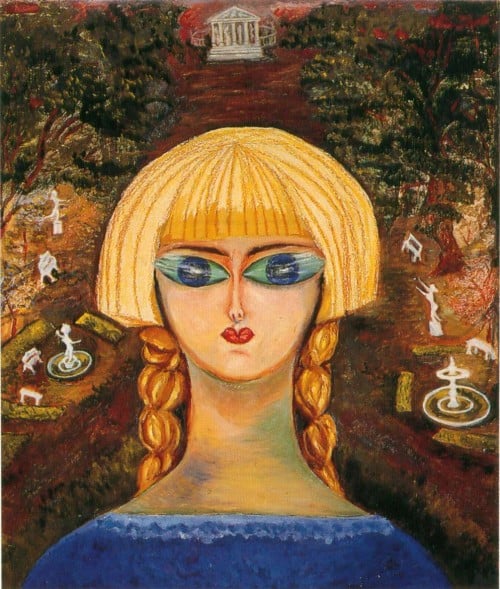 ***
On his or her birthday, HiLobrow irregularly pays tribute to one of our high-, low-, no-, or hilobrow heroes. Also born this date: Louis Jordan, Ernst Bloch, Percy Grainger, Bill Challis.
READ MORE about men and women born on the cusp between the Modernist (1884–93) and Hardboiled (1894-1903) Generations.