Percy Grainger
By: Brian Berger
July 8, 2012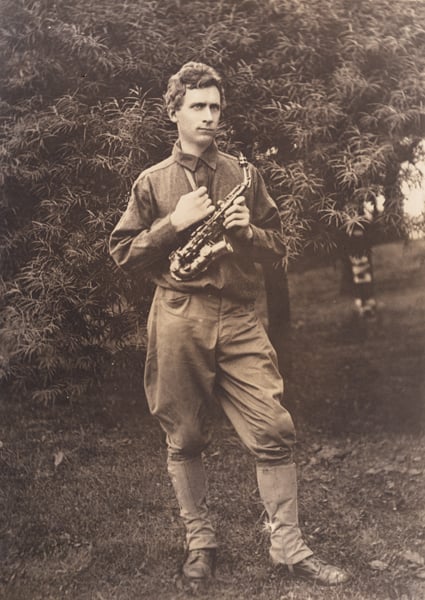 "Let me say it once: I like you!" wrote Edvard Grieg of pianist, composer and musicologist PERCY GRAINGER (1882-1961). "I like your unspoilt nature which not even 'High-Life' has been able to corrupt." Grainger was born in Melbourne, Australia, the only child of English-born architect John and Adelaide-native Rose, an amateur musician, unswervingly devoted to her son's brilliance. Rose taught Percy at home, dressing him in often flamboyant costume and, after separating from John (who'd given her syphilis), taking him to Hoch Conservatory in Frankfurt, Germany, where his friends included important English modernist Cyril Scott (1879-1970; hear Grainger's piano roll of Scott's "Lotus Land" below). In 1901, Percy and Rose moved to London to launch his career: concertizing; folk song collecting; assisting syphilis-stricken composer Frederick Delius all followed, as did theories about nearly everything: language, cultural hegemony, sex (especially sadomasochism), "free music" (decades before John Cage developed similar ideas), racial identity. The Great War saw the Graingers emigrate to America, where in 1917, Percy joined the US Army; his service as a bandsman at Fort Hamilton, Brooklyn inspired wind arrangements, such as "Molly On The Shore" (below), that remain among his most popular works. On the evening of April 30, 1922, Rose Grainger leapt or fell from the 18th-floor window of her office in Manhattan's Aeolian Hall. Percy, on tour, returned home for the funeral. Rumors of incest were false, the ravages of syphilis were not.
CYRIL SCOTT LOTUS LAND
MOLLY ON THE SHORE (PIANO)
MOLLY ON THE SHORE (WINDS)
GRAINGER LECTURE/RECITAL 1948
***
On his or her birthday, HiLobrow irregularly pays tribute to one of our high-, low-, no-, or hilobrow heroes. Also born this date: Ernst Bloch and Louis Jordan.
READ MORE about members of the Psychonaut Generation (1874–1883).