Bowieology (5)
By: Adam McGovern
January 12, 2015
Fifth post in a series of seven, surveying David Bowie's cultural contributions as he enters his second 50 years of acceptance and transgression.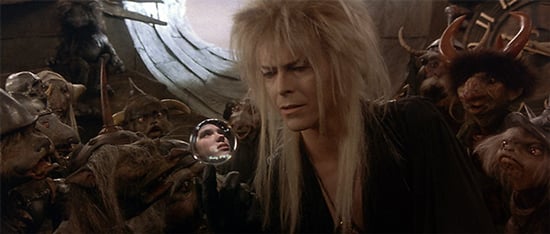 The admitted career placeholder of Tonight and conceptual/critical triumph of the "Jazzin' for Blue Jean" video were followed by another three years of virtual silence. This was broken only by a smattering of often lackluster soundtrack songs (though a generation of fans raised on the film Labyrinth have turned it into a perennially-watched classic, an outlook Bowie seems not to share). In the midst of these came a reunion with Iggy Pop, as producer of the latter's Blah Blah Blah (1986), a commercial yet edgy collaboration which struck a balance that eluded Bowie on his own albums for most of the decade. This was followed by the exuberant but unresolved Never Let Me Down (1987), a collection which floundered between the turbulent soundscapes and troubled lyrics of Bowie's heyday and some of the most mercenary pop he'd ever put his name to.
As had become his pattern, Bowie seemed to be reserving his full creative energies for the performance side of his music. The "Glass Spider" tour which accompanied the album was an ambitious event with intricate sets, numerous props, a crowd of dancer-actors and a loose theatrical narrative. Though that narrative was slight and could be embarrassing at times, the overall aesthetic, one part Ringling Bros. to two parts Dali, was compelling. However, critics and many concertgoers lambasted the tour as foolhardy overkill, though the concerts' Ziggy/Diamond Dogs-esque spectacle accurately anticipated the 1970s nostalgia chic that would set in to stay a few years later (right down to the hiring of Bowie's childhood schoolmate Peter Frampton as lead guitarist), and opened the door for large-scale touring extravaganzas by artists like Prince and Madonna which would make Bowie's seem restrained. Bowie is notorious for disarming criticism through the debater's tactic of preventive agreement, and in the intervening years he has joined critics in their assessment of Glass Spider. But at the time he described the project approvingly as his return to artistic risk-taking, and confided to an Elle magazine reporter that he next planned to tour a theatrical revue of all new songs. After Bowie saw the writing on the wall — or in the concert-review pages of most publications — this was not to be, but better ideas lay ahead.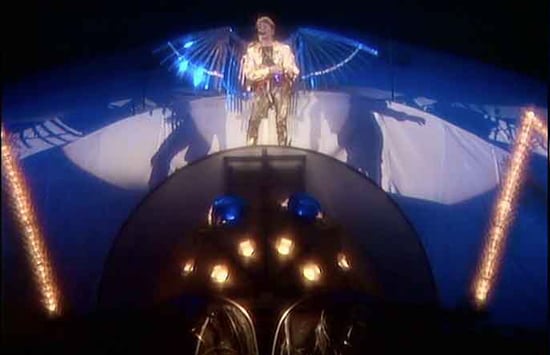 Having pursued a practice in his fertile 1970s period of exceeding expectations when they were at their highest, after his problematic 1980s period Bowie settled into a strategy of confounding expectations when they were at their lowest. The misunderstood spectacle of Glass Spider behind him, Bowie next resurfaced in 1989 as a member of a low-profile band unit, Tin Machine, consisting of himself, Reeves Gabrels, and the high-powered rhythm section of drummer Hunt Sales and bass player Tony Sales (sons of anarchic mid-20th century comedian and early rock 'n' roll promoter Soupy Sales), the latter two of whom Bowie had worked with as fellow backup musicians for Iggy Pop years before. The band explored the musical fringes Bowie had abandoned in his previous incarnation, and was a forceful gesture to restore the artistic hunger of his earlier days. The outfit stayed lean and little, eschewing Bowie's hits and playing venues much smaller than it could have on the strength of those songs.
Critics and fans who had written Bowie off were once more taking notice, which is when he lowered expectations again by abruptly putting the band on indefinite hold the following year. He had re-released his classic pre-Let's Dance albums on Rykodisc, an independent label smaller than the majors but willing to give his catalogue lavish production values and high fanfare. Part of that fanfare was a world tour of his hits, mounted at the record company's request. With the caveat that he would be performing these numbers for the last time and that the Save the Children charity would benefit, Bowie set up a 900 number to actually take requests for the concerts' set list. Many longtime Bowie-watchers dismissed the "Sound + Vision" tour as his crassest move of all — yet with characteristic mystery, it ended up being one of his most artistically satisfying. Bowie hired respected alternative-pop guitarist Adrian Belew as his band leader and, for the tour's visual presentation, collaborated with Édouard Lock, choreographer and stage designer of the Quebec-based avant-garde dance troupe La La La Human Steps, for a stark setting in which video and live performance interacted in ways that revolutionized the rock concert and were heavily influential on U2's better-known ZOO-TV tour two years later.
Tin Machine returned in 1991, but it had seemingly served its purpose for Bowie, who was clearly ready to move on. Drawing on the energy the band had renewed in him and the enthusiasm the public had shown for his retrospective tour, Bowie made an unexpected return to solo recording in 1993 with his most underrated album, Black Tie White Noise. Tin Machine was purported to be merely on hiatus and the album was said to be a spontaneous outgrowth of some instrumental music Bowie put together for his 1992 wedding to his second wife, the supermodel Iman, though he had slipped plans for another solo album to interviewers as early as 1990 (and at that time cut some tracks with the backing band of power-pop warhorse Bryan Adams, which were no-doubt wisely shelved). Black Tie challengingly filtered the infectious dance-pop of Bowie's biggest hits through the bleak sensibility of his artiest endeavors, for a macabre and mournful take on the electronic club music of the time. Unfortunately few even noticed the comeback due to the album's U.S. label going bankrupt shortly after its release, and even fewer expressed interest due to Bowie's choice of his Let's Dance collaborator Nile Rodgers as producer. But while Let's Dance was Bowie's most timid album, Black Tie was one of his most experimental (even if the experiments reached dead-ends on a handful of lite-jazz and quasi-ethnic instrumentals), and though his public reputation would have to wait two more years to be fully regained, Black Tie restored his theatrical mystique and stylistic daring. Ruminating on the racial tensions and embracing the resurgent gay aesthetic of early-'90s America, the album marked Bowie's reconciliation with otherness.
Tomorrow in Part 6: Exile on mainstream
***
SIMILAR SERIES on HILOBROW:
BOLANOMICS
(James Parker on Marc Bolan's music and philosophy) |
MOULDIANA
(James Parker and Tommy Valicenti on Bob Mould's solos) |
ANGUSONICS
(James Parker and Tommy Valicenti on Angus Young's solos) |
Pop Music on HiLobrow
|
MORE POSTS by ADAM McGOVERN: Theater Reviews: The Honeycomb Trilogy, Love Und Greed, Nord Hausen Fly Robot, The Oracle | PEOPLE YOU MEET IN HELL, a 5-part series about characters in Adam McGovern and Paolo Leandri's comic Nightworld | Two IDORU JONES comics by Adam McGovern and Paolo Leandri | BOWIEOLOGY: Celebrating 50 years of Bowie | ODD ABSURDUM: How Felix invented the 21st century self | CROM YOUR ENTHUSIASM: C.L. Moore's JIREL OF JOIRY stories | KERN YOUR ENTHUSIASM: Data 70 | HERC YOUR ENTHUSIASM: "Freedom" | KIRK YOUR ENTHUSIASM: Captain Camelot | KIRB YOUR ENTHUSIASM: "Full Fathom Five," an analysis of a panel from Jack Kirby's New Gods | A 5-part series on Jack Kirby's Fourth World mythos | Reviews of Annie Nocenti's comics Katana, Catwoman, Klarion, and Green Arrow | The 10-part review series FANCHILD | To see all of Adam McGovern's posts, including HiLo Hero items on Lilli Carré, Judy Garland, Wally Wood, and others: CLICK HERE