Bowieology (3)
By: Adam McGovern
January 10, 2015
Third post in a series of seven, surveying David Bowie's cultural contributions as he enters his second 50 years of acceptance and transgression.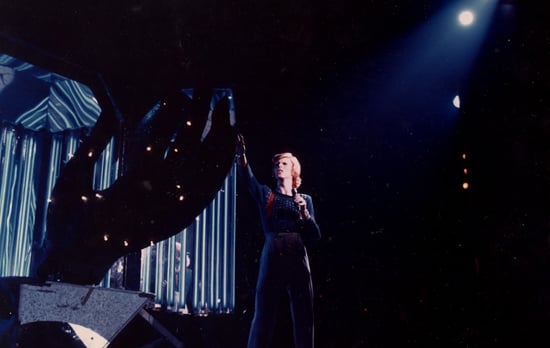 Bowie aspired to not just draw the methods and means of other media into his music, but to expand into those media himself, and while recording a coda to the Ziggy era with some lingering Spiders as the band disintegrated — the energized oldies album Pin-Ups (1973) — he worked on two stage productions. One was based on Ziggy (whose persona would resurface in Bowie's oeuvre in ways subtle and conspicuous throughout his career), and the other on George Orwell's novel 1984.
The Ziggy show was shelved, and the 1984 project vetoed by Orwell's estate, so Bowie returned to the recording studio to convert the latter into Diamond Dogs (1974). An oblique response to the repression he witnessed on a trip to the Soviet Union and the growing cynicism and belligerence of the West, the album alternated between bleak adaptations of Orwell's dystopian vision, and strangely festive portrayals of a postapocalyptic society populated by feral fashionplates decked out in the trappings of the fallen civilization. To evoke the Cold War anxieties on his mind, Bowie's lyrics turned more than ever to the agitated "cut-up" technique he had derived from outsider authors like William S. Burroughs, in which Bowie would assemble or adapt verse from fragmented and randomly re-ordered passages of his own or others' writing. The music's soundscape of eerie electronic textures and sprawling patchwork compositions anticipated much of the eccentric "art-rock" that was to come while refining the bombast of the experimental "progressive rock" then in vogue. The album's literary antecedents and sonic ambitions set a new standard for Bowie's lofty goals, and its tour set a new pattern for his creative restlessness. Another highly theatrical affair staged with the then-cutting-edge choreographer Toni Basil, it was scrapped midway through and converted to a soul revue, to the bewilderment of Bowie's misfit cult.
Bowie had gone so far to the fringes of popular taste that the best remaining way to shock was to about-face and march on the mainstream, which he did with the album he'd already recorded at the time of the Diamond Dogs tour's transformation. Young Americans (1975) targeted the Top 40 in a way that was as prophetic as Bowie's other phases, earning him his biggest hits yet with pseudo R&B in a foretaste of the Bee Gees' disco deification two years later. At the time such an homage to black culture by a white artist could seem a transgressively unifying gesture, though the fact of Bowie's success with it not only before the Bee Gees but any of the disco boom's black stars today makes the album seem an artifact of musical colonialism. Even Bowie famously declared it "plastic soul" after its release, and it was convincing only to those unfamiliar with the natural variety. But Bowie would find a way to credibly and pointedly integrate black forms into his own sensibility in a move back toward the cutting edge on his next album.
Applying his uncommercial instincts even to his most ingratiating music, Bowie had mounted the Young Americans tour before there was a Young Americans album, so once it was released he promoted it exclusively through appearances on TV variety shows — in the process clearly anticipating the music video era and furthering his campaign to establish himself in the other media which intrigued him. This effort was extended the following year when he accepted his first major film role as the star of The Man Who Fell to Earth. While confirming his dramatic credentials considerably, it paradoxically provoked his high-profile return to the recording studio and the concert stage.
When an expected soundtrack album to the film fell through, Bowie rushed to maintain his footing in multiple entertainment industries by quickly recording and touring Station to Station (1976). Often in Bowie's creative process sudden impulses prove uncommonly fruitful, and commercial imperatives can spark the richest of artistic inspirations; Station to Station exemplified this.
The album and tour solidified his pop songcraft while expanding the influences he synthesized into it, and fortified his commercial success while escalating his pre-Young Americans critique of mass culture. In the studio, Bowie meshed top funk musicians with his own imperious cabaret croon, for an alternately icy and incendiary type of lounge-soul that echoed into the "new romantic" genre of arch dance-pop in the '80s and the ironic cocktail-music revival of the '90s. In concert, he assumed the persona of "The Thin White Duke," a Eurocentric aristocrat prone to fascist iconography in props, dress and gesture. Bowie again extended the character offstage, making troubling far-right remarks to the press, and he would spend many years repenting for a phase he attributed to cocaine-fueled mania. But while his personality might have been distorted, his critical insights remained as sharp as ever: Bowie's pop führer confronted the mass audience with the logical extreme of celebrity idolatry; burlesqued the tasteless Nazi entertainment, such as sitcom Hogan's Heroes, that was already a staple of mainstream culture; and prophetically satirized the white supremacist backlash and authoritarian political trends which would intensify in Europe and America for the remainder of the century and beyond.
In any case, Bowie never seemed completely out of his mind or categorically in love with dictators. When a real one, Spain's Francisco Franco, died right before Bowie was to appear on an international satellite interview to promote Station to Station, Bowie refused the Spanish government's request to use the signal for an announcement. Coming in the prehistory of such technology's popular use, the gesture was progressive in more ways than one.
Nonetheless, Bowie's de rigueur rock-star drug use was reaching fearsome proportions (epitomized by his comment years later that he "can't remember 1975"), and after a legendary intervention by two unidentified friends, he abandoned the decadent Los Angeles lifestyle he'd by then sunken into for relative anonymity and solitude in West Berlin. The personal excesses proved easier to abandon than the chemical ones; though publicity portrayed him as clean and sober from then on, Bowie has since confirmed that his addictions persisted into the early '90s. Still, he regained his focus, bringing forth his most important work to that time.
Tomorrow in Part 4: A different man, a richer man
***
SIMILAR SERIES on HILOBROW:
BOLANOMICS
(James Parker on Marc Bolan's music and philosophy) |
MOULDIANA
(James Parker and Tommy Valicenti on Bob Mould's solos) |
ANGUSONICS
(James Parker and Tommy Valicenti on Angus Young's solos) |
Pop Music on HiLobrow
|
MORE POSTS by ADAM McGOVERN: Theater Reviews: The Honeycomb Trilogy, Love Und Greed, Nord Hausen Fly Robot, The Oracle | PEOPLE YOU MEET IN HELL, a 5-part series about characters in Adam McGovern and Paolo Leandri's comic Nightworld | Two IDORU JONES comics by Adam McGovern and Paolo Leandri | BOWIEOLOGY: Celebrating 50 years of Bowie | ODD ABSURDUM: How Felix invented the 21st century self | CROM YOUR ENTHUSIASM: C.L. Moore's JIREL OF JOIRY stories | KERN YOUR ENTHUSIASM: Data 70 | HERC YOUR ENTHUSIASM: "Freedom" | KIRK YOUR ENTHUSIASM: Captain Camelot | KIRB YOUR ENTHUSIASM: "Full Fathom Five," an analysis of a panel from Jack Kirby's New Gods | A 5-part series on Jack Kirby's Fourth World mythos | Reviews of Annie Nocenti's comics Katana, Catwoman, Klarion, and Green Arrow | The 10-part review series FANCHILD | To see all of Adam McGovern's posts, including HiLo Hero items on Lilli Carré, Judy Garland, Wally Wood, and others: CLICK HERE