Coot Grant
By: Brian Berger
June 17, 2014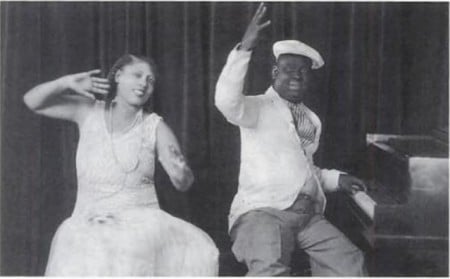 The annals of black show business are replete with ciphers, such that even a star the magnitude of COOT GRANT (1893–unknown) can vanish. She was born Leola B. Pettigrew in Birmingham, Alabama; by 1901, the young singer/dancer joined Mayme Remington's Pickaninnies, with whom she'd tour for a decade. In the 1910s, Coot performed with husband Isaiah Grant and following his death in 1920, she wed Jacksonville, Florida pianist "Kid" Wesley Wilson. Together, they formed the Leola "Coot" Grant Plaza Players and began recording for Paramount in March 1925. Though they bore similarities to the brilliant comic act Butterbeans and Susie, Grant and Wilson — themselves no slouch comedians — thrived in any musical context: jazz, blues, hokum, pop. Even their ads were awesome: "Hear this great pair — Grant and Wilson — sing their homewrecking sensation 'Dirty Mistreater'. Pa gets unruly and has a fine Saturday night — throws dishes — waves a razor and everything." In July 1926, genius guitarist Blind Blake made his recorded debut accompanying Coot on "Dying Blues" b/w "Ashley Street Blues" and in November 1933, in what would her last recording session, Bessie Smith cut four Grant and Wilson tunes, including the deathless "Gimme A Pigfoot." Though vaudeville was their life, living would become more difficult. In age and style they were "old-time" and after a series of strokes, on October 10, 1958, Wilson "suddenly called to Coot, told her he was ready to go, asked the Lord to bless her, then died." Of Coot's own mortality, history is mute.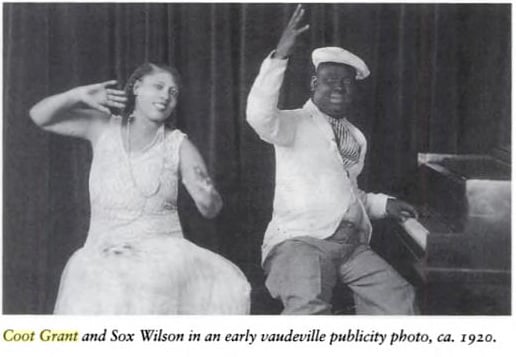 "Scoop It" (1926)
"Get Off With Me" (1931)
"Keep Your Hands Off My Mojo" (1932)
Bessie Smith "Gimme A Pig Foot" (1933)
***
On his or her birthday, HiLobrow irregularly pays tribute to one of our high-, low-, no-, or hilobrow heroes. Also born this date: Jello Biafra, Wally Wood.
READ MORE about men and women born on the cusp between the Modernist (1884–93) and Hardboiled (1894-1903) Generations.