Tiny Tim
By: Devin McKinney
April 12, 2014
Was Herbert Khaury a pioneering media politician, or merely a performer whose genre had yet to be invented? The question bears asking inasmuch as Khaury's creation, TINY TIM (1932–96), remains a mystery of the late twentieth century. His debut LP, God Bless Tiny Tim (1968), a clamorous carnival of the psychedelic and the square, as piping hot with unaddressed contradiction and domesticated freakiness as a 1968 television tube, sits easily next to the contemporaneous phantasmagorias of Donovan, The Fifth Dimension, and The Bonzo Dog Band. And in the realm of social semiotics, no performer who confounded an outrageously gay presentation by marrying an ultrafeminine woman on The Tonight Show — trilling all the while about the Christian chastity of a spectacle that was worthy of 1923 Berlin — can be dismissed as a mere put-on artist, let alone a fraud. For Khaury gave himself to Tiny, and Tiny gave himself to us, dying from a heart attack suffered on the stage of a Minneapolis women's club. Unto death, the mask never slipped; the joke was never surrendered. Who can say for sure, even now, that it was a mask at all? Or — since the punchline never came — that it was even a joke?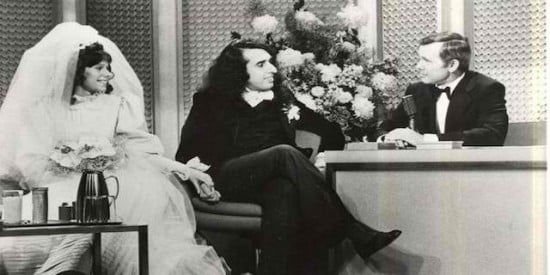 ***
On his or her birthday, HiLobrow irregularly pays tribute to one of our high-, low-, no-, or hilobrow heroes. Also born this date: Shannen Doherty, Henry Darger, Herbie Hancock, David Cassidy, Georges Franju, Claire Danes.
READ MORE about members of the Postmodernist Generation (1924-33).