Micro-Fic Contest — Winners!
By: HILOBROW
March 19, 2012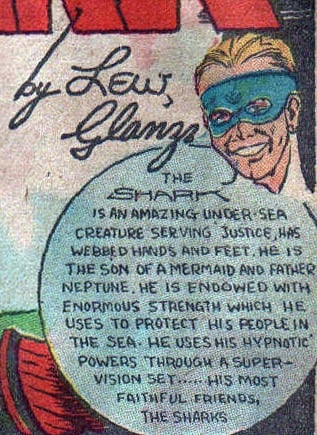 HILOBROW's seventh micro-fiction contest ran from February 21 through March 14. We challenged all comers to write an invent-a-hero narrative (inspired by radio serials, pulp fiction, and Golden Age comic book opening panels) for a classic work of fiction or film. In 65 words or fewer. The contest's guidelines are here; you can read all 60+ contest entries in that post's Comments.
THE JUDGES: Matthew Battles, HILOBROW's literary editor and a fellow at Harvard's network-culture think tank metaLab; John Hilgart, editor of the online comic-book details galleries 4CP, Comic Book Cartography, and Supertype!; and Tom Nealon, scholar of pre-modern cookbooks and cookery, and sole proprietor of Pazzo Books. All three are regular contributors to HiLobrow. The contest was orchestrated by HILOBROW's Joshua Glenn.
Before we reveal the winners, a few words from the judges about the criteria each one used. John Hilgart: "There were a lot of excellent pieces of writing, but it seemed that many diverged from the premise of the contest, which asked for a pulp hero blurb. So I nixed those that were more like pulp paperback plot blurbs, and I also got rid of those that suggested a single narrative with a conclusion. Pulp or comic book heroes are powered by some kind of perpetual struggle that no single episode or plot can resolve. I judged those that remained on such features as taking up figures who were were improbable candidates for 'superhero' status, delaying the recognition of what book/film/character they were translating, and, of course, embracing the conventions of the genre with writerly verve." Matthew Battles: "I was looking for Hi-Lo surprise and a sense of craft. There were a number of fun, punchy pieces about works that already had a pulp-friendly theme, and others that treated more traditionally literary (or at least highfalutin) texts, but with insouciance that bordered on the glib. Just a few blurbs brought energy and tone together, that really exposed the color in the high-literary. And the ones that did so subtly — with crisp writing free of infelicities and artisanal attention to effects — were the ones that caught my fancy." Tom Nealon: "I was looking for something snappy where I could really hear that booming, over-serious voice in my head. I was very strict about this — anything that took me out of the moment was nixed. Extra points for tickling my literary bone (why did that sound dirty?) and, of course, for funny."
The judges brought varied sensibilities and criteria to the task; it's not surprising, then, that they only agreed on the winning story. The first and second runners-up were decided by a runoff-vote-like process.
OK… The envelope, please.
***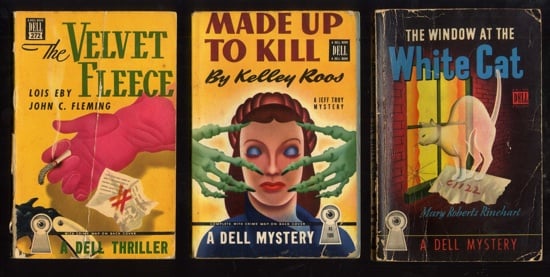 SECOND RUNNER-UP: "Wind in the Willows," by Eric Syms (Hamburg, NY).
Eric wins Avon's 1973 Flash Gordon series of paperback novelizations, vols. 1-4. Here is Eric's story:
A mole…tired of the system.
A badger…sick of society.
A rat…content with boating.
And a toad…hijacking a ride on the road to ruin.
On the fringes of civilization!
Getting their kicks!
Daydreaming…
living underground…
and eating buttered toast with jam!
Discover the secrets…in Kenneth Graham's…
The Wind in the Willows!
FIRST RUNNER-UP: "The Idiot" by Luke Meeken (Richmond, VA).
Luke wins Berkeley Medallion's 1969 reissue of Robert J. Hogan's G-8 and His Battle Aces stories of the 1930s-40s, vols. 1-6. Here is Luke's story:
Sworn to love a world that fears and hates him, Prince Lev Nikolayevich Myshkin returns from a remote Swiss sanatorium endowed with an impossible naïveté, a forcefield impenetrable by bourgeois propriety, and a new name — he is: THE IDIOT.
FIRST PLACE: "The Firefly," by TG Gibbon (Llanfynydd, Wales). Congratulations!
TG will receive three vintage Dell "mapback" mysteries/thrillers. Click here to read TG Gibbon's story, illustrated by HiLobrow friend and contributor Rick Pinchera. (Thanks, Rick!) Sneak preview: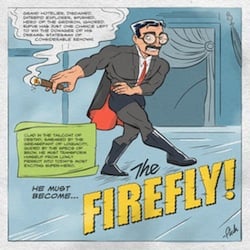 ***
The prizes were donated by Pazzo Books. Thanks, Tom!

The judges' Top 10 stories after the three winning entries, in no particular order, are these: "Jake Barnes" by Drew Collier, "The Rabbit" by Seth Ellis, "Citizen Kane" by Jay Vick, "The Scrivener" by WHM, "Pride and Prejudice" by Matt, "Prufrock" by James Spears, "Portnoy" by Charles Pappas, "Moby Dick" by Larry K, "Moses" by Mark Shainblum, and "How to Read Donald Duck" by Dustin Fairchild.
Congratulations to our three winners, and our thanks to everyone who entered the contest!
***
PREVIOUS CONTEST WINNERS! 1. (RADIUM AGE SF) TROUBLED SUPERHUMAN: Charles Pappas, "The Law" | 2. (RADIUM AGE SF) CATASTROPHE: Timothy Raymond, "Hem and the Flood" | 3. TELEPATHY: Rachel Ellis Adams, "Fatima, Can You Hear Me?" | 4. OIL SPILL: A.E. Smith, "Sound Thinking | 5. LITTLE NEMO CAPTION: Joe Lyons, "Necronomicon" | 6. SPOOKY-KOOKY: Tucker Cummings, "Well Marbled"