Pulp Hero Micro-Fic Contest
By: HILOBROW
February 21, 2012
HILOBROW is pleased to announce our seventh micro-fiction contest! The contest is sponsored by our friends at the used and rare bookseller Pazzo Books.

PS: Our thanks to Carolyn Kellogg at the LA Times' literary blog Jacket Copy for talking up this contest!
THE CHALLENGE: Inspired by the invent-a-hero narratives and symbolic backstories compressed into a few jam-packed sentences in pre-midcentury radio serials ("Who knows what evil lurks in the hearts of men…"), pulp fiction, and comic book opening panels, we challenge you to write a pulp-style blurb for a classic work of fiction or film. (E.g., "One autumn night, Jay Gatz beheld a ladder above the trees that revealed to him the secret of all desire. Thus was born The Great Gatsby!" etc.) We won't try to define "classic," for you; you'll have to use your own best judgment.
In order to inspire your blurb-writing, between today and the contest's end, HILOBROW will publish a series of posts, each of which will feature several Golden-Age comic book opening panels. Example: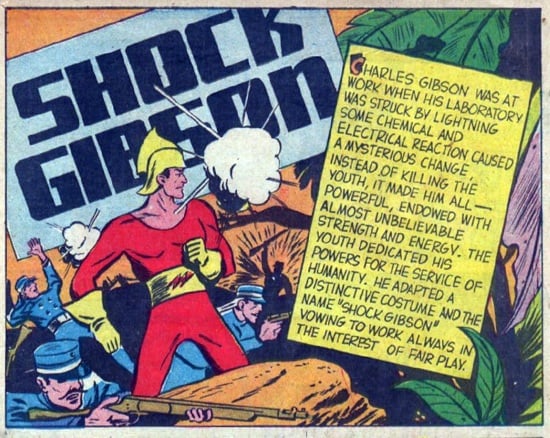 DEADLINE, GUIDELINES: Publish your entry of NO MORE THAN SIXTY-FIVE (65) WORDS to the comments section of this post, using the "Leave a Reply" field below. (Please provide a working email address. HILOBROW will never share this info.) The deadline for submissions is 9pm EST on Wednesday, March 14th. Winners will be announced on Monday, March 19th, and the winning stories will be published shortly after that. HiLobrow friends are permitted to enter; so are previous winners. As noted below, the winning stories will be published on this website.
PS: For a previous example of how this sort of submission process works, see the Comments section for our "Troubled Superman" contest announcement from January 2010.
THE JUDGES: Matthew Battles, HILOBROW's literary editor and a fellow at Harvard's network-culture think tank metaLab; John Hilgart, editor of the online comic-book details galleries 4CP, Comic Book Cartography, and Supertype!; and Tom Nealon, scholar of pre-modern cookbooks and cookery, and sole proprietor of Pazzo Books. All three are regular contributors to HiLobrow. The contest is orchestrated by HILOBROW's Joshua Glenn.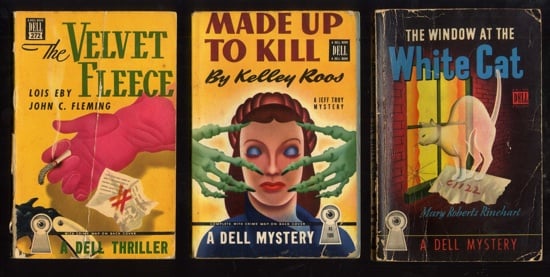 THE PRIZES: First Prize is three vintage Dell "mapback" mysteries/thrillers — and the first-prize entry will be illustrated by HiLobrow friend and contributor Rick Pinchera! First Runner-up Prize is Berkeley Medallion's 1969 reissue of Robert J. Hogan's G-8 and His Battle Aces stories of the 1930s-40s, vols. 1-6. Second Runner-up Prize is Avon's 1973 Flash Gordon series of paperback novelizations, vols. 1-4, by "Alex Raymond" (actually Ron Goulart). All book prizes were donated by this contest's sponsor, Pazzo Books.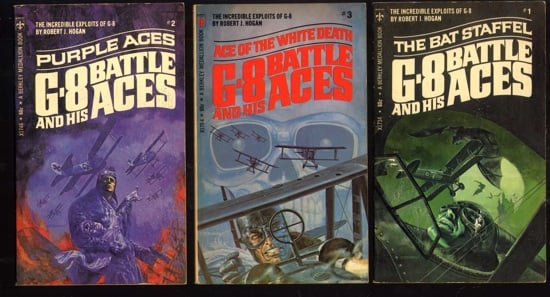 THE DEAL: The winning entry in the contest, and also the two runners-up, will be published here at HILOBROW. HiLobrow's contributors (listed by name in the post's author field) control the copyright to their work; we only retain the right to use the story on our website, RSS feed, and daily emails. See our Policies Page for more info.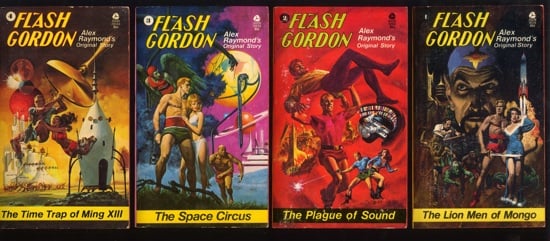 RSS: Follow contest updates by subscribing to hilobrow.com/tag/contest/feed/
PAST CONTEST WINNERS! 1. (RADIUM AGE SF) TROUBLED SUPERHUMAN: Charles Pappas, "The Law" | 2. (RADIUM AGE SF) CATASTROPHE: Timothy Raymond, "Hem and the Flood" | 3. TELEPATHY: Rachel Ellis Adams, "Fatima, Can You Hear Me?" | 4. OIL SPILL: A.E. Smith, "Sound Thinking" | 5. LITTLE NEMO CAPTION: Joe Lyons, "Necronomicon" | 6. SPOOKY-KOOKY: Tucker Cummings, "Well Marbled"