Giant Haystacks
By: Greg Rowland
October 10, 2011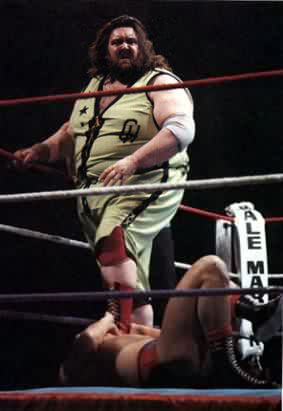 My grandmother was born in 1901, and escaped to London because the Russians were being horrible to Jewish people. Up until her death in the late '70s, GIANT HAYSTACKS (Martin Ruane, 1946-98) was her favorite Saturday afternoon wrestler. She loved him — him and his unkempt haystack hair, his corpuscular caricature of a body, and his inarticulate grunts that grunted whatever it was he was grunting. Haystacks: it was a stupid name. Don't give me antinomies. It's not an antinomy. It's just stupid. It's doesn't optimize his brand equities (i.e., being large) in any financially useful way. But, had he chosen Giant Matthew Whitworth-Aylmer the 5th Baron Aylmer you'd still have nodded politely and sent it to the Promoter. Otherwise he'd squash you under his belly. Indeed, his business associates have often recalled Giant's pathological aversion to brand brainstorming. He had little truck with Creative Workshops, Off-Site Creative Camps, or even Neuro-Bubble-Bentines. He just hated 'Branding Agencies' with a vengeance. No-one ever found out why. Grandma was bundled out of Russian village as a tiny child, and ended her life watching an oversized Gentile who squashed men in pants in a wrestling ring. But that's the 20th century for you. The century you couldn't have made up.
WRESTLERS as HILO HEROES: Hulk Hogan | Giant Haystacks | The Iron Sheik | The Rock | George "The Animal" Steele | King Kong Bundy | Jimmy "Superfly" Snuka | Junkyard Dog
***
On his or her birthday, HiLobrow irregularly pays tribute to one of our high-, low-, no-, or hilobrow heroes. Also born this date: Ed Wood.
READ MORE about members of the Blank Generation (1944-53).