The Iron Sheik
By: Tom Nealon
March 15, 2013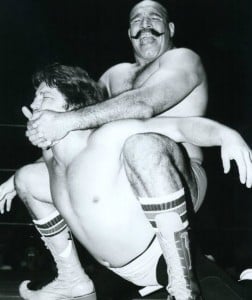 Before he became a WWF star known as THE IRON SHEIK (born 1940), Tehran's Hossein Khosrow Ali Vaziri was an accomplished Greco-Roman wrestler and coach — as well as bodyguard to Mohammad Rezā Shāh Pahlavī, the last Shah of Iran. Known for his prodigious mustache and upper body strength, not to mention his mastery of the camel clutch, the Sheik was one of the most recognizable heels of the Eighties. Playing the ultra-nationalist to lusty boos in the aftermath of the hostage crisis was easy enough, but his immediacy and feigned fanaticism is still a bit startling. Instigating in Farsi and broken English, he had a triumphant four-week run as WWF champion and won the tag-team title with Nikolai Volkoff at the first Wrestlemania ("Russia number 1, Iran number 1, USA [spits]"). In recent years his manager has reanimated his patter in an attempt to re-monetize it, but it was the Iron Sheik's 1985 title defense against Hulk Hogan that reverberated through history. If Argo was a simplified, fictionalized, rock-tumbler-smooth version of US/Iran relations, this match was the sharp and incongruous bits left over: the sub-verbal, ambivalent and angry parts — the spirited nonsense with a whole lot of addled 1980s rubbed on it. While Hogan played the Reagan-American — entitled, brash, duplicitous, desperate for love ("now Hogan is spitting on the Sheik and the crowd loves it!") — the Sheik was plucky champion turned underdog; hated heel putting on a doomed show. Surviving Hogan's attempt to strangle him with his own robe, he applied a flurry of moves. The back-breaker, the Boston crab, a suplex and finally the camel clutch. Hogan blundered about, blurry with rage and misdirected force, an edifice of bland blondness. Saved only by "his immense strength," Hogan escaped the clutch, won the belt, the crowd erupted in a paroxysm of joy, blood-lust, ennui. USA, USA. Pandemonium.
***
On his or her birthday, HiLobrow irregularly pays tribute to one of our high-, low-, no-, or hilobrow heroes. Also born this date: Lightnin' Hopkins, David Cronenberg.
WRESTLERS as HILO HEROES: Hulk Hogan | Giant Haystacks | The Iron Sheik | The Rock | George "The Animal" Steele | King Kong Bundy | Jimmy "Superfly" Snuka | Junkyard Dog
READ MORE about men and women born on the cusp between the Anti-Anti-Utopian (1934-43) and Blank (1944-53) Generations.