Frankie Laine
By: Brian Berger
March 30, 2011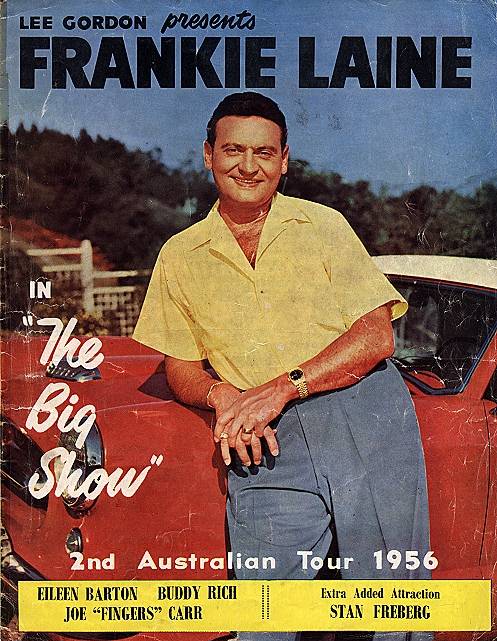 "A crooner is so soft, he could be a girl" observed Kay Starr, contrasting crooners with the belter FRANKIE LAINE (1913-2007). "Frank sounded like a man — he just stood there flat-footed and sang, and you've got to admire a man who's that brave." Born Francesco LoVecchio to Sicilian parents in Chicago, Laine was a They Shoot Horses Don't They?-like marathon dancer before taking a decade to make it as a singer. Laine didn't lack talent but his intense, blues-inflected style defied popular convention. The strangeness of this can be heard on the three 1945 sides Laine cut with Johnny Moore's Three Blazers plus pianist Charles Brown accompanying — an apex of black California hip! While many of Laine's subsequent waxings were in a jazz-pop vein (with "Lucky Old Sun" his signature song), a 1949 hit with "Mule Train" foretold his greatest success. For the next decades, Laine was the voice of the Hollywood west, including in 1957, "Love Is A Golden Ring" (a terrific collaboration with the Easy Riders, the key folk group between the Weavers and Kingston Trio) and the theme song to 3:10 To Yuma (see below). He also recorded the theme to the 1959-66 TV western Rawhide. For all his candor as a performer, he who warned us "Satan Wears A Satin Gown" kept one thing from the public: before he was famous, he was bald — not balding but cue-ball bald. During every concert, film cameo, and TV appearance Frankie Laine wore a wig.
***
On his or her birthday, HiLobrow irregularly pays tribute to one of our high-, low-, no-, or hilobrow heroes. Also born this date: Tom Sharpe.
READ MORE about men and women born on the cusp between the Partisan (1904-13) and New Gods (1914-23) generations.