Simulacra (2)
By: Matthew Battles
June 28, 2010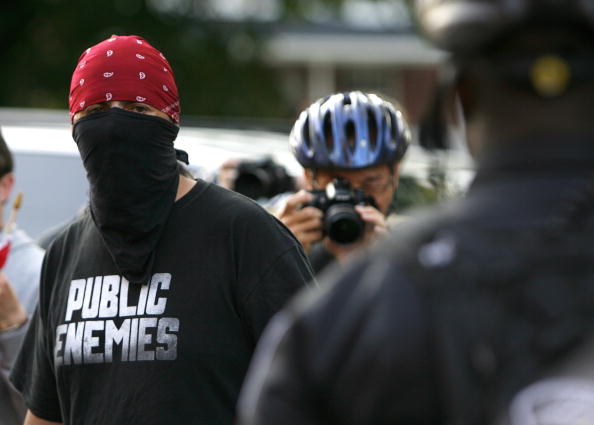 image from NowPublic

Over at
Quiet Babylon
, Tim Maly has posted about the war of spectacle that constitutes the G20 meeting in his city, Toronto. Maly describes the meeting and its moveable feast of protests as a sort of song-and-dance revival:
This isn't a travelling show, this is theatre companies mounting the same production all over the globe. When it comes to the performance at the fence, the one thing that remains constant is the set decoration and costume design. The same 12′ steel sheet with concrete feet snaking around the city. The same black hoodies and face bandanas. The same riot shields and batons. The same tear gas and smoke and pepper spray.
But that's not the end of Toronto's Baudrillardesque badinage, according to Maly (whose tweets on the protests are well worth following). The meeting also features an "artificial lake"— a room with wood-plank floors, Muskoka chairs (the Adirondack chairs of Canada), and a video loop of lake scenery — with which tourism officials hope to recreate the ambiance of Ontario cottage living for finance ministers, NGO leaders, and selected media in attendance.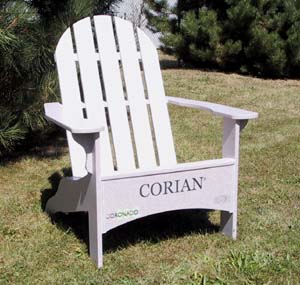 Authentic Muskoka Chair in wood-like engineered material by Corian
"It's difficult to read about the plans for the pavilion," writes Maly, "without asking a lot of impertinent questions about whether the loons will be audible over the press conferences, whether there will be enough chairs for everyone, and what, exactly, is Muskoka tourism's idea of cottage fun. Will they play beer commercials?"
Engaged in a vicious battle of simulacra, it's too bad that Canadian tourism officials didn't hire the Unlimited Urban Wood, created by the Dutch firm DUS Architects and currently on display in Amsterdam. According to the blog NextNature, "the Unlimited Urban Woods lets you disappear into an endless forrest that just takes a few square meters." It consists of a walk-in mirror pavilion with a potted tree which, reflected ad infinitum, creates the impression of a rather uncanny forest. With a spruce tree inside it would offer a ready simulacrum of Canada's climate-change-imperiled taiga — perhaps an experience more salient for G20 attendees.