In Search of Strategically-Placed Sensors
By: Matthew Battles
January 12, 2010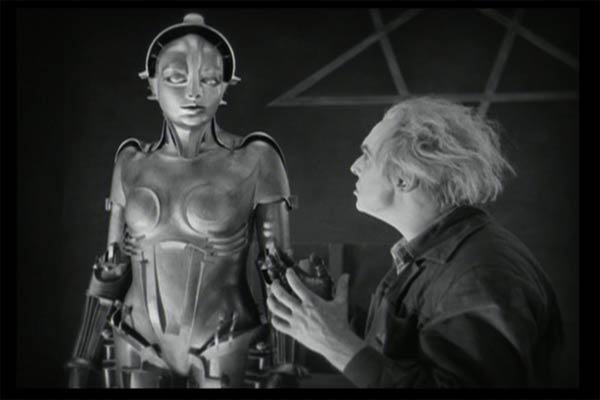 As readers of HiLobrow know, Joshua Glenn shows the same mastery over the history of science fiction that a mad scientist exerts over his army of murderous fembots. While Roxxxy the Robot's makers might claim that theirs is the first "sex robot," Josh's adroit scholarship reveals that this is hardly the case — in fact, science fiction's roboticists have been bodying forth their anima in metal and diodes for a very long time.
As Josh's scholarship on fembot history can't be encapsulated in a single blog post, he's decided to make it the subject of our debut feature: PARALLEL UNIVERSE, a podcast exploring the farthest reaches of science fiction history. The podcast will be produced in the course of a performance/party hosted by our co-sponsor, Pazzo Books of West Roxbury, Mass.
In addition to Hilo honchos Josh and Matthew, local litterateurs and bon vivants Tor Aarestad, Ryan Mulcahy, James Parker, and Brian and Tom Nealon (the proprietors of Pazzo) will present short readings; and a mystery guest (who may or may not be an android — we leave the Turing Test up to you) will punctuate the proceedings with expertly produced and soothing theremin music. Episode 1: SEXY ROBOTS of PRE-GOLDEN AGE SCIENCE FICTION will be curated by Josh, whose pioneering scholarship is well-known to readers of Gawker's io9, the most popular SF blog in the universe. Schlitz and prosecco (or some other suitably hilo combination of beer and wine) will be served (and feel free to bring a bottle to share). If you'll be in the Boston area on Friday, do join us at Pazzo Books, six o'clock sharp — and bring a friend or two! Because we'll be recording, young children and/or obstreperous people are disinvited. Get a babysitter, and come down to Pazzo!
DIRECTIONS: Call (617) 323-2919, or visit http://www.pazzobooks.com/directions.htm
UPDATE: Our friend, illustrator Rick Pinchera, sent us this stylish RSVP.